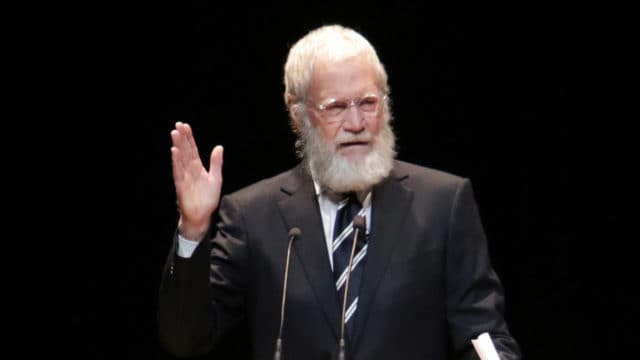 He just couldn't stay away. [easyazon_link identifier="0062377213″ locale="US" tag="tvovermind00a-20″]David Letterman[/easyazon_link] is going to be coming back to host his own show, but not as you might think. The longest running talk show host on TV is coming back to Netflix for a 10-episode run that will be pre-recorded with each guest. Also David will be exploring different topics all of his own choosing, which should be interesting considering that this show is taking place outside the studio.
There is no set guest list yet and in truth there's no idea if the show is even going to resonate with an audience considering that there are now so many other talk shows to pay attention to. Letterman might be coming out of retirement to go right back in without leaving a noticeable impact that he returned. That seems a little short-sighted really but the truth of it is that Letterman has been out of the talk show game for about two years now, which in TV time could be the equivalent of a decade.
Does the former king of late night have it in him to survive on the scene any longer?
He hasn't really lost his touch.
Letterman was the king of late night for a reason back in the day. He's had countless interviews and been known to talk up or absolutely roast those that he feels the need to showcase. During his last show he was still on top of his game and the last two years don't seem to have changed that fact. Honestly it seems like he's more fired up than ever to get back to what he does best. It'll be interesting to see how he approaches this new show since he'll be out from behind the desk.
The job is essentially the same.
Despite not being in the studio or behind the desk Letterman is still more than capable when it comes to talking to people. This time around he'll be talking in long form to a single guest for an hour-long episode, but that shouldn't be much of a challenge for Letterman. He's made a career out of talking to people and this should be basically the same thing. The format will be different, as will the location and possibly the feel of the interview, but otherwise it's just people talking. He can do that without a hitch.
It's [easyazon_link identifier="0553102222″ locale="US" tag="tvovermind00a-20″]David Letterman[/easyazon_link] we're talking about.
He shouldn't have any trouble with competition really simply because of who he is. Most people still remember Letterman and would be glad to catch his show. There's no guarantee that his numbers will be that high initially but chances are that those that have either missed him or are not entirely impressed with the shows that currently exist will be tuning into Netflix to get a dose of Letterman once again.
You can say that he's old hat, that he's had his time and should continue his retirement, but one thing you should never say is that David Letterman is incapable of taking on his own show once again.
Save