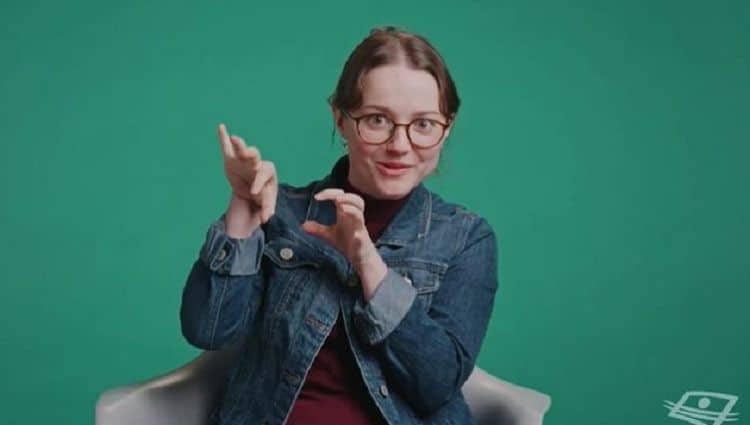 Since making her first on-screen appearance in 2014, Romane Denis has become one of Canada's brightest rising stars. Not only has she gotten a lot of attention in her home country, but her name has also been making its way around the world. Known for her talent and dedication, Romane has already shown that she is capable of incredible versatility. Whether she has a major role or she's only making a guest appearance, Romane puts 100% into every project she works on. 2021 has been a big year for her career, and she's hoping to keep the momentum going in the years to come. Keep reading to learn 10 things you didn't know about Romane Denis.
1. She Is Bilingual
As someone who was born and raised in Quebec, Romane is a native French speaker. However, she also speaks English fluently. Although she has acted in both languages, most of her work has been in French. However, she is gradually getting more English language opportunities.
2. She Loves To Read
Storytelling is the cornerstone of acting, and Romane has spent her entire career focused on telling great stories. At the same time, however, she also likes to be on the other side. Reading is one of her favorite things to do and it allows her a chance to get lost in a good story.
3. She Is A TikToker
TikTok has become very popular over the last couple of years, and Romane has been able to ride the wave. She is a pretty active TikTok user and she has built a solid following which now includes more than 30,000 people. In fact, she has more followers on TikTok than she does on Instagram.
4. She Is An Award Winner
Winning an award is something that everybody in the entertainment industry wants to achieve at least once. Romane is proud to say that she's already taken one home. In 2020, she won a Gémeaux Award for Best actress digital series: youth for Nomades. She has also been nominated for several other awards, and there's no doubt that there will be more wins in her future.
5. She Likes Stories That Push The Limit
Despite her young age, Romane has already been part of some pretty intense projects. She loves working on stories that touch on subjects that push boundaries. During an interview with The Bull and Bear, Romane said, "We're not afraid to tell stories that others wouldn't dare approach".
6. She Is A Cat Person
The back and forth between dog people and cat people is neverending, but Romane is firm in her stance. For anyone out there who may have been wondering, Romane definitely appears to be a cat person. She has an adorable black cat who has made several appearances on her Instagram profile.
7. Family Is Important To Her
Throughout her career, Romane has been pretty private when it comes to her personal life. She prefers to keep all of the spotlight on her work as an actress. However, her social media activity makes it clear that she comes from a close family and those relationships appear to be very important to her.
8. It's Unclear If She's Had Acting Training
Unfortunately, we weren't able to get any information on what inspired Romane to get into acting. We also didn't find any details on the kind of acting education she received. While there are some people who undergo lots of formal training, there are also people who find success by jumping right into the audition process.
9. She Is Passionate About Human Rights
Some people in the entertainment industry feel as though their only responsibility is to entertain. Romane, however, hopes to do a little more with the platform she's built. She has used her social media presence to share her stance on various issues and show her support for LGBTQ+ rights, mental health, and women's rights. She enjoys spreading information and she encourages her followers to further educate themselves.
10. She Is Working On A Video Game
So far, all of Romane's work has been live-action roles, but it looks like she's in the process of venturing into the voice acting role. Romane told Mulderville, " I'm currently working which is I'm very lucky to be working in today's circumstances but working on doing a video game which is a lot of fun but we've been doing it for almost two years now so i don't really know when that's going to come out". She didn't mention the name of the video game, but that information will likely be released when the project is complete.