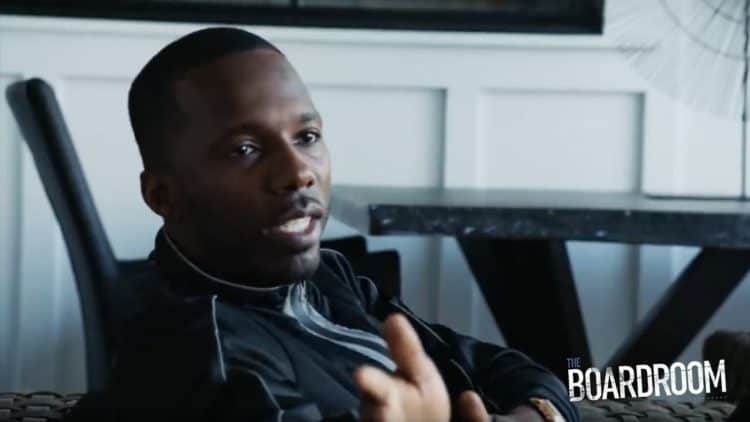 If you're a sports fan, you may know Rich Paul best for being LeBron James' agent. However, Rich Paul isn't your typical sports agent. He is a successful entrepreneur who is focused on changing the landscape for professional athletes through empowerment and education. Thanks to Klutch Academy, his new reality show on BET, people are getting the chance to see the inner workings of Rich Paul's business and get an understanding of how he approaches each draft season. Even though he's already been in the game for almost 20 years, in many ways, Rich Paul is just getting started. Keep reading to learn 10 things you didn't know about Rich Paul.
1. He's A Cleveland Native
Just like his biggest client, LeBron James, Rich Paul was born and raised in Cleveland. His father owned a local convenience store and was instrumental in teaching Rich the importance of hard work and dedication. These days, however, Rich Paul calls southern California home.
2. He's In A Relationship With Adele
In the fall of 2021, news broke that Rich Paul was dating pop superstar, Adele. The couple has since been spotted in public together and they seem to be doing well. According to an article from The Philadelphia Tribune, the two actually met a few years ago at a birthday party. However, the two didn't become involved until early 2021 when Rich invited Adele on a 'business' lunch.
3. He's A Proud Father
Rich Paul's career may seem like the most important thing in his life but at the end of the day, family is what it's all about. Rich is a dedicated father to three children, however, the identity of his children's mother has never been revealed. It's also unclear if he has ever been married.
4. Het Met Lebron James At An Airport
Rich Paul and LeBron James' journey together began in an unlikely way. The two met in 2002 at the Akron airport where both men were waiting for a flight. They connected over Paul's authentic throwback jersey, and Paul eventually sold a jersey to LeBron. The two developed a close bond and Paul eventually became part of James' inner circle.
5. He Was A Big Ninja Turtles Fan
Sports have always played an important role in Rich Paul's life, but they aren't the only thing he's enjoyed. Throughout his life, he has always enjoyed watching movies and TV shows – especially when action is involved. When he was younger, he was a big fan of the Teenage Mutant Ninja Turtles.
6. His Main Goal Is To Make An Impact
Some people may naturally assume that Rich Paul does what he does because it pays well. However, chasing money has never been his motivation. During an interview with GQ, Rich said, "I'm not chasing anything. But what's important to me is impact. Being a trailblazer. Our forefathers, they all had impact. They all changed something. They created a vision. They were visionaries. They developed things that still exist today. When you talk about impact, I wanna change the way agents have communicated amongst each other."
7. He's Writing A Book
Rich Paul's reality show isn't the only way he plans on sharing his story with the world. He is also in the process of writing a book called Lucky Me. According to The Hollywood Reporter, "Lucky Me is the story of every young Black man who grew up like me. I want to use my story to uplift and inspire those who lived this and educate those who didn't. I cannot tell you what it means to partner with my friend and mentor Jay-Z on this project. Lucky Me was the name of the book before I even spoke with Jay because his music was my life's soundtrack".
8. He Was Working With Terrence Clarke
Every year, Rich Paul works with some of the hottest NBA prospects for the upcoming draft. In 2021, he was working with the University of Kentucky standout, Terrence Clarke. Sadly, Clarke passed away in a car accident in April of that year. He was only 19 years old at the time of his death.
9. He's A Very Private Person
Despite being associated with lots of high-profile people, Rich Paul has always been very guarded when it comes to his personal life. He seems to really enjoy living a low-key lifestyle. Since we've all seen what can happen when people in the public eye overshare, it's easy to see why he's chosen a different route.
10. He Loves To Stay Active
Rich Paul may not be a professional athlete, but that doesn't mean that he doesn't like to stay active. No matter how busy his schedule gets, he always makes it a point to find time to exercise. Staying active isn't just great for his body, it's also great for his mind.
Tell us what's wrong with this post? How could we improve it? :)
Let us improve this post!