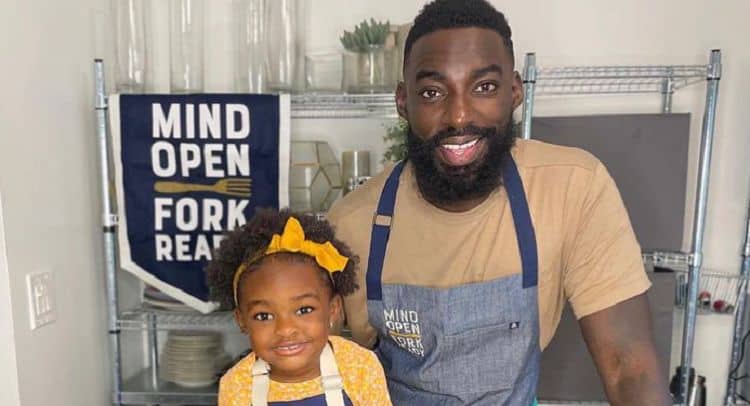 For the last 15 years, Top Chef has given talented chefs the chance to take their careers to the next level. The show has gotten so popular that even people who don't win usually find that they have more opportunities after being on the series. That's definitely been the case for Eric Adjepong who competed during seasons 16 and 17. He was the first person in the history of the show to cook West African dishes during the competition, and that definitely helped him stand out from the competition. Since being on Top Chef, Eric has continued to master his skills in the kitchen and he has also built a large and dedicated fan base in the process. Keep reading to learn 10 things you didn't know about Eric Adjepong.
1. He's From New York City
Eric is a first-generation American who was born and raised in New York City. His parents immigrated to the United States from Ghana. Despite being American, Eric has always felt a close connection to his roots which is why he was honored to be able to bring West African foot to Top Chef.
2. Soon He'll Be Able To Add Published Author To His Resume
Cooking is definitely Eric's main focus, but he also has plans to venture into other areas. In 2021, it was announced that Eric had signed a book deal with Penguin Random House to release two books. One will be a cookbook and the other will be a children's book. Both are expected to be released some time in 2022.
3. He's All About Family
Even though Eric's job takes up a good portion of his time, he doesn't let that come at the expense of his family. He is a very dedicated husband and father and he enjoys spending as much time with his loved ones as he can. He and his wife, Janell, also have a business together called Pinch and Plate.
4. He Loves To Travel
Traveling may not be a requirement for being a good chef, but it definitely helps. Traveling to different parts of the world exposes chefs to different dishes and styles of cooking. It can also be a great way to get the creative juices flowing. Eric has been fortunate to do lots of traveling throughout his career.
5. He Studied Public Health
When someone spends as much time around food as Eric does, you can probably guess that eating healthy isn't always the easiest choice. However, Eric is just as passionate about health as he is about cooking. In addition to studying culinary arts, he also studied public health at Johnson and Wales.
6. He Likes Spending Time Outdoors
Just because Eric loves being in the kitchen doesn't mean that he doesn't like to get outside and enjoy some fresh air every once in a while. After all, no matter how much you love what you do, breaks are always necessary. Eric loves spending time enjoying the beauty of nature and he likes to do things like go hiking and boating.
7. He Teaches Cooking Classes
If you want to learn some of Eric's tips and tricks, you'll be pleased to know that he offers cooking courses through his website. All of his courses are taught online and he tells students exactly what they need to buy several days before the class begins. On his site, he also states, "I'll be cooking side-by-side with you as we go through the steps of each recipe. Class attendees are encouraged to ask questions as well as have the opportunity to troubleshoot any cooking issues that may come up. "
8. He Has A Great Sense Of Style
Not only is Eric going to make amazing food every time he steps into the kitchen, but he's going to look amazing while doing it. He has a keen eye for fashion and he loves being able to express himself through his clothing. He knows how to put the perfect outfit together for any occasion and he isn't afraid to try bold colors and patterns.
9. He's Cooked At Some Great Restaurants
Unlike some of the other people who have competed on Top Chef, Eric doesn't have a restaurant of his own. However, he has cooked at some top-of-the-line places during his career including two Michelin Star restaurants. There's no doubt he'll have even more awesome opportunities as he continues.
10. He Loves Giving Back To Others
Eric has built a large platform over the years, and he has used it to do more than show off his cooking skills. He is also passionate about giving back to others and he has collaborated with charity organizations such as the Make-A-Wish Foundation. Sadly, one of the children he met through the organization in 2019 passed away in 2021.
Tell us what's wrong with this post? How could we improve it? :)
Let us improve this post!