Revolution returned from an extended hiatus tonight with an episode that pitted Monroe and his newly-restored weapony against Miles and his fellow rebels. Who came out on top? And who died?!
Divide and Conquer. The episode opened exactly where the last episode left off, with Miles, Charlie and their family and friends facing off against one of Monroe's helicopters. As they ran for their lives, the chopper blew up an abandoned restaurant they had hidden in. Fortunately, the freezer where they had taken shelter remained intact. Later, as they went searching for help, they discovered that Monroe's choppers had killed an entire group of rebels who were hidden in another outpost. After seeing the devastation, the group decided to split up. Rachel insisted that they find a way to fight back against Monroe, so she and Miles set off to find help from one of her former colleagues. Nora, meanwhile, went with Charlie, Danny and Aaron to warn the rebel central commanders in Annapolis.
Monroe's Master Plan. Now that he's equipped with power, Monroe ordered Captain Neville to start attacking all rebels in his territory. Then they'll branch out to Georgia and, finally, California. Monroe plans to take over the entire United States.
Defection. After Nora and her group met up with Central Command, Neville also found the rebel base. Unfortunately for Neville, Jason didn't agree with his father's plans to unleash their now working guns and choppers on the rebels, calling it a full-out slaughter. The two Neville men fought and the elder eventually beat down his son, calling him a huge disappointment and telling him to never come home again. Later, Jason approached Charlie and told her about his father's plans to attack, then admitted that he had nowhere else to go. While she appreciated the information, it's clear that she doesn't trust him and told him he simply couldn't return to the rebels with her.
The Randal Problem. Rachel and Miles made it to the house of her former colleague, John, who is using his pendant to power up the armoury in his basement. He delivered the unfortunate news that he hasn't been communicating with Grace or any of the others, but later he knocked the two of them out and told them that both he and Grace had been compromised by Randall. Fortunately, Miles was able to knock out John and he and Rachel escaped with a bazooka. Meanwhile, we finally saw Randall in the present day and he does, indeed, have Grace, who is trying to get the elevators working in the building he's holed up in so that he can get down to whatever is hiding on level 12.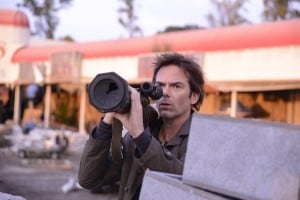 The Final Stand. At the rebel camp, Charlie delivered Jason's news about the impending slaughter and the rebels decided to stay and fight Monroe's army with whatever weapons they had. Charlie asked Danny to sit this one out, explaining that she had traveled so far to find him and just wanted to keep him safe. But Danny was determined to fight alongside his sister on the front lines. Monroe's choppers arrived and all looked to be lost for the rebels until Rachel and Miles arrived with the bazooka in the nick of time. Unfortunately, Miles was knocked away by a blast before he could fire off a missile, so Danny picked up the weapon and destroyed Monroe's amplifier. But the chopper fired on him as it went down and Danny died of his injuries as Rachel and Charlie cried over him. Later, Charlie told her mother that she won't rest until she's killed Monroe, but Rachel is still keeping secrets. Alone with Danny's body, she cut into the his side and pulled out a small, blinking capsule. Was that inserted into young Danny during the operation to save his life? What could Rachel possibly use it for now?
What's Next for Monroe? It's clear Monroe has been devastated by the loss of his amplifier but, fortunately for him, Randall (now teamed up with John) arrived at Monroe's headquarters and offered to help.
Revolution is all new next week. What will Randall do for Monroe? Tune in on April 2 to find out!
http://youtu.be/NG0wkKBTFoM