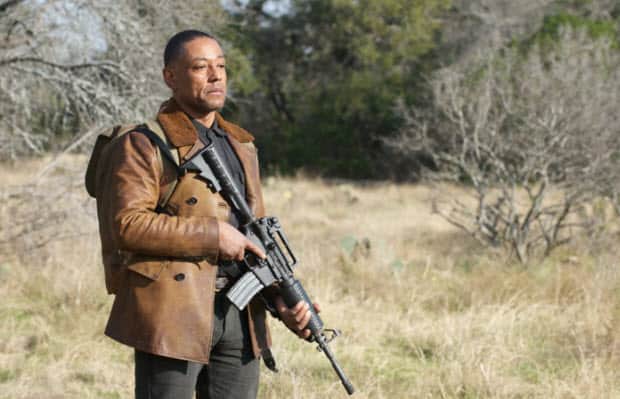 by Lindsay Bradley
After a short break, Revolution returns and fights back.
The majority of the episode takes place in New Vegas. Monroe and Connor have been captured and put into a cage, which is surrounded by guards. Gould is smug, he has Sebastian Monroe locked up. He gleefully informs them that they're going to be in a dog fight — a fight to the death. Connor asks what the plan is but Monroe doesn't have one. Monroe bravely teaches his son how to fight and kill him. The two of them spend the episode in the cage which works well, we see more of Monroe which has been lacking this season. At first Connor is reluctant, so Monroe tells him about his mother which gives him the motivation he needs to go ahead.
Connor's hopes of Charlie coming to save them are diminished as they see her chained up. Charlie's efforts to win Duncan over ends up with her being captured and passed over to Gould who chains her up and sells her to the highest bidder. Charlie hears Gould talking about getting rid of Duncan, which gives her an opportunity to win Duncan over, if she can escape.
After strangling a greasy punter from assaulting her, Charlie manages to escape. With the fight in full swing, time is short. In dramatic fashion, she gets there just in time to save Duncan from being stabbed and Monroe and Connor are free just before Connor was going to make the final blow. To thank Charlie for saving her life, Duncan hands over some mercenaries who only answer to her. Monroe will have to take the back seat again, it will be interesting to see Monroe's character develop further.
Elsewhere, Miles and Rachel do not trust Neville and his son, and rightly so. The Patriots' Doyle is in town Miles wants to capture him and get information from him. Miles, as usual, tells Rachel not to come but of course she does anyway. She ends up being a great help as Neville and Jason tell the Patriots about the attack. With this added advantage Miles is two steps ahead and holds a gun to Neville's head, who reluctantly reveals that he has been sent to kill Monroe in order to save Julia. Neville reminds him of the horrific things he has done in an attempt to coax him into helping, why wouldn't they want him dead? Miles and Rachel may agree deep down but they need all the help they can get to defeat the Patriots. Neville isn't having much luck recently but surely he has some tricks up his sleeve?
Things take a strange turn Lubbock, Texas as the nanites begs Aaron and Priscilla to save them. Priscilla is not interested and initially neither is Aaron, but as lightning strikes, they both reluctantly go to Peter and offer to fix the code. If these nanites are so powerful, why can't they evolve and fix things themselves? A conveniently placed computer is switched on for them to type the code. Peter is desperate to save them, as with their healing powers he remains powerful. Aaron pretends to have solved the code but instead he begins to type a virus, the nanite appears in the form of Cynthia and asks why he's doing this. The wound gets deeper, Peter is horrified and Aaron has to knock him out to stop him from interfering.
The lights flash and all of a sudden Aaron is lying in bed with his alarm going off. He looks at it confused but switches it off. As he gets up and looks out of the window, he sees traffic and electricity all around him. He has been taken back to 2014. What happens now? Guess we'll have to tune into next week's episode.
[Photo via Felicia Graham/NBC]