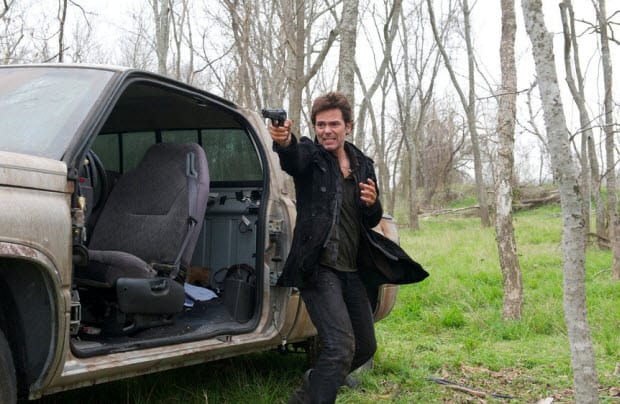 by Lindsay Bradley
It has been nearly a month since Revolution last graced our screens. The previous episode was emotional one. We said farewell to Jason after being killed by none other than Charlie after being activated into a Patriot weapon.
The episode opens up with Charlie's initial reaction to his death and the aftermath. If she was inexpressive before, she is even more so now. Monroe reminds her that she needs to snap out of it because once Neville discovers what she has done he is not going to be forgiving. Before she can respond to his words they realise they are being followed, the Texan rangers have caught up to them. Miles takes charge and tells the others to head back to camp whilst he leads them astray. Unfortunately, the carriage tumbles over and Miles has to take cover. He tries reasoning with the rangers, he wants to be a better man and he tries to be but that day is not today. He is forced to defend himself and does well, until he's hit with a fatal looking sword wound.
The Priscilla and Aaron storyline continues to be a slow burner, with the nano-tech infested Priscilla demanding music and pizza. This would have been entertaining if it hadn't been played out already. We are as annoyed as Aaron is and something needs to be done soon. Charlie makes it back to camp with Monroe and Connor and is relieved at seeing Aaron as she assumed that he had perished. She has seen a lot of death around her, in fact it has become her life now. She grabs onto this good news, which is enough for her to carry on, for now.
The good news last seconds as Miles has yet to return. Charlie, Rachel and Miles team up to try to find him. Miles did in fact manage to get away and had started to head back. Disastrously, it is not his lucky day and he becomes trapped at the bottom of an underground bunker with his wound from the Texan ranger continuing to bleed out. It is looking grim for him as his attempts to get out fail and only injure him further. It is a dark moment and he considers taking his own life.
During the search party, Rachel, Monroe and Charlie come to a crossroads and decide it is best if they split up. Charlie is caught by Neville as she tries to find some clues as to where Miles is. After forcing her to drop her weapons, he asks her where Jason is. Fear fills her unsure of what to say. She does not have it in her to tell him what happened, but of course Neville isn't going to give up that easily. He demands Charlie to take him back to the camp, as he assumes that is where Jason will be. Held at gunpoint Charlie has no choice but to agree and this is the point where she could have told him what really happened. Instead, she takes him to one of their previous safe houses with the intention of harming him. She foolishly tries to get the sword that was taped underneath the table, not thinking clearly. Neville knows all the tricks in the book, which is why he was chosen to kill Monroe.
Charlie is out of options and breaks down and admits the truth. She killed him. She had to. It was either her life or his, but telling a parent that was never going to go down well. Neville looks broken. He thought Jason was idiot and reckless, but he was his son. A son he has lost, along with his wife. He has lost everything. Charlie understands and asks him to kill her, she wants him to because she cared for him too and she has already lost so much. Too much. Every week there is some battle and casualty, her life is a constant battle and at this point she has given up the fight. Neville pulls the trigger but as expected his gun is out of bullets. After a moment of shock, Charlie flees. Neville cries out in grief but lets her go, but we know he isn't going to give up.
Miles tries to find the courage to end his life but then he notices something on the ground. He finds a plectrum and remembers when things were simpler. He remembers seeing Rachel and their relationship together. He knows he cannot just leave her. Miles is finally ready to admit what he is willing to fight for and he isn't willing to back down. Charlie too has a similar revelation, as she confesses to Connor. She wants to live to see tomorrow and she wants Miles to be a part of it.
The season finale draws nearer and still there is no clear indication that they can stop Patriots from taking power. The question is that will it all be resolved in three episodes or will it end with us none the wiser? Is there even an ideal resolution? We need answers and fast as time is running out.
[Photo via Felicia Graham/NBC]