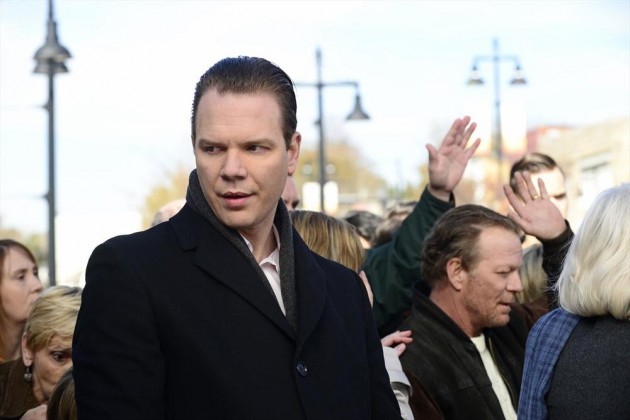 Sunday nights are always hectic for TV fans. Between the HBO and Showtime shows starting up again, it's easy to forget about the little old networks. Last night's Resurrection definitely deserves more attention because we're finally getting somewhere with the overarching mystery.
Seriously, the storyline is escalating as we near the season finale in two weeks. The arrival of Preacher James really jump started perhaps the most interesting theories. Last week, I automatically felt that there was something different about him. Now I'm even more convinced that he is indeed sent from God. His miracles so closely parallel the stories of Jesus in the Bible, only with a twist.
Lucille and Marty witnessed the mysterious preacher bring a woman's recently deceased husband back from the dead. This was all easy to write off as a giant con, but Jenny can attest to his miracles in church decades ago before she and her brother died in the river. The exact timeline of everything is confusing, though. Rachael stops at his grave that states he died in 1933. Yet James later tells Marty that he was a bad man in his previous life and it was only in saving him as a drowning baby that he found a purpose in life (and beyond).
James' powers aren't fully explained yet, but they certainly do come in handy for the Langstons when Henry dies of a presumed heart attack behind the wheel of his car. Lucille's automatic denial of his death made sense. By the way, how freaky was it that her watch stopped at his time of death? Not to mention Henry's appearance to Marty before he was found. So weird. For some reason, Fred didn't call Lucille to the scene before his body was taken away in an ambulance.
Without a place to call home, Rachael returned to town after she escaped Janine's crazy prison. As expected, her pregnancy continues to progress at an usual rate so Maggie thinks she could go into labor at any moment now. The Biblical references just keep coming as Elaine jokes about three wise men coming to find her.
Preacher James' introduction may have come too late if the ratings numbers mean anything. Let's be honest: they mean everything for the show's renewal chances. Everyone who tuned out because of the lack of answers better give it one last shot. I truly believe that we're finally on the verge of some real revelations!
What about you? Do you hope these religious undertones pay off over the next two weeks? Which, if any, questions do you think we'll get the answers to?
[Photo via ABC]