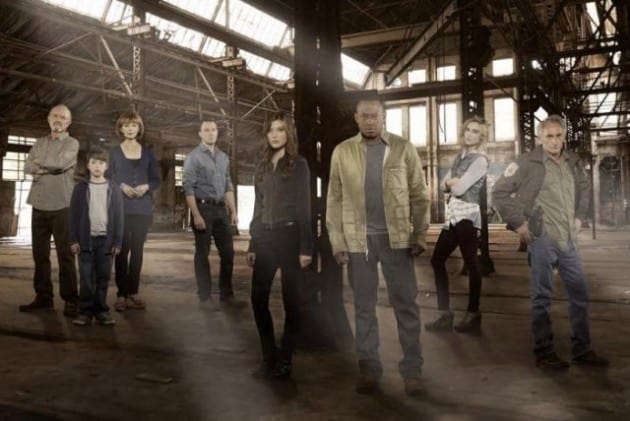 It's a shame the ratings for Resurrection aren't improving because this is far from a sophomore slump in terms of quality. We're getting answers left and right, which only makes it that much more exciting.
Margaret Langston is shaping up to be the perfect villain this show needed. She wasn't lying when she told Bellamy that the Returned people who vanished really did just lose their will to live. What she fails to confess is her involvement in most of those cases. Last week she cryptically told Jacob that she's the only one with the key to making the Returned people disappear for good. It turns out she doesn't need a magical instrument to do so. All she has to do is lay a cleverly worded guilt trip on her victim to make them think they're hopeless and then simply reveal that all they have to do is let go.
Barbara was finally in a good place with her family after Lucille unleashed all her anger and blame onto her for Jacob's death. Strangely enough, that outburst made Maggie sympathize with her mom over a Girl's Night Out initiated by Elaine. They may not have the ideal mother-daughter relationship but Maggie was beginning to like Barbara the more time she spent with her. Now she and Fred will be back to square one with Barbara gone for good this time.
Elaine's efforts to befriend Barbara were nice, but it doesn't seem fair that she's relegated to hanging out with Maggie's parents all season. At least now that she witnessed Barbara and Margaret's last interaction before her disappearance she'll be semi-relevant again.
Maggie's been too preoccupied with playing house with Bellamy and taking it upon herself to treat all the sick Returned people. How is there seriously not another doctor in town? Anyway, Maggie and Bellamy get into a fight over the fact that maybe they don't know everything about each other. Aside from Bellamy's huge secret that he's twice Returned, they make sense as a couple. They have this not-quite-yet lovers' quarrel down pat.
Bellamy gives in to the pressure from Maggie to contact his secret boss for answers about this illness spreading among the Returned. This lady is shady as ever, by the way. She won't disclose any information about it but she strongly implies that the illness is a natural order of things.
That line of thinking actually kinda worked to weed Mikey out, even though Carl's technically to blame for withholding his medicine. Mikey got so sick of the pain that he also "willed" himself to be gone, and that actually worked.
If you're keeping track of all the big answers we're getting, we now know how it's possible for a Returned person to disappear. We still don't know why they come back in the first place, or even where (if anywhere) they go after they leave this earth, but I doubt those two looming questions will ever be answered. As with real life, it's open to interpretation and your personal beliefs. For now, we can only hope that Jacob, Bellamy, and Rachael don't get on Margaret's bad side.
[Photo via ABC]