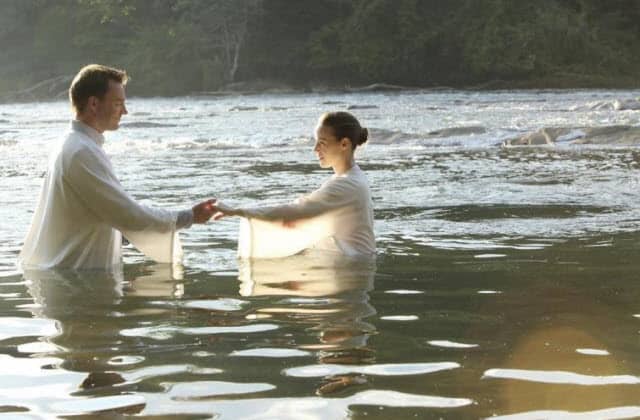 Resurrection always poses lots of thought-provoking questions. For example, how do you grieve for yourself? Bellamy turns to Tom for guidance on this issue as he continues to struggle with his death and second chance at life.
As a pastor, Tom had his fair share of problems once his ex-fiance Rachael returned last season. It's about time he finally took his preaching out of the traditional church and started catering to the growing population of other Returns. This episode actually started with a biblical baptism in the river, but that's where things turned super weird. Barbara was the first to be baptized, and as she was walking out onto land, she stepped on a human skull in the water.
Remember those bones Margaret dug up from the factory at the end of the last episode? Apparently she must have moved them and planted them in the river. No one knows it was her yet, and as viewers her motive behind the move is still unknown. All she's really doing is growing shadier by the minute. Her little speech to Maggie that Fred is right not to trust any of the Returned because they "haven't done anything to deserve second chances" is basically implying that she must have had a hand in the murders of the bones that surfaced.
Fred's Deputy Carl had a strange storyline for the first time all series. We're introduced to his brother Mikey, another Returned, who is mooching off Carl and guilt tripping him when he doesn't get his way. Maybe the whole point of this storyline was to make us feel sympathy for Carl, but since we never had a reason to care for (or even notice) him before, this was just very weird.
Bellamy and Tom shared the most interesting scenes of the night. Bellamy confided his secret identity as a new Return to Tom who readily listened and tried to help him confront his nightmare. Bellamy's mysterious boss (whose name he still doesn't even know) only agreed to let him see his dead body for a moment if he has any useful information for this secret agency. It's a shame he had to go behind Maggie's back and report the bones, but ultimately the viewing of his body allowed him to move on. Tom even performed a private funeral with an empty grave and unmarked headstone that only these two would ever know about.
Like I said, it's great that Bellamy is starting to get over the shock and accept who or what he is, but now Maggie lost her latest clue to cracking the code of these Returns. All she had time to discover so far was that there were two different sets of identical bodies, all murdered in different fashions. Maybe Margaret's intention was to hint that there have been Returned people before this latest wave. If that's the case, who's to say everyone in Arcadia isn't living their lives on a loop? Where does the Returned cycle end? Do you keep coming back even if you die when you're 90 years old? These are all great questions I hope to see answered as the series goes on.
[Photo via ABC]