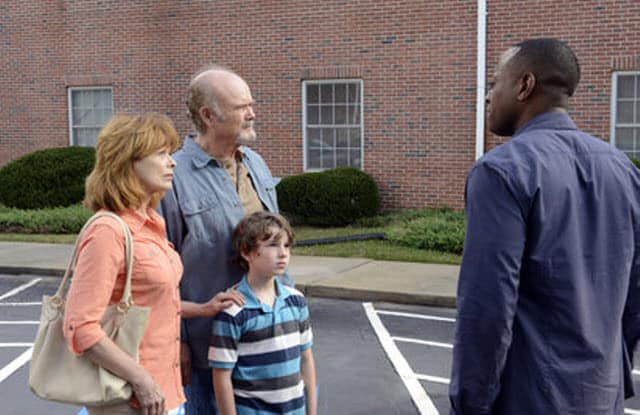 I can't believe this was the season finale of Resurrection already! They definitely left us with some major cliffhangers deserving of a second season.
Last week ended with tons more people returning to Arcadia from all different decades as far back as the early 1900s. Bellamy resorts to calling his boss for backup but still keeps the truth of the matter under wraps because he knows that this could turn ugly if the wrong organization gets involved. An army troop arrives at the church where the Returned are unofficially gathering to provide supplies and assistance with no questions asked. All they were told was that these people were displaced after a flood ruined their homes.
Fred ultimately ruined everything after his wife Barbara finally chose to confront him. Maggie had just met her mother for the first time in her life, and she learned that maybe her dad exhibited abusive behavior in the past that made her mother stray from him 32 years ago. Regardless of whether or not she actually believes her mother, Maggie gave her an ultimatum that either she goes to see Fred herself or Maggie will tell him that she's back. When Barbara does talk to Fred, she gives him the old "I can't do this anymore" breakup speech as she explains why she's been staying with Sam, the man she had an affair with so long ago. That's the thing that's weird about this. In Barbara's mind, her rocky marriage to Fred is still fresh in her mind. He's had 32 years to grieve her, so why does this spark such a dark side in him? This shouldn't be shocking to him that they're over.
Fred takes a Colonel from the Army troop to the morgue to show him the body of Rachael, who is appearing to be alive and well back in the church. Naturally this would freak anyone out, and the Colonel calls in reinforcements. By the end, Fred sees the error in his ways and he claims he never meant for this to get blown out of proportion, but I can't believe he was okay with the idea of all these people (his nephew included) being taken away to some camp or something where maybe Henry and Lucille could still visit Jacob. Stupid, stupid. Now we don't know what kind of danger they're facing but it's not looking good if their new goal is to quarantine the entire town.
There's still a lot of stories to explore in Arcadia. It was interesting to see Helen show up to the church, and as Tom braced for another outburst from her, she was actually there to reunite with a loved one who had Returned. Maybe she's not quite so bad after all. The Thompson family that Jacob had met at the park last week are from the 1950s, and they tell the Langstons that they're hoping their son turns up as well. They believe Robert died with them but I'm not sure how they can know for certain that he died since they don't remember anything that happened after their deaths. Anyway, they only know that his one identifying mark is a crescent on the back of his neck.
The ending was nicely set up for a second season with the reveal that Bellamy has the crescent birthmark. That alone raises so many questions, like how is it possible for him to be their son? Even if he survived the flood that killed the rest of his family, that would put him in his 60s, and he's definitely not much older than late 30s. Is he one of the Returned then? There's also the more pressing question of how will Bellamy keep Jacob safe with the swarms of government cars and helicopters surrounding them from all directions. And was I the only one who thought of Elliott from E.T. when Jacob was wearing his red hoodie as the helicopter approached them?
Not to mention the weird dead bugs that are laying all across the road. I honestly don't even know why Bellamy had to stop. They were technically out of the Arcadia city limits, but he could have easily just driven over the bugs and told Jacob they didn't have time to check them out. The bugs could be a more significant hint at the direction the show is going, though. Locusts are a biblical reference to the Apocalypse so there's something to consider.
If/when it gets renewed, a part of me wishes it could be another short order of episodes. The shorter seasons of 10-12 episodes work for most cable dramas, and networks like Fox are even doing that now. I'm not sure a show with so much mystery could stretch out for a full 22 hour long season. What do you think?