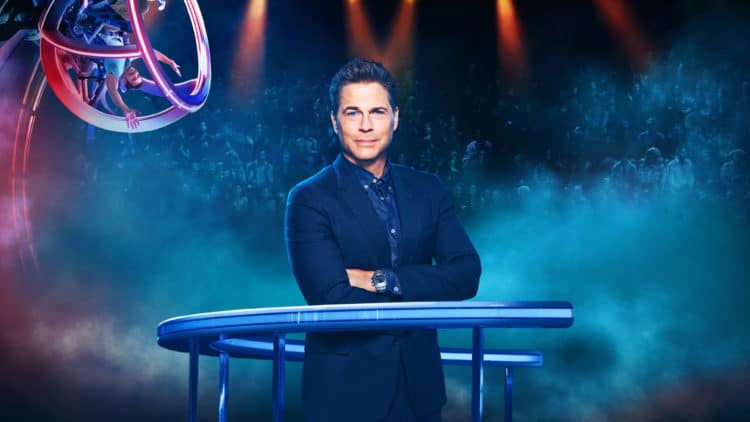 Anyone who isn't familiar with Mental Samurai is in for a treat no matter who does the hosting. The most expensive set ever created features a wild ride on a huge robotic arm named Ava that would fit in as easily at any amusement park as it could in the world of the Matrix. She takes contestants for a serious spin as they work their way through the 'Towers of Samurai.' Contestants literally have to answer questions with their heads spinning as they reel around the multi-leveled towers and try to answer four questions in five minutes. Those who succeed move on to the faster Circle of Samurai Challenge round.
Fans of Mental Samurai may be offended that we're dreaming up replacements for Rob Lowe. There's no reason to be concerned though; he's not being replaced as far as we know. Rob makes a fabulous addition to the show. His emotional range and serious enthusiasm are delightful and well suited to the gameshow host role. Truthfully it would be sad to see him go, but if we were going to trade hosts on the stunning set, there are some fantastic candidates to choose from. It's always difficult to narrow down a list to just s few favored faces. In no particular order, here are our best picks.
1. James Franco
While James has had his troubles and scandals, lately we can still see him as a game show host. The unusual actor holds seven degrees and an impressive filmography of works under his belt. He has been compared to Andy Kaufman because of his distinctive personality. Whether you believe he did or did not do anything wrong, there's no denying that he's a brilliant man who is terribly interesting to watch onscreen. His smile and brains would take him far on Mental Samurai.
2. Mayim Bialik
You may think she's easy on the eyes from her TV appearances on Blossom and Big Bang Theory, but Dr. Mayim Bialik is a neuroscientist in real life. As one of the smartest and most stunning women in Hollywood, she deserves a spot on any list that uses the phrase "Mental Samurai." We've seen her geek out enough to know she's just a joy to watch, and she certainly has personality for days. As a STEM degree holder and brand ambassador for Texas Instruments, and a working mother, there's nothing she can't do, and that includes host this show. We think watching her interact with the contestants would be funny and enlightening.
3. Ashton Kutcher
Many of Kutcher's fans see him as Kelso from That 70s show where he started. It's hard to see past his good looks, and he did produce Punk'd. There's nothing wrong with being good looking and a bit goofy, but there's so much more to Ashton. He has layers that would put an onion to shame. Unlike most of our picks to host Mental Samurai, he did not graduate college. What he has done is to save 6000 kids from sex trafficking and invest in technology companies. If that doesn't show heart and brains then not much does.
4. Selma Blair
She might be the most under-appreciated talent in all of Hollywood. Selma Blair has been featured on dark horrors like The Fog, teen dramas like Cruel Intentions, comedies like Legally Blonde and even childrens' shows like Bookaboo. She has amazing range, and she's at least as good looking as Rob Lowe. Even though she'd probably rather be riding horses with her son, she has so much personality she simply had to be on the list. The actress isn't afraid to talk about her struggles with MS, sexual trauma and depression, which gives her heart and depth that is lacking in so many actresses that are cast for their looks alone. It also doesn't hurt that she graduated Magna Cum Laude with degrees in English and Psychology, so she's a Mental Samurai in her own right.
5. Masi Oka
He's brilliant, funny and there's just something about his attitude that makes Masi Oka so much fun to watch. With diverse interests that range from beatboxing to kendo and writing romantic comedies, we think the 44-year-old Masi would be a fabulous host. When it comes to being the "Mental Samurai," he has a degree from Brown and a genius level IQ which measured 189 as a child according to his interview with Ellen DeGeneres. Masi is also Japanese born, making him the only one on this list who comes from a place with real Samurai.
Final Thoughts
It would be amazing to see some of these actors get a shot at a guest host spot. (Hint hint, FOX we're talking to you here) Though we don't want to see, Rob Lowe go anywhere. He's always a delight to watch and not just because he's ridiculously handsome. They cast the right man for the job, even if he's not the only one who'd be amazing on the show.
Tell us what's wrong with this post? How could we improve it? :)
Let us improve this post!