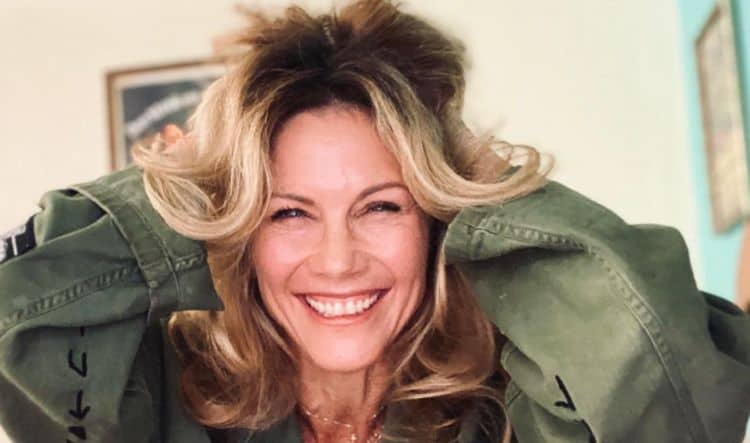 From which project do you recognize Stacy Haiduk? Were you a fan when she took on the role of Colleen Patterson on Melrose Place in the 90s? Have you followed her since she took on the role of Hannah Nichols on All My Children? Or, did you become a fan when she began working as Susan Banks and Kristen DiMera on Days of Our Lives back in 2018? There's a good chance you've been a fan since she began her career in the 80s, and that you've seen a lot more of her work, but it turns out that despite her three-decade career, her fans don't know her that well. Let's get to know Stacy Haiduk a little better.
1. She is from Michigan
Haiduk was born and raised in Grand Rapids, Michigan. She was born on April 24, 1968, which means she's almost 53. She's clearly taking good care of herself because she certainly doesn't look her own age. That's not a bad thing, either.
2. She is a Married Mom of One
While she is very low-key about her own life, she did make an announcement in 2010 during an interview with Soap Opera Digest that she got married…13 years before. She kept her marriage very private for a very long time. She and her husband, Bradford Tatum, share one daughter. Her name is Sophia, and we have no idea when she was born.
3. She Caused a Stir at the Daytime Emmys in 2009
It turns out that some people do not like animals being used as accessories. Whether or not you support PETA, it turns out that it wasn't just the PETA people who were upset with Haiduk when she showed up at the Daytime Emmy Awards in 2009 with what everyone believed was a stuffed cat as a purse. She was under heavy fire before it was made public that it was not a cat…it was a prop from her work on The Young and the Restless and nothing to worry about.
4. She's Easy to Work With
We don't work with Stacy Haiduk, so how do we know? We know because it's been said over and over again by co-stars who have worked with her on her many projects. Over the years, she's been praised as lovely time and time again. Her costars are always speaking highly of her and how enjoyable she is to work with. Most recently, both Eric Martsolf and Robert Scott Wilson from DOOL have called her lovely things like a "Breath of fresh air," and "an absolute Rockstar," and she speaks just as highly of them.
5. She Knows the Hard Lessons of the Business
Her career is a long one, and it's taught her many things. The most profound lesson she's learned in her 30-year career is that Hollywood is a land of many ups and downs. Some years are really good. Some are not. Some are easier than others, and that there are a lot of things that happen all the time.
6. She Picked up Quarantine Skills
Didn't we all, though? She's picked up new talents such as gardening. It's probably one of the best new skills to come out of quarantine, too. Learning to make the world more beautiful one yard at a time is a lovely thing to do. She's also a newly skilled organizer and yard cleaner. Join the club, my friend.
7. She Loves Chicago
Many years ago, she said in an interview that she loves Chicago because it is so open. It's a big city with so much to offer but, "It doesn't have that tight feeling that New York does," and when we read that, we realized it's the actual truth. Both are lovely cities, but Chicago does have a much more wide-open concept and feeling.
8. She Filmed for a Long Time in Florida
Orlando is famous for many things, including Disney and Universal, and Haiduk has worked in both locations. When she was filming "Superboy," for the many seasons she starred on the show, she spent years in Florida. First, she filmed at Disney/MGM. Then, she filmed at Universal. She liked Universal better. It was new and it was better.
9. She Calls Herself Passionate
She's described herself a time or two as being a very passionate person, and we can see it. Her line of work does require a certain level of passion to take on the roles she plays and do them so well, but she also has that feeling in her regular life.
10. She is Intensely Private
Oh, don't get us wrong. Haiduk shares enough with the world to keep us all feeling as if we are in the know, but she's intensely private. She can keep anything to herself, and she values her privacy.
Tell us what's wrong with this post? How could we improve it? :)
Let us improve this post!