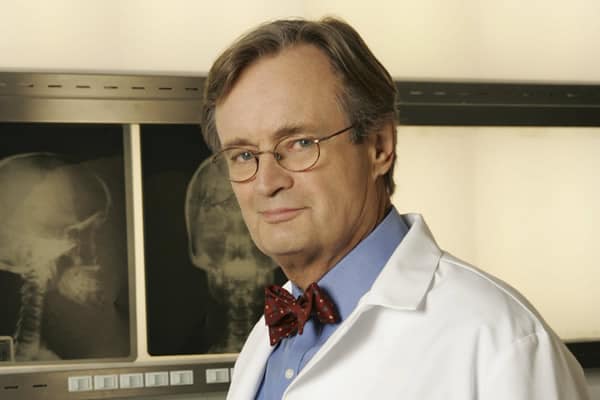 Longevity is not something experienced easily when it comes to a TV series. Many TV shows are canceled at the end of the first season if the projected numbers are not reached. It is not unheard of to have a program cancel mid-season in order to be replaced by better programming. On the other end of the spectrum, there are those jewels in which a show finds its place in the hearts of viewers that consistently demand more and more of it. That is the case for NCIS.
While Mark Harmon takes center stage for this show, no one who is a true fan is unaware of "Ducky." Dr. Donald "Ducky" Mallard is a mainstay on the show, and he provides unusual wit to the show. Donald Mallard is actually played by veteran actor, David McCallum – a Scottish Born actor, with a pretty extensive resume.
Following are five things that you mostly like did not know about David McCallum.
1. David Shared the Silver Screen with John Wayne
In this day and time, how many people can possibly make the claim that they shared the screen with film legend, John Wayne? Well, David McCallum can make that claim. Of all roles, McCallum played the role of Judas Iscariot in the George Stevens film, The Greatest Story Ever Told. Wayne played the role of the Centurion in the movie.
2. Acting Runs in the Family
David has two sons with Jill Ireland, Paul and Valentine McCallum, who have both logged acting careers. Paul has appeared in a number of films produced and starred in by Charles Bronson, including Death Wish II, 10 to Midnight Murphy's Law and Assassination. Valentine played a small role in the comedy, My Chauffeur in 1986.
3. He Lost His First Wife to Co-Star Charles Bronson
When McCallum was shooting the film The Great Escape, he made the mistake of introducing his first wife, Jill Ireland to his co-star, Charles Bronson. In a short few years, Ireland had left McCallum to marry Bronson. I guess that explains all of the roles Paul was able to get in Bronson's films.
4. He Loves The Outer Limits
When it comes to the franchise, The Outer Limits, David McCallum has given himself to the series wholeheartedly. He is one of only a handful of actors who can boast that they have appeared in both, The 1963 series and the series revival that took place in the mid-90s. There is something about sci-fi that intrigues McCallum.
5. He is the Consummate Professional
According to sources, David does his homework when it comes to researching his roles, which means that he has studied pathology, forensics and autopsy procedures to great lengths, in order to ensure that he portrays his character on the NCIS series with remarkable accuracy – providing a high level of authenticity to the role. In fact, it has been reported that he often schools the show's writer on specific details in which they may be slightly off. When he first auditioned for the role of "Ducky," the creator of the series, Donald Bellisario, gave a great deal of consideration to hiring him as a technical advisor.
Tell us what's wrong with this post? How could we improve it? :)
Let us improve this post!