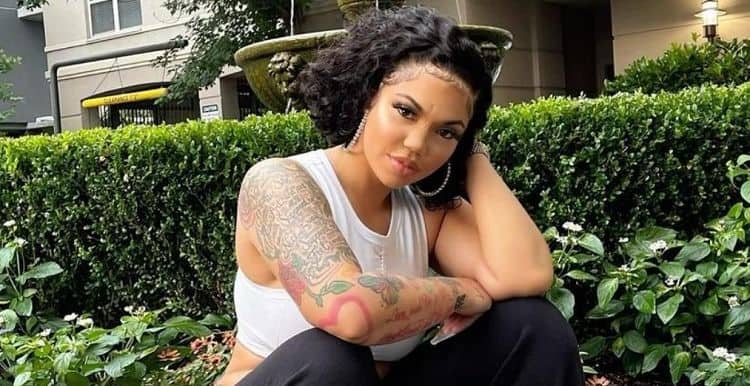 Since its inception, hip-hop has been a male-dominated genre. While the men in the game continue to get the most attention, there are a lot of women who are slowly creeping into the spotlight. Among them is up and comer Renni Rucci. Although she has yet to release her debut album, Renni has been creating a big buzz thanks to social media. Fans love her cocky style and versatile flow and she's already shown that she can keep up with some of the industry's veterans. As she continues to release music, more and more people are getting excited about what her first project is going to sound like. Keep reading to learn 10 things you didn't know about Renni Rucci.
1. She's From South Carolina
Renni was born and raised in South Carolina and she's very proud of where she's from. During an interview with Hot New Hip Hop, Renni said, "[Growing up] we played outside, we had big yards, we rode go-karts and four-wheelers. We climbed trees, and picked plums. Picked up pecans and sold 'em. Like, really country. All our cousins stay in the same area."
2. She Has A "Horrible" Sense Of Humor
Most people like to think they have a good sense of humor, but Renni has no shame about the fact that her sense of humor leaves a lot to be desired. She told XXL, "I have a horrible sense of humor. I think stuff is funny that's not funny. I laugh at inappropriate stuff. My jokes are really inappropriate."
3. She's A Proud Mom
Music may seem like the most important thing in Renni's life, but it's really her children who come first. She is a dedicated mother of two, and they are her pride and joy. Balancing her budding rap career with the responsibilities of motherhood isn't always easy, but Renni is more than built for the task.
4. She Started Rapping In High School
Renni isn't the type of artist who grew up wanting to be a rapper. Although she's always loved music, she didn't start recording until high school when she hopped on a track with her boyfriend. Even then, however, rap wasn't something that she planned on taking seriously enough to make a career out of.
5. She Was Inspired By Some Legendary Female Rappers
Growing up, Renni spent a lot of time listening to female rappers, but Eve and Charli Baltimore were always the two who stuck out to her the most. When asked about the women who inspired her, Renni told Karen Civil, "Eve definitely. I would say she played a big part as far as the females because I was more into her and Charli Baltimore. I don't know how to describe their sound. They just reminded me of the women I grew up around. Really dominant and strong women, which is why I feel I related to them a lot."
6. She Likes To Take Her Shoes Off In The Studio
Every artist has something special they like to do whenever they go to the studio. For Renni, that thing is taking off her shoes. For her, taking off her shoes means that she can be as comfortable as possible. Since artists typically spend hours on end at the studio, it's easy to see why comfort would be high on her priority list.
7. She Got Signed Within Six Months Of Taking Music Seriously
Breaking into the music industry is something that usually takes people years. However, that wasn't the case for Renni. While talking to Karen Civil, she said, "I got signed six months after taking music seriously. I didn't have any original content out. I was just jackin beats and putting videos up to them."
8. She Has A YouTube Channel
Having a strong online presence is a must for anyone who is trying to build a career in the entertainment industry. Renni Rucci has worked hard to build one. In addition to having more than a million followers on Instagram, she also has a YouTube channel. She doesn't just use it to promote her music, though. She has also posted vlogs and other content.
9. She Used To Be A Dancer
Even before her music career took off, Renni was no stranger to performing. She spent some time working as a stripper. While some former dancers try to deny their past, Renni isn't embarrassed about where she came from. At one point in time, she even taught pole dancing classes.
10. She's In A Relationship
On top of the success she's had in her career, things are also going well in Renni's love life. She is in a relationship with fellow rap artist, Foogiano. It's unclear how long the two have been together, but they seem to be going strong. Foogiano, however, does not appear to be the father of her children.
Tell us what's wrong with this post? How could we improve it? :)
Let us improve this post!