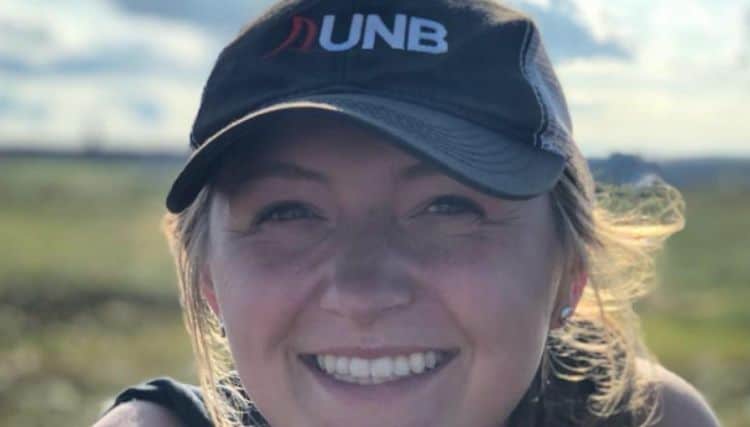 Anyone who watches shows like "The Curse of Oak Island," often find themselves lost in the mystery of what is going on. The show is on that has been on the air for years, and many fans find themselves wondering if anyone will ever find anything, if there is anything, and why nothing has happened thus far. However, other fans watch purely for the entertainment factor. One such entertainment factor is the mystery blonde that is all of the show this season. Who is she? What's she like? What's she doing there? Why doesn't anyone talk about her? Her name is Miriam Amirault, and we know a thing or two about her.
1. She's an Archaeologist
What we do know about Miriam Amirault is that she's an archaeologist. She works for the University of New Brunswick, and she's also a graduate of the same school. She graduated from the school's archaeology program.
2. She's from Nova Scotia
She hails from Nova Scotia. However, we don't know if she lives there now, if she was there her entire life, if she was merely born there, or much about her family at all. She's simply a woman from Nova Scotia according to our research.
3. She Travels Often
Her role on the show is not something that is a major factor in her life. However, her role in life allows her to see the world. She's gotten to travel to many countries, islands, and locales to see what she can find as an archaeologist, and we imagine that every single day of her job is different, exciting, and full of promise.
4. She's Fond of Her Friends and Family
When she's not traveling the world for work or being shown in the background of a well-known reality show, she likes to spend as much of time as she can with her friends and family. They are the most important people in the world to her, and she values their time together. She always has a bright smile and a positive outlook on life when she's in the spotlight.
5. She's in Her 20s
The simple fact of the matter is that no one knows much about this young woman. She's on the show, but mostly in the background, and no one really has any personal information about her. She's not in her 30s yet, but we honestly have no idea just how close or far she is from that milestone birthday.
6. She Doesn't Seem to Have an Instagram Account
We always say that you can learn as much as you want about a person by visiting their social media pages, and Instagram is always the best one. However, we could not find her on the 'gram. She might use a different name or a version of her own name that we are unfamiliar with, but we really could not find her using any of our typical resources.
7. Fans Seem to Like Her
She's not the main focus of the show, of course. She simply appears in the work and in the digs, and people are just naturally curious about her. Perhaps it's because she seems to out of place being there with her beauty and her bright smile. Either way, the internet wants to know more about her, and there's not much to share.
8. She Clearly Values Her Privacy
Based on the fact that she does not use social media, we have to assume she's a big fan of her own privacy. She seems to have no desire to spend her time in the spotlight, and that's all right. She seems very happy with her work and the job she's doing in the university she graduated from, and that's all that matters.
9. She Does Use Facebook
We did find her Facebook account, and it appears that she posts on there from time to time. She doesn't have any recent posts we were able to see – likely due to privacy settings – but she might have a man in her life. She does have photos of herself with a young man she calls her best friend and says "Happy I get to do what I love with my best friend," and then other photos of them together with heart emojis. However, the most recent photo of them is from 2018, so we aren't sure they are still together.
10. She Graduated in 2016
Based on the fact that she also graduated from her archaeology program only recently, we are going to say that her 2016 graduation was her high school graduation. This would mean she's in her very early 20s, perhaps as young as 22 but probably closer to 23.
Tell us what's wrong with this post? How could we improve it? :)
Let us improve this post!