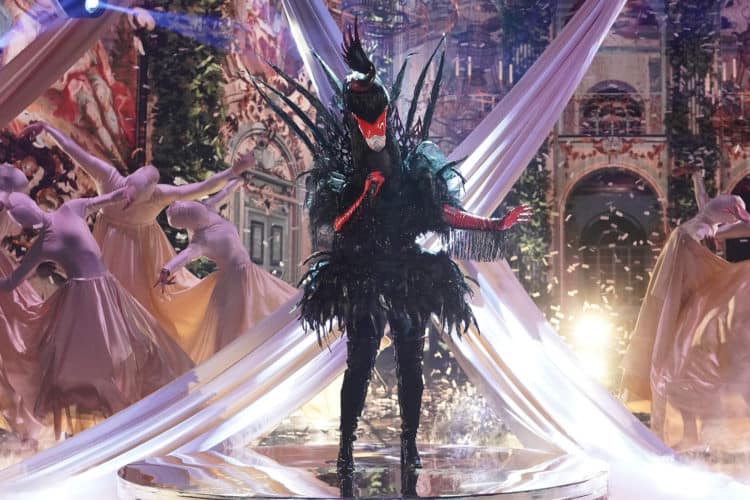 Over the years, there have been lots of singing competition shows, but none of them are quite like The Masked Singer. This series combines the best of singing, costume design, and mystery to create something truly magical. Over the course of the show's run, viewers have seen all kinds of celebrities hit The Masked Singer stage. While some of these stars have absolutely no background in music, others have had very successful singing careers. During season five, the Black Swan was one of the contestants who clearly had plenty of singing experience. After coming in second place, it was revealed that the person behind the voice was R&B artist JoJo. Despite not bringing home the win, her time on the show was truly memorable. Let's talk about the Black Swan from season 5 of The Masked Singer.
The Black Swan's Costume
The costumes are always one of the most exciting things about The Masked Singer because they seem to get more creative every season. JoJo's Black Swan costume was no exception. Although the concept of the costume was fairly simple, the design featured lots of intricate details. The use of red accents also added a nice bold pop of color. However, although it may have looked like the Black Swan costume was easier to move around in than many others, it still had its restrictions. While talking about what it was like to be inside the costume, JoJo told Entertainment Weekly, "It was super heavy. It kind of felt like singing into a pillow. It really forced me to not take myself too seriously, which is definitely something that I needed. But even when you know it's something you need, sometimes it's still nerve-wracking to face it." Like many of the other contestants on the show, though, JoJo certainly made performing in her costume look easy.
JoJo's Journey on The Masked Singer
All of the contestants on The Masked Singer have the opportunity to pick the songs they want to sing. At the same time, however, they are discouraged from choosing songs that have already been performed on the show. This somewhat narrows their options, but it's still important for them to select songs that fit well with their force. This is something that JoJo didn't seem to have any problem doing. All of the songs she chose were perfect for putting her powerful voice on display. However, some of her most memorable performances were "Use Somebody" by King Leon and "How Will I Know" by Whitney Houston. For her final performance, JoJo sang "How Am I Supposed to Live Without You" by Michael Bolton. Although her performance was great, it just wasn't enough to earn her the number one spot. However, by coming in second, she made a bit of Masked Singer history as the first female contestant to do so.
How JoJo Felt About Her Experience on the Show
JoJo was just a teenager when she released her debut album, and it didn't take her long to become a star. However, despite her years of experience, JoJo has struggled with stage fright in recent years. As a result, she was hesitant to do The Masked Singer when the opportunity came around. She credits her friend and former contestant, Tori Kelly, with helping her find the confidence to be a part of the competition. JoJo admits that she didn't see herself making it very far into the competition. Her intention was mainly to have a good time, but it turns out that being on the show gave her so much more than that.
What Has JoJo Been Up To Since The Masked Singer?
Despite not winning the competition, being on the show has still been very beneficial for JoJo's career. It has put her back in the spotlight and reminded the world just how talented she really is. On top of that, she says it's inspired her to put out new music. Shortly after the show, she released a song called "Creature of Habit". During her interview with Entertainment Weekly, JoJo said, "It's the first taste of a new era for me, and of leading with the same fearlessness that allowed me to say yes to the show, and just not taking myself too seriously, continuing to be vulnerable, and to hopefully connect with other human beings, because that's my favorite thing in the world to do." In October of 2021, she released her sixth studio album, Trying Not to Think About It. With her new project getting lots of attention, that likely means that JoJo will do lots of touring in 2022, and hopefully, she will be able to keep the momentum going in the years to come.
Tell us what's wrong with this post? How could we improve it? :)
Let us improve this post!