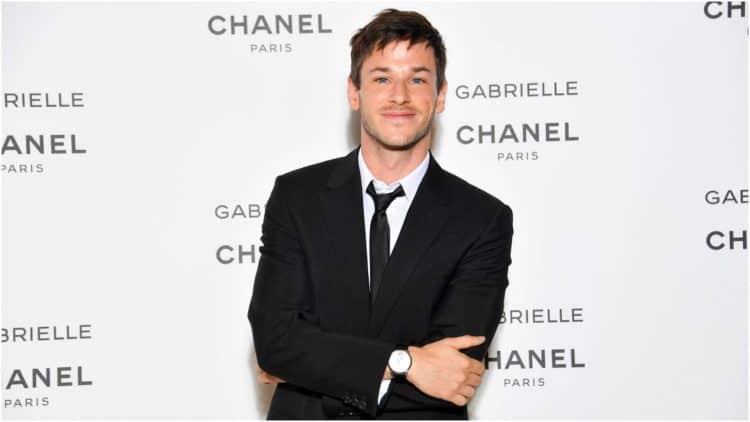 On January 19, 2022, celebrated French actor Gaspard Ulliel lost his life in a skiing accident. He was only 37 years old. He had recently completed filming a role in Marvel's upcoming "Moon Knight," which will premiere on Disney+ in March 2022. His role in the miniseries will no doubt be exciting for his fans, but Ulliel had long ago achieved an impressive resume of performances in both his native France and here in America. His acting prowess will live on long after Moon Knight concludes. Death will always be sad and tragic for as long as humans walk the Earth, but there is something profoundly more tragic and disheartening when someone passes away in the prime of their life. Gaspard Ulliel was an actor of intriguing intensity in his dramatic roles, and incredibly versatile in more subversive supporting roles that endeared him to fans of cinema in his native France. In America, he will likely always be remembered for his compelling role as a young Hannibal Lecter in 2007's Hannibal Rising, which was an origin story that I think was saved by his performance alone. In a career that spanned over 20 years, in addition to theater acting as well as a successful modeling career across the world, his enduring appeal and compassion in his private life will forever live on. In celebration of his brief life and his artistry, here is a look at some of his best performances.
It's Only the End of the World (2016)
In what will arguably be his best role, 2016's It's Only the End of the World saw Ulliel win a Cesar Award for Best Actor for playing a terminally ill, gay playwright struggling to come to terms with his mortality and reconciling with his long estranged family. Written and directed by celebrated Canadian filmmaker Xavier Dolan, the film is uncompromising in it's pursuit of exploring how some families should forever remain estranged. Through Dolan's direction and Ulliel's central performance of stunning nuance and pathos, we can better understand how seeking to mythologize and prop up parents and siblings as blemish-free individuals worthy of no scorn or criticism is sometimes not worth the hassle. Families are human beings just like everyone else on their own in the world. Ulliel's character Louis, comes across as cold and uncaring, but his character also speaks for many of us who do not hold the sanctity of a biological family as some prerequisite in order to live a stable life.
Hannibal Rising (2007)
2007's Hannibal Rising was destroyed by critics and not vindicated by audiences since it barely broke even at the box office. As a prequel to Red Dragon (2002), The Silence of the Lambs (1991), and Hannibal (2001), in both film and book form, the film was expected to ride high on that aspect alone, but the end result was a fairly drab, rather empty film that ultimately went nowhere. Gaspard Ulliel's performance of a young Hannibal Lecter was eerily similar to the mannerisms used by Anthony Hopkins in the later films. In addition to providing continuity with the character, Ulliel's embodiment of Hannibal was compelling, creepy, and charismatic–just as Anthony Hopkins proved to be in the earlier films showing the character late in his life. His performance is a classic example of an actor giving a great performance inside of a film that simply doesn't work. I remember seeing the film in theaters in 2007, and I found myself laughing at scenes that were not meant to be funny, but this was not Ulliel's fault since his characterization was attempting to make something like murder an irreverent, comical type of thing. I remember being engaged with his performance throughout the entirety of the film, and this is the mark of a good actor attempting to elevate the material above its silliness.
Saint Laurent (2014)
Another great Gaspard Ulliel performance was in 2014's Saint Laurent. In this film, Ulliel portrayed iconic French fashion designer Yves Saint Laurent during the period of 1967 to 1976, when the designer was at his most influential and prolific in terms of world fashion. For those who disagree about It's Only the End of the World and Hannibal Rising being Ulliel's top two performances, (especially Hannibal Rising), his role in this film is likely their favorite. Ulliel does a fantastic job of creating Laurent's moods, nuances, and mannerisms during the most frenzied and pivotal moments in his long career. He is at times incredibly charming, and then switches to neurotic and manic in quick succession. The film itself is decent, but it is Ulliel's pivotal performance in nearly every frame of the film that anchors it forward.
Strayed (2003)
One of Gaspard Ulliel's earliest films was with acclaimed French director Andre Techine called Strayed (2003). He played a homeless teenager living in the rural French countryside during the Nazi occupation of the country during World War II. He assists a mother and her two young children, where he teaches them how to survive out in the wilderness and avoid detection from the Nazi's. What was so great about Ulliel's performance in this film is its matter-of-factness that displays an aptitude for some of the most believable naturalistic acting of the 2000s decade. The film is filled with symbolism and metaphorical touches that correspond to the desperate situations the characters find themselves placed in. This is also one of Andre Techine's finest films of the 2000s decade.
A Very Long Engagement (2004)
Apart from Hannibal Rising and the soon-to-be-released Moon Knight, Gaspard Ulliel was likely most known to North American audiences thanks to his supporting performance in 2004's A Very Long Engagement, which was a modest success in the United States. He plays the love interest to Audrey Tatou's character, and this is the film that arguably exposed him to large audiences thanks to its success at the box office. His performance in the film as Menach–a soldier who faces strict punishment for abandoning the front lines during World War I–is relatively brief, but certainly engaging and a memorable part of the film overall.
Tell us what's wrong with this post? How could we improve it? :)
Let us improve this post!