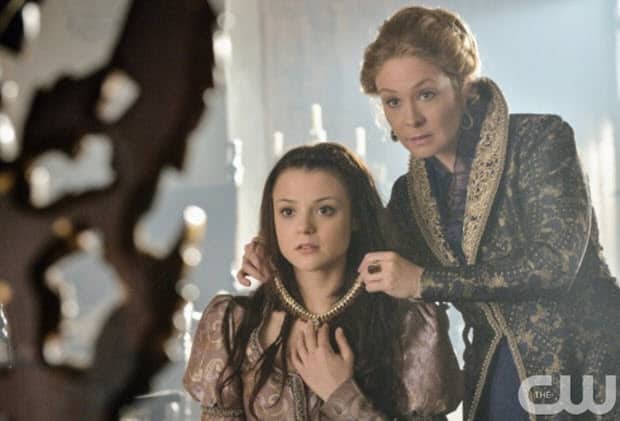 The title of this week's Reign refers to the monster that lurks among the people of France. The obvious big bad is "The Darkness" who has his way with women in caves and forces the pagans to sacrifice people. The less obvious monster is the one that sits on the throne, King Henry. Henry began this season as the practical to a fault, passionate and cunning King of France. He's now dissolved into a paranoid masochist who imagines threats to his power everywhere he looks. Catherine makes note of his behavior and tries to seclude him from the public but does not succeed. She receives a vial from Nostradamus that will knock Henry out in a coma if he drinks it. Catherine gives the vial to a servant Penelope who wins a contest called "Queen of the Bean." And on that note, this is the most ridiculous plot set up ever.
The French court hosts an annual contest where servant girls can vie to be a queen for the day by eating out of a giant cake. Of all of the medieval torture that's accepted in this era, this seems to be the cruelest. I can't imagine a winner enjoying the lap of luxury while knowing she has to go back to a life of indentured servitude. But Catherine being Catherine assumes that the winner Penelope will be grateful for the Queen's friendship and trusts her with the poison that could knock King Henry out. Catherine's true weakness is not understanding the powerful people who thrive beneath the noble class. Penelope, it turns out, is actually a secret dominatrix (????) who rigged the contest in order to get close to Henry. King Henry falls in love with Penelope and all of her rope and belt tricks. He gives Catherine the poison meant to sedate him. The viewers at home know that Nostradamus has the antidote so I doubt that Catherine will be out for very long.
Bash is the biggest victim in Henry's cruelty this episode. Despite saving his brother from a fall through thin ice, his father continues to find him a threat. He's married off to Kenna, who has been unable to secure a royal husband this season. I can't imagine a worse fate than having to live with your father's whiny hand me downs. And Kenna, ever the ready to sacrifice her friendship with Mary to gain power, will have to walk the awkward tight rope between Bash and his real love. Lola and Greer are also matched up with respectful nobles. Greer loses her claim to Lord Julien when she is discovered kissing Leith, forcing her to accept Castleroy's proposal. Lola, who can't even fit in her dresses anymore, takes Lord Juliet as a runner-up. Keeping Greer and Lola at court will be tough since both of their husbands theoretically live in other countries, so I'm looking forward to seeing how the Reign writers pull this off.
Queen Mary has a little relief this episode from the constant reminders that she needs to produce an heir. She looks especially pained when Bash is forced to marry. It's not clear if she's sympathetic to him or if she is still harboring secret feelings. Since she has seen Bash without his shirt off, I'm going to go with the latter.
In the end, Francis is the only character who comes out ahead. His life is saved by his bastard brother, his wife is still loyal to him and his mother is using her manipulative powers for good instead of evil. Now that he's been reintroduced to his old flame Olivia, this might shake up his happy marriage. Luckily Olivia is occupied with Nostradamus, a man filled with glee because he pulled a tooth out of her.
Bulleted observations:
-"Queen of Bean" is the worst even name of all time.
-Nostradamus hitting Olivia with the wisdom bomb "when the body endures a trauma, it's hard for the mind to let it go."
-According to Catherine, Henry has "the appetite of a lion and the stamina of a horse."
-Note to thieves: apparently there are no locks on the bedroom doors at French court.
-Now that everyone is betrothed, is there anyone single left at court?
-King Henry is not above sleeping with his son's wife. Ew.
-Bash, perpetually on horseback has finally earned the title "Master of Horse and Hunt."
-Henry voices what the audience is thinking about Greer "that nasty gossip is the first interesting thing I've heard about you."
-Saddest line of the episode from Greer talking about Leith marching towards his life in the military "please look back, please look back."
-Who is The Darkness (besides a great band)?
[Photo: Ben Mark Holzberg/The CW — © 2014 The CW Network, LLC]