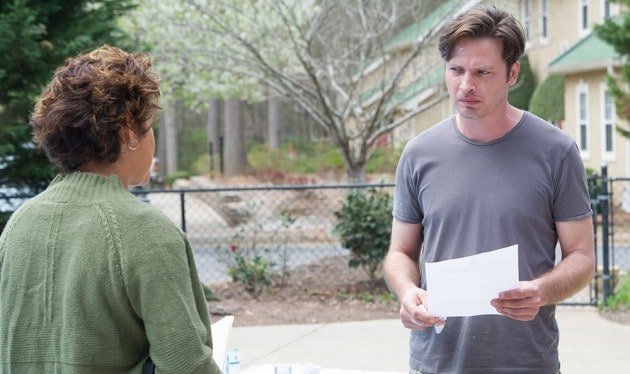 After last week's phenomenal episode of Rectify, I was sure that this week would be a little bit of a letdown. I mean, this show constantly outdoes itself, so it has to end somewhere, right? Well, I was wrong about that. Rectify has outdone itself once again. The series' simple, realistic approach is one of the most unique things on television. Most shows nowadays do things for shock value, but Rectify doesn't need that. It exists truthfully within the world it has created, and that's shock value enough.
This week on Rectify: Teddy and Tawney visit a counselor to try and work on their marriage. Daniel struggles with the rules of his probation. Conflict between Janet and Ted Sr. escalates. The investigation into George Melton's death continues. Amantha briefly reunites with John.
"Girl Jesus" explored several of the different running themes that have ingrained themselves in Rectify and the story that's been told so far. A major one was brokenness. Daniel is the clear object of discussion here, because is the most clearly broken character. But, what is truly interesting about the series is not Daniel's brokenness, but how it has affected the dormant brokenness in other people. Ted, Janet, Tawney, and Teddy, for instance, were all affected by Daniel's return in different ways. Teddy felt edged out by his mother figure. Tawney and Daniel looked to fill each other's brokenness. Janet and Ted have a rift between them because of the conflict between Daniel and Teddy, each feeling like their son is being pushed away from them by the other. It's wonderful to see how simply the creative team can accomplish so much. Part of this show's brilliance is rooted in the fact that Daniel is so complex, he can do one thing and there is more than one season worth of fallout for it.
Then there was the theme of feeling trapped. Daniel, of course, illustrated by prison flashbacks, feels trapped in the most obvious way. Being on probation turns out to be no different than prison for him. His life, devoid of purpose, gives Daniel nothing but a huge sense of being trapped. I can imagine that it's hard to feel free after being in prison for so long. But again, Daniel's life is compelling in part because of the same feelings it creates and releases in the people around him. Teddy felt trapped because Tawney wouldn't be honest with him. Tawney felt trapped because of her feelings. Janet is trapped by her love for Ted and Teddy versus her for Daniel. Amantha feels trapped by Daniel needing her. This show, and "Girl Jesus" in particular, do wonderful parallels between Daniel's past and everyone's present.
Lastly, this episode toyed with the idea of someone being your savior (Girl Jesus. Get it?). Daniel, of course, struggles the most because it seems as though he can't be saved. Amantha has John, Teddy has Tawney, Ted has Janet. As many parallels as are drawn to Daniel and his family's lives, the one noticeable difference is the lack of a "savior." Daniel thought Tawney was his, but discovering he doesn't have one seems to have increased his frustration with his life ten-fold. I simply can't get enough of this fascinating journey.
Everything that the show does well continues to shine through "Girl Jesus." There is beautiful cinematography, strong, nuanced, and powerful performances by the actors, and the storytelling is crystal clear. Rectify continues to be one of the most underrated programs on television, and I can't wait to see where it heads in the last two episodes.
What did you guys think? Did you enjoy this episode? Let us know in the comments!
Rectify airs Thursdays at 10/9c on SundanceTV.
[Photo via SundanceTV]
Tell us what's wrong with this post? How could we improve it? :)
Let us improve this post!