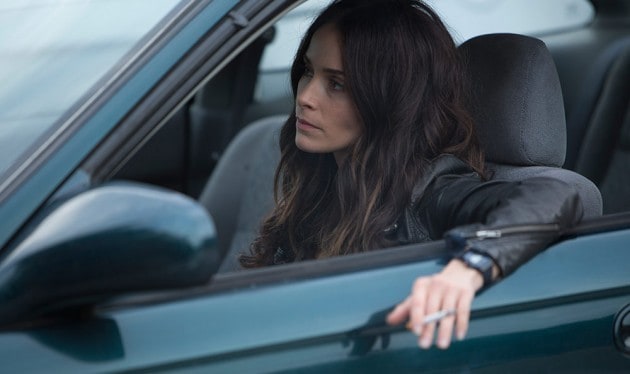 I cannot express to you how excited I am that Rectify is back. One of the most unsung dramas of the last few years, Rectify challenges its audiences with questions of morality. It presents the good and evil in the world, and characters react to in different ways. Sure, there is a mystery, like what really happened on that fateful night 19 years ago, but what is more compelling is how the characters behave, based on what they believe happened. Rectify, in an outrageous situation, presents us real characters. It's one of the best shows on television, period. If you aren't watching, you should be.
This week on Rectify: Daniel and his entire family begin to move forward after the plea bargain has been struck. Amantha catches a glimpse of her life post-Daniel. Ted insists that Daniel leave their home early. Teddy and Tawny work through some marital issues, including Tawny's whereabouts. George's body surfaces, so Sheriff Daggett begins an investigation. The Senator deals with some health issues.
When you say the words "compelling drama", there are few other series I think of than Rectify. There is so much I could say about the show in general. It's so smart, well written, and beautifully performed. Personally, I think Ray McKinnon's use of minimalism is one of the most effective devices in play on today's TV landscape. His uses of silence, facial expressions, and cinematography are absolutely mind blowing. There is more emotion in one glance on Rectify than in entire scenes on other shows. I don't think this show's brilliance could be understated.
"Hoorah" is the perfect embodiment of what Rectify is. It takes one simple thing (like Daniel's confession) and plays nothing but raw, natural reactions. There is nothing unbelievable about a way that any particular character behaves. Rectify is brilliant in the way it builds new drama on past drama without making anything feel tired. Nothing feels forced, and everything flows very well. "Hoorah" wasn't a particularly momentous episode for the series, except marking its return (which I have been waiting for for quite some time), but, it simply re-establishes the world in which Rectify exists, and seamlessly transitions into a new season from the previous one. It's brilliant in its simplicity.
The acting on this show simply cannot go unrecognized. First, there's Aden Young. Even people who don't watch the show are finally beginning to hear about him. Every critic (myself included) has to put this show on blast for people to hear his name, but he is well worth the hype. As I said above, brilliance in simplicity is a great way to describe both the show, and Young's performance as Daniel. So much of his character relies on silent beats, and things left unsaid, and I cannot understate the brilliance of it.
Young is the most recognized for his work on this show, but everyone on it is really fantastic. If I had the time, I'd mention all of them, but alas, I will stick to this episode's standouts. Abigail Spencer is slowly flying onto everyone's radar. Though she'll always be How I Met Your Mother's "Blah Blah" to me, her turn as Amantha has been truly stunning. Spencer truly embodies a sister who seems to have been even more affected by her brother's actions than he himself was. There is a tremendous amount of talent required to play a part like this, and Spencer does it effortlessly. Now with a role in Season 2 of True Detective, Spencer's is a name that you won't see go away anytime soon.
Then of course, there's Clayne Crawford's turn as Teddy. Of all the parts to play, his has to be the most difficult. Teddy over speaks. When the other characters use silence and gesture to create dramatic tension, Teddy builds it by putting it into words. "Hoorah" was a brilliant Teddy episode. Crawford played clear wants and needs, and his embarrassment from the "incident" with Daniel quickly fell on the back burner for his marriage with Tawney. There was nothing but smart acting on the part of Crawford, and even though Ted Jr. isn't the most sympathetic character, Crawford began to change my mind about him. You can't help but feel sorry for him, and that's a huge credit to Crawford as an actor. He's well cast, and he handles the material extremely well.
Rectify's season premiere set the stage for what should be an excellent forthcoming season. As Emmy nominations come out, I will keep my fingers crossed for Aden Young, but I also be waiting for Season 3 to morph into something that The Academy can no longer ignore. If you're looking for a dramatic show that can make you question everything you believe, and occasionally punch you in the gut, then look no further friends, you have found it. Excellent premiere episode.
What did you guys think? Did you enjoy the season premiere of Rectify? Let us know in the comments!
Rectify Seasons 1 & 2 are currently streaming on Netflix, and will air new episodes on Thursdays at 10/9c on SundanceTV.
[Photo via SundanceTV]
Tell us what's wrong with this post? How could we improve it? :)
Let us improve this post!