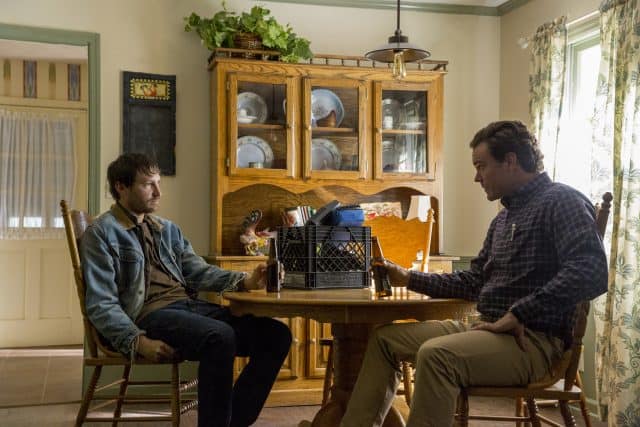 I'm trying slowly to figure out how to keep writing about Rectify's final season without just continually rambling on and on about how great it's been, but that's pretty well where I am right now. "Pineapple in Paris" was several key stories on the show reaching their boiling point, and it was a thing of beauty in almost every moment. Because of the 'boiled over' nature of the episode, my below synopsis will contain spoilers.
This week on Rectify: Tawney and Teddy decide to get a divorce, leaving both dumbfounded at the other's willingness. Janet gets officially offered the money for the tire store, which spurs questions about whether Ted is happy or not. Daniel has a confrontation with his roommate about in-room deviant behavior. Teddy receives a visit from Bobby Dean, who passes along some information about George Melton, which Teddy passes to Amantha and Jared. Janet and Ted visit Daniel in Nashville. Tawney's patient takes a turn for the worse. Jon Stern meets with Sheriff Daggett again.
This episode was both satisfying and heartbreaking on so many levels. Teddy and Tawney's divorce, for instance, was inevitable, but watching the two of them cope after the decision had been made was incredibly sad. Teddy is headed back toward alcoholism and Tawney is regressing back to wanting and needing to be told what to do. I expected them to divorce, so in that way it was satisfying, but watching it play out was absolutely devastating, thanks to expert portrayals by Clayne Crawford and Adelaide Clemens.
The boiling over with Janet and Ted is much needed and expected, too. Ted is an honorable man who has never really known what he wanted, and Janet feels like she's trapped him. Some of J. Smith Cameron and Bruce McKinnon's best work was in this episode.
Of course, better still was the emotional journey of Daniel, who is still dealing with his past and PTSD but in a much more productive way. Daniel has a much better life in Nashville than he ever could have had in Paulie, which makes everything downright thrilling to watch. I got emotional several times when all of the men at the halfway house took up for Daniel, were hospitable to Janet and Ted, and even switched roommates so that Daniel would be more comfortable. On top of them, Claire provides a stable, comforting presence. "Pineapples in Paris" made clear that Daniel is on a healing path, and the preview for next week made clear that his family may not be on that path.
A few other thoughts:
New theory: Daniel is exonerated (because clearly Trey Willis and Roger did something bad) but decides to stay in Nashville anyway.
That said, I really want to know what's in that file Jon Stern read.
Amantha has done great dramatic work on this show, but role as comic relief is coming along quite nicely.
This was another incredible installment on the road to Rectify's likely strong finish, and I can't get enough. Catching up, even before the show ends, will be well worth it.
What did you guys think? Did you enjoy the episode? Let us know in the comments!
Rectify airs Wednesdays at 10/9c on SundanceTV
Tell us what's wrong with this post? How could we improve it? :)
Let us improve this post!