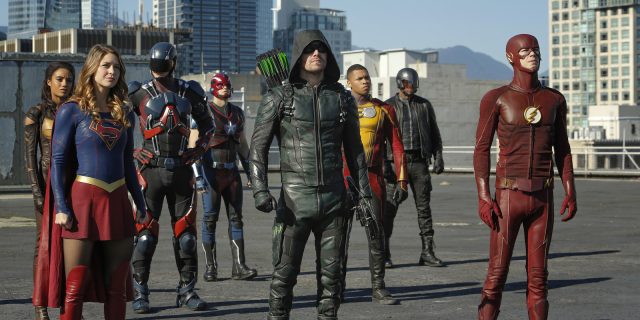 As the year comes to a close we at TVOvermind want to give thanks for the amazing television in 2016. Not all of it was spectacular, some of it was groundbreaking, and some of it was downright ridiculous. Yet we can't say we weren't entertained. As a gift to our loyal readers, we are sharing the best, the worst, the emotionally underrated, and the OMG moments which stood out in 2016. We tried for variety, though you'll see many of us were on the same wavelength for certain categories (this may be a sign of things to come for our Golden Globe predictions in the New Year). Read on to see if you agree with our assessment of TV in 2016. Warning, spoilers ahead.
1. Best New Show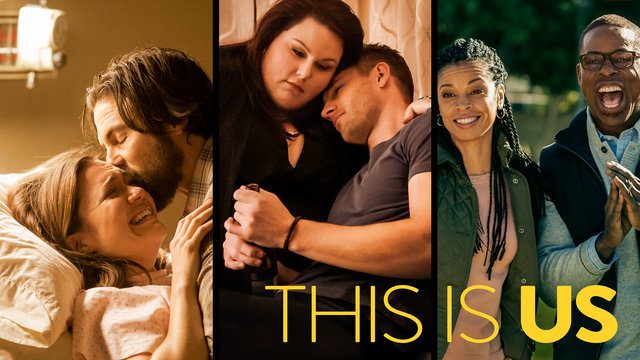 -Tiffany C.– Timeless is a great new show. I've watched a couple of episodes here and there and it reminds me of Legends of Tomorrow due to the time traveling aspect. Well, minus the awesome powers.
-Tim G.– I have completely fallen head over heels for This is Us. Every episode makes me laugh and cry, but I always feel so much better after watching this great new show. The chemistry between Mandy Moore and Milo Ventimiglia makes this a must watch.
-Nick H.– Stranger Things: Few shows have taken the world by storm in their debut the way that Stranger Things did. The combination of mystery, action, and 80's nostalgia dominated households to become not only the best summer show, but one of the best overall shows of the year.
-Chris K.– Atlanta: 2016 has been a great year for new television, from the riveting storytelling of The People v. O.J. Simpson to the clever comedy of The Good Place to the poignant family drama of This Is Us, but as good as those new series are, none of them can compare to the creative heights of Atlanta. Donald Glover's FX comedy delivered plenty of laughs throughout its 10-episode first season, but it also provided us with a deep, honest look into the lives of its characters, ensuring that we cared about everything big and flashy (Paper Boi's burgeoning rap career) and small and intimate (Earn and Van's struggles to keep jobs and raise their daughter). Plus, it allowed for more diversity on television, not just in the actors that populate our shows but in the stories that these series tell. Simply put, there was nothing else on TV quite like Atlanta in 2016.
-Joy D.– There's a reason This is Us is on so many lists. It's brilliant! The writing and performances are great and the social issues are timely. However, that can be said about a number of shows. What makes This is Us stunning television is its unique concept and structure – along with the rawness of the emotional stories it delves into. This caliber of storytelling is rare on television. The fact that doesn't rely on blood, guts, espionage and murder to create drama is rarer still.
-Virginia P.– The Path: Thrilling, dark, hot and addictive. We want the "good guy", Eddie, to win, to expose the cult while keeping his family, but we also want Cal to win, his charisma works on the audience in a way that mirrors the effects he has on the members of the Meyerist Movement. The performances are superb and the premise is both original and fascinating.
-Araceli A.– It's impossible not to cry everytime This is Us comes on the air. The fall breakthrough wasn't just rightly celebrated for its honest emotion, it was desperately needed. This show celebrates the natural love of family, and the complicated thoughts that each member has. Every moment, every celebration, and even every argument, is layered with love. In my opinion the show deserved every single Golden Globe nomination it got, though I'd argue that Milo Ventimiglia was jipped.
2. Best Couple
-Tiffany C.– I have rooted for and shipped many TV couples over the years. This year, the best couple is Lucifer Morningstar and Chloe Decker (Lucifer). Tom Ellis and Lauren German have great chemistry together on the show. Her character has the Devil wrapped around her finger given that he would do anything she tells him to, no questions asked.
-Tim G.– Phil and Claire Dunphy are the greatest TV couple. Even though Modern Family isn't as funny as it was 2 or 3 years ago, the scenes between Ty Burrell and Julie Bowen make this series still a must watch.
-Nick H.– James McGill and Kim Wexler, Better Call Saul: Though not the most "official" couple, they are also ill-fated based on what we know about Breaking Bad. Even so, Jimmy and Kim have undeniable chemistry, and they are a perfect yin and yang of rule following and slipping up. It's bound to not end well, but it's still incredible to watch.
-Chris K.– Claire and Jamie, Outlander: It's easy to love a TV couple when they're happy and smiling and everything seems to be going their way, but the couple I found myself connecting with most in 2016 is also the couple that had to deal with the most emotional hardship: Outlander's Jamie and Claire. Throughout Outlander Season 2, we watched as Jamie tried to overcome the abuse that Black Jack inflicted upon him, as Claire struggled to say goodbye to the baby she lost, and as the two of them were forced to leave each other right before the Battle of Culloden. Despite all the heartbreak they endured, Claire and Jamie never forgot how important they were to each other, and their love for one another is not only what helped them survive but also what made them the beating heart of Outlander's consistently heartbreaking and consistently excellent second season.
-Joy D.-I'll admit, I'm late to the Chicago Fire party. Now I'm totally hooked! Matthew Casey (Jesse Spencer) and Gabriela Dawson (Monica Raymund). It's a great love story that's had just the right amount of time to simmer. Their out-of-order way of doing things isn't all that unusual so it's nice to see that reflected on TV. These two have both heat and heart in their relationship and that makes them a joy to watch.
-Virginia P.– Adam and Jessa, Girls: Unpopular opinion, I know, however, I see Adam and Jessa as an inevitable pair. Their chemistry has always been there, they seem to get each other in ways no one else does, and yes, at times they are more terrifying than terrific as a couple. i still root for them.
-Araceli A.– Romeo and Juliet who? Outlander's Jamie and Claire are the couple poets, cliches, and even cynics worship. The passion they exude when just looking at each other is staggering. They also prove just how sexy unwavering commitment can be, as they will literally fight to the death for each other and their future.
3. Biggest OMG Moment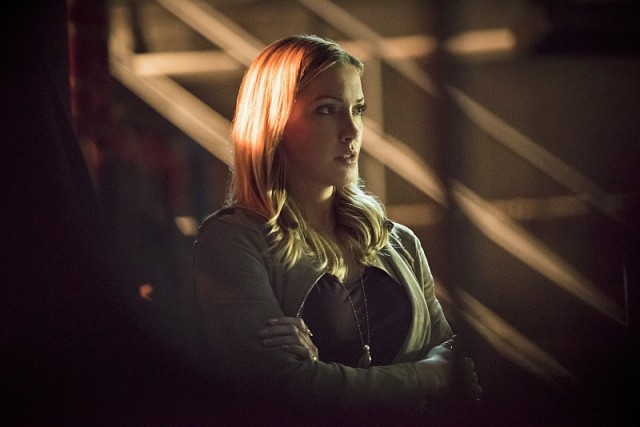 -Tiffany C.– I think the Arrow midseason finale ending was the most shocking of all. Laurel Lance is alive! How can this be?! I sense aliens, but I could be wrong.
-Tim G.– The commercial during the Super Bowl that solidifed that my favorite series The Good Wife would be ending in May was a pretty big OMG moment. Though many felt the series finale was a let down, I felt it was the perfect ending for a perfectly put together drama.
-Nick H.– Tad Cooper is really a dragon, Galavant: It's hard for anything on TV to completely shock me, but the happiest surprise of 2016's TV came in January. When King Richard's trusty little lizard turned out to be a real-life dragon, I squealed with glee. I will always super believe in you, Tad Cooper.
-Chris K.– "The Winds of Winter", Game of Thrones: The term "OMG" most accurately describes my emotions for not just one scene but an entire episode of Game of Thrones, and no, I'm not talking about "Battle of the Bastards." Instead, this honor goes to "The Winds of Winter," the Season 6 finale, which somehow found ways to surprise me even when I knew what was going to happen next and delivered one standout scene after another, leading to a closing sequence that has me counting down to the seconds until Game of Thrones returns to HBO next summer. "The Winds of Winter" provided me with more excitement and satisfaction than any summer blockbuster I saw this year; it might not be a perfect episode of television, but it's pretty damn close.
-Joy D.– Ali losing to Josh in The Voice Semi-Finals:I like Josh Gallagher as a country singer, but Ali Caldwell is like a one-in-a-billion talent whose vocal talent is something that is going to take the world by storm. She also had been voted in by America even when she didn't have a top 20 iTunes song. This time she did, which implied that even more people were for her. Ali not being in the top four was a travesty and proved – once again – that because half the country can't really vote, the "instant save" favors Nashville.
-Virginia P.– Root's death, Person of Interest: Although beautifully executed, Root's death was shocking and unexpected. She was a pivotal part of the show, an outstanding character, and in many ways, the glue that kept the team together.
-Araceli A.– Laurel Back From the Dead, Arrow: I was about 75% sure Laurel would end up in last year's long-touted grave, but nothing could have prepared me for the last 10 seconds of the Season 5 midseason finale. The question is, it it really her? (I'm also about 75% sure we can put her return on Barry's less than stellar Flashpoint drama).
4. Most Heartfelt/Powerful Moment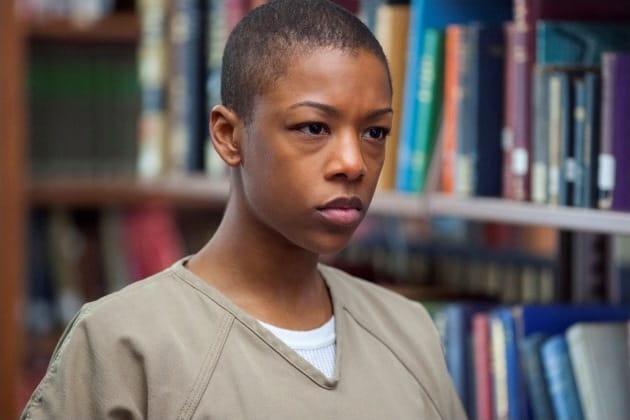 -Tiffany C.– The courtroom scene in Lucifer midseason finale where Chloe said that Lucifer's the best partner she's ever had. The look on his face says it all, he's in love with her. That and the part where they almost kissed.
-Tim G.– Poussey's death on Orange is the New Black was the most powerful moment of 2016. I try to stay away from spoilers so I am surprised when moments like these take place, and let me tell you I was heart broken when I saw my favorite character on the Netflix series lose her life.
-Nick H.– Teddy asks Tawney for a divorce, Rectify: There were a lot of powerful moments on TV this year, but few tearjerkers with as much impact as this particular moment. Tawney will never ask for the inevitable on her own, so Teddy asks for something he doesn't want because he knows its right. Clayne Crawford and Adelaide Clemens brought their A game, on an A+ final season of a fantastic show.
-Chris K.– "Twenty-Two", You're the Worst: Similar to my answer for "Biggest OMG Moment," I can't just pick one scene but an entire episode, and that would be You're the Worst's "Twenty-Two," a half hour that turns its attention away from Jimmy and Gretchen and focuses Desmin Borges' Edgar as he struggles to deal with his PTSD. Borges is absolutely magnificent throughout "Twenty-Two," perfectly capturing Edgar's desperation, anger, and hope as he finds himself in one unfortunate situation after the other. It's an incredible performance that anchors one 2016's best and most important episodes of television.
-Joy D.– Kate Breaks up with Toby, This is Us: This is Us will have me shedding tears just about every week, but the scene where Kate (Chrissy Metz) breaks up with Toby (Chris Sullivan) had me full on crying. Again, no TV show is talking about this kind of stuff. Comedies have been made about people who are obese, but no one's dealt with the hardcore realities behind it. Kate giving up Toby – whom she genuinely loves – in order to try and save herself was an emotional wrecking ball scene.
-Virginia P.– Judy and Janet's Heart to Heart, Rectify: It just doesn't get more powerful than having the mother of, Hannah, Daniel's murdered girlfriend, telling the mom of the wrongfully convicted boy/now a man, that she doesn't believe Daniel killed Hannah, and that she's glad he was not executed. In that scene, after 20 years of pain, both woman mourn together what they'll never get back. It was heartbreaking to watch, yet satisfying.
-Araceli A.-Kelly Clarkson's Final American Idol Performance: American Idol's final farewell season was a gift to the fans with the number of big name returns the show was able to pull off in the last few episodes. What brought down the house wasn't the series finale, but the penultimate in which Kelly Clarkson (8 months pregnant mind you) returned to the show which made her a star. Her raw performance of her hit "Piece by Piece" moved everyone to tears. We all looked like Keith Urban that night.
5. Most Improved Show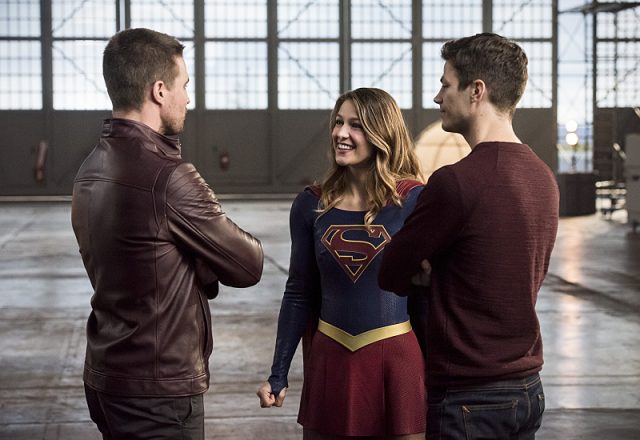 -Tiffany C.– Arrow has definitely improved in their current season. I watched a few episodes in the past from time to time and never really jumped on the Team Arrow bandwagon. That is, until recently when Flashpoint and the crossover of all crossovers happened. Hope it can stay on track in the new year and in the years to come.
-Tim G.– I have been a fan of Bones since season 3, but the last couple of seasons have not been the greatest. Season 11 redeemed my faith in the show and I am looking forward the 12th and final season of the crime drama.
-Nick H.– Gotham: In 2016, Gotham embraced its crazy side with incredible results. Season 2's "Wrath of the Villains" and Season 3's "Mad City" took Gotham's best feature and amplified it. The evolution of Barbara, Penguin, Riddler, and the introduction of the Mad Hatter have improved Gotham leaps and bounds.
-Chris K.– Arrow/Supergirl: Arrow Season 4 and Supergirl Season 1 both received fairly mixed critical receptions last fall and into this spring, and while I don't agree with all of the criticisms lodged against the two shows, I can still acknowledge that both superhero series had some kinks that they needed to work out before they returned in the fall. Fortunately, Arrow and Supergirl have entered their fifth and second seasons, respectively (and Supergirl's first season ever on The CW), stronger and more focused than ever, easily earning the titles of The CW's best superhero series. For Arrow, it's been a return to the show's darker, more grounded roots that has led to its creative resurgence, as the series' stakes feel bigger than ever while the threat to Oliver and his team is more personal. Meanwhile, Supergirl has become more streamlined (spending limited time at Cat Co., moving Winn over to the DEO), comic book-y (the fantastic introductions of Superman and Mon-El, the alien bar now serving as a main location), and socially relevant (Alex's coming-out story, alien rights serving as the main conflict for the first half of the season). Plus, Supergirl's move from CBS over to The CW has allowed it to focus less on the villain-of-the-week format and dig deeper into the show's rich cast of characters, and it's been paying off wonderfully.
-Joy D.– Scandal had lost it's way in season four. There was too much B613, and too much time spent with Olivia being kidnapped and Fitz being dopey. Season five reigned the show back in to D.C. politics, Olivia Pope (Kerry Washington) working cases as a fixer, and the crazy love triangle of Olivia, Fitz, and Jake. There's a touch of the Breaking Bad idea in this season as Olivia crosses yet another line she swore she'd never cross. Added bonuses, a more empowered Abby and Mellie, Super Quinn, Papa Pope, sneaky Cyrus, and, Tom gets a real storyline. Finally, Mellie and Olivia working together has got to be the best frenemies thing ever!
-Virginia P.– Masters of Sex: The show had a shaky previous season (we'll never forget the scene with the gorilla), however, it bounced back. At last, Bill and Virginia finally acknowledged their feelings towards one another. Additionally, the tragic turn the storyline between Betty and Helen took, though excruciating, worked like a charm.
-Araceli A.– The double-edged sword that is my choice would have to be Masters of Sex. Ironically the season which will be its last was much improved on its hodgepodge third season. It had great potential to move forward into the 1970s (see my article arguing this point).
6. Biggest Show Fail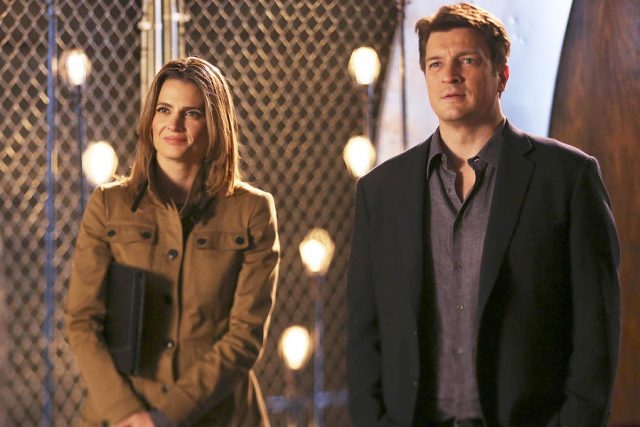 -Tiffany C.– The biggest show fail, in my opinion, would have to be Sleepy Hollow. I know I have nothing but praises for the show, but after the third season ended, I honestly thought that it won't get a season four (I was proven wrong, of course). The plot was getting too predictable and the whole moving the storyline to D.C. just baffles me. It's called Sleepy Hollow, not Late Night in D.C. or whatever.
-Tim G.– Kevin Can Wait is the show everyone can't wait to get cancelled. I was hoping Kevin James' comeback to TV would be great, but instead it was as funny as Paul Blart: Mall Cop.
-Nick H.– The Death of Robin Hood, Once Upon A Time: Once Upon A Time was overdue for a character death, but it's clear that they made a storytelling gaffe in this situation. They glossed over Robin's death, and they're dealing with the consequences in the current season. They're alluding toward bringing Robin back in Season 6.5, which is indicative of a mistake.
-Chris K.– Flashpoint, The Flash: Flashpoint may be an epic and important story to tell in The Flash comics, but for the CW superhero series, the time-bending storyline has caused nothing but problems. While the cracks of The Flash's storytelling began to show in Season 2, they've been fully on display throughout the show's third season as a result of Flashpoint. Not only is Barry, the show's main character, presented as stupid, selfish, and irresponsible, but the series tries to come up with half-baked reason after half-baked reason to excuse Barry's awful behavior. Meanwhile, supporting players like Cisco and Wally have been a drag as they attempt to re-adjust to their post-Flashpoint lives. And do we really need another Speedster villain (especially one that looks like a cheap Transformer)? I'm already tired of Savitar.
-Joy D.– The Fall of Castle: You know things are bad when a show's fanbase begs the network to cancel it. This is the same fandom that got the show four People's Choice awards in a row and whose audience numbers rose for six season's straight. That's right, more people started watching after they became a couple. The show's bread and butter was the relationship between Richard Castle (Nathan Fillion) and Kate Beckett (Stana Katic). Their relationship made them better crime-fighters and better people. When someone over at ABC decided to torpedo that dynamic and focus the show on just Richard Castle the ratings fell dramatically. Maybe they could have survived that if the writing for its eighth season hadn't been so awful. However, after ripping apart the relationship and trashing the characters they decided to fire Katic for "budget cuts." That was the last straw for fans – and the show. (Meanwhile, Katic has been super busy with movies and theatre – and is set to star in a new high-end cable-like show for Sony called Absentia). For a show that started out so well, this was an epic fail for ABC, one that's going make the TV history archives on "how to destroy a hit show."
-Virginia P.– Juliette's Point of View, The Affair: It's a very hard pill to swallow to accept the point of view of a character we have just met, especially when viewers waited a whole season to access Cole and Hellen's side of the story. Since Juliette is not central to any of the main conflicts, her POV just takes up storytelling minutes that, in my opinion, would be better employed given to one of the core characters.
-Araceli A.– I would expand on the atrocity which was Castle's final season, including the behind the scenes mess which ended the once witty procedural, but my colleague Joy D. has already given an excellent summation.
7. Most Improved Character
-Tiffany C.– The Big Bang Theory's Sheldon Cooper, no question. He went from a weird, lanky physicist who thinks that he's smarter than everyone else, to a considerate and dare I say it, caring human being. He can still be his old self at times, but Sheldon wouldn't be Sheldon without his little quirks.
-Tim G.– During the first season of Chicago Med, I couldn't stand Dr. Reese. Now that she has found her new calling in Psychiatry, I find her character more interesting and tolerable. Hopefully more exciting storylines with Dr. Reese are featured when the series returns in 2017.
-Nick H.– Father Gabriel, The Walking Dead: Father Gabriel underwent one of the greatest transformations in modern television history. Once an insufferable coward, the good shepherd transformed into a bonafide badass who quickly digs graves, stands up for Rick, and kills walkers with the best of them. Gabriel went from "worst" to "best" in no time flat.
-Chris K.– Sansa Stark, Game of Thrones: Sansa Stark has been one of the best characters on Game of Thrones for a couple of seasons now, and she didn't "improve" in Season 6 so much as she continued her evolution into a powerful, intelligent, and brave Stark woman. Sure, it was great to see Sansa get revenge on Ramsay by feeding him to his own dogs, but the moments I'll remember most from Season 6 are when she instructed and encouraged Jon or when she used Littlefinger's feelings for her to her army's advantage. After six seasons, Sansa Stark has become one of the game's most talented players, and I hope that she survives and wins this battle between kings and queens when the series reaches its conclusion in 2018.
-Joy D.– Olivia Pope, Scandal: Livy's got her groove back! (See: Most Improved Show.)
-Virginia P.– Teddy, Rectify: Throughout the series final season, Teddy owned up to his flaws and mistakes. He became more supportive towards Amantha, he acknowledged the end of his marriage and was gracious about parting ways with Tawnie, and most importantly, he showed and voiced compassion towards Daniel. Teddy went from angry and in denial to a REAL MAN right in front of us.
-Araceli A.– Most Scandal fans root for Olivia Pope, but I've always been a huge Mellie Grant supporter. Her fearless, yet vulnerable grab for the Presidency should have been celebrated. She wants to make her mark and make a difference, and prove to the world what a Bada** she really is. Boy did she deliver this year, and I can't wait to see how Mellie will evolve in 2017.
8. Best Returning Show
-Tiffany C.–Suits, The Flash, Legends of Tomorrow! There's so many to choose from! Though if I have to pick one, I'd have to go with The Flash. It just keeps getting better and better with each episode. I look forward to the day when Caitlin will be able to use her powers to help Barry fight evil meta-humans and maybe get a nice suit of her own. I love me some Killer Frost!
-Tim G.– I am a fan of all three Chicago series, but the best is Chicago PD. I look forward to all the action that awaits the Intelligence Unit of the Chicago Police Department. With Hank Voight running the team, who knows what will happen when the show returns in 2017.
-Nick H.– Game of Thrones: For years, Game of Thrones fans have agonized over the death of beloved characters, and continued degradation of the "good guys". But in 2016, Game of Thrones resurrected a fan favorite character, and finally showed signs of the good guys gaining ground. Not to mention, the latest season was the best one yet.
-Chris K.–The Americans: Throughout its first three seasons, The Americans had been one of the very best shows on television, and somehow in Season 4, the FX drama found a way to top itself, ramping up the series' typically slow-burn tension and exploring new vulnerabilities of its main characters. It would be easy to point to any of Season 4's heartbreaking moments, from Philip saying goodbye to Martha to the disintegration of Elizabeth and Young Hee's friendship, as a devastating highlight, but what really made this year special for The Americans was how all these stories tied together and built upon each other, leading to the most satisfying season of the spy drama yet.
-Joy D.– Transparent: Season 3 of this Amazon streaming show is still a smart and intricately woven dramedy. it's listed under comedy, but that's because awards shows refuse to acknowledge the category. (They give a ton of flimsy reasons for this. My guess is no one wants to lengthen their ceremonies.) The show is about more than the life of a late-in-life transgendered woman. Being Jewish, being a biological woman or man, sexism, classism, family, power and sexuality – it's all covered. As the story unfolds and the cast grows, the stories still draw you in and there's still moments of painful yet wacky humor. Yep. Transparent is still fabulous.
-Virginia P.– Rectify: This season gave us some of the best hours on TV. I can use all the superlatives in existence and still wouldn't be able to convey how compelling and important a show like this is nowadays.
-Araceli A.– I was recently asked why I think Empire is such an impactful show in today's television. On the surface it is grandiose in its displays of, well, everything. Listen closely to the conversations the Lyons have and there's huge moral ambiguities which need to be discussed. Season 3 has done a wonderful job of pushing the conversation of Culture vs. Race.
9. Most Underrated Show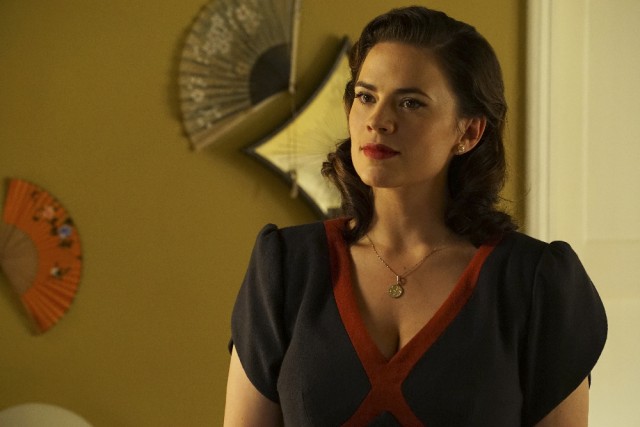 -Tiffany C.– Agent Carter. A friend of mine used to love watching that show before it got cancelled by ABC. It has a female secret agent who's not afraid of anything and she kicks butt. If the show were around the time when I was a little girl, I'd want to grow up to be like Peggy Carter. Secret S.H.I.E.L.D agent thing aside, obviously.
-Tim G.– Superstore is one of the funniest shows currently on television. It was nice to see that it was picked up for a full second season so early into the TV season. Hopefully that will be enough time for this hilarious series to find its following.
-Nick H.– iZombie: The other comic book shows on the CW get all the attention, but iZombie was one of the best overall shows in 2016. The combination of humor, serialized mystery, and pulse-pounding action flies under the radar to many. It's one of the best shows that nobody is watching.
-Chris K.– Togetherness: Togetherness was never going to be one of TV's most buzzed about shows; it was an intimate, low-key family dramedy that looked at friendships and romantic relationships with unflinching honesty. Throughout the show's all-too-brief two seasons, it was easy to get upset with its characters, as we watched Brett and Michelle constantly hurt each other, or Tina push Alex away whenever the two of them got too close. But whether you were yelling at Togetherness' characters or constantly cheering them on, as I did during the series' sweet and satisfying final episode, you always cared about them because of how real they seemed, and that type of authenticity isn't something we get a lot on TV nowadays.
-Joy D.– Madam Secretary: Before the show was in the shadow of The Good Wife, which may have blinded people to just how great this show is. Tèa Leoni as Secretary of State Elizabeth McCord is someone who always works to do the right thing. Sure, that a political fairy tale, but given the state of our current politics it's nice to have a hour to pretend. Besides, they do give a decent sense of the behind-the-scenes deals that happen to keep the world from deteriorating into World War III. The added bonus of one of the best marriages on television and seeing the juggling act required of two high-level working parents makes it an entertaining hour of Sunday television.
-Virginia P.– Rectify: This show made it to most critic's lists, yet over the course of four years, it was overlooked by the Emmys and the Golden Globes, not to mention it only garnered a small (though faithful) viewership.
-Araceli A.– Blue Bloods is a rare gem in a precarious time. The family values of an Irish Catholic family of cops in New York City could easily be skewered as unrelateable to the populace, but not so. It's their commitment to tackle the difficult and the daunting and stare it straight in the eye that makes the Reagans an amazing family. And how can you not want to follow Tom Selleck if he's you're patriarch?
10. Best Individual Performance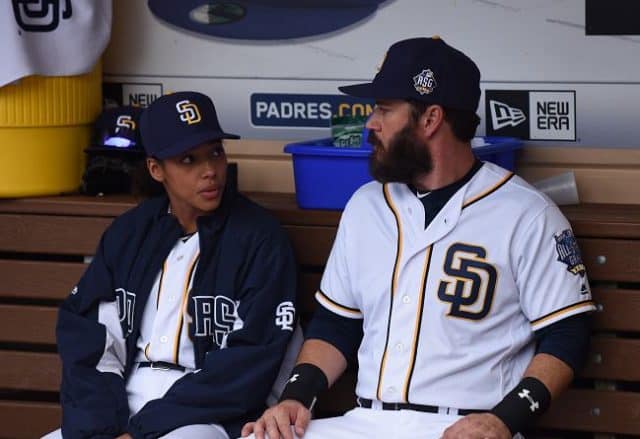 -Tiffany C.– Tom Ellis as Lucifer Morningstar (Lucifer) hands down. He brings flair to the Devil character, much like what Simon Baker did with his character Patrick Jane on The Mentalist. If the latter show was still on the air, it would be so awesome if Patrick and Lucifer met face to face.
-Tim G.-Viola Davis deserves to win every award there is for her portrayal of Annalise Keating on How to Get Away with Murder. I can't wait to see what else is in store for her character when the series returns in January.
-Nick H.– Mark-Paul Gosselaar, Pitch: This is a tough category, so believe me when I say that Gosselaar is doing the best work of his career. It combines his comedic skills and dramatic acting ability for what is one of the most underrated and incredible performances of 2016.
-Chris K.– Eva Green, Penny Dreadful: Even though Penny Dreadful's third and final season might not have wrapped up exactly as I had hoped (for one thing, I would have liked to have known that the show's Season 3 finale was going to be its series finale before I saw "THE END" pop up on my television), the show was still as hauntingly beautifully and emotionally heartbreaking as ever this year, and a lot of that credit has to go to its star, Eva Green. Somehow, some way, the Academy never nominated Green for an Outstanding Lead Actress Emmy, despite the fact that she was consistently delivering one of the very best dramatic performances on television, a performance that possessed vulnerability and strength, fear and fierceness. If you need proof about just how good Eva Green's work was in 2016, watch "A Blade of Grass," the fourth episode from Penny Dreadful Season 3. Trust me, you won't be disappointed.
-Joy D.– Miley Cyrus, The Voice: I know this question is meant for acting, but frankly that's just too hard a call for me right now. Like, could I give it to the This is Us ensemble? No. However, Miley Cyrus on The Voice turned out to be a truly pleasant surprise. Outspoken, passionate, with fun and crazy wardrobe choices she was the perfect foil for the more laid-back Alicia Keys. The two of them together really helped break the show out of a rut. Her musical knowledge is extensive – way beyond that Hannah Montana stuff. It was as interesting to see Cyrus moving beyond the image of her wild teenage years and watch her as a musically gifted and genuinely caring young woman.
-Virginia P.– Aden Young, Rectify: No contest here. Young's performance has been mesmerizing thought the series run, even more so in its season finale. His silences, him staring at the horizon, the pace in his speech, the weight in every word… Aden Young owned Daniel
-Araceli A.– Claire Fraser, Outlander: The minute I heard Caitriona Balfe was nominated for a Golden Globe award, I knew exactly for which episode she was nominated. Balfe's work in "Faith" was a stunning combination of hypnotizing and horrifying as her character grappled with the still birth of her daughter. And this was on top of a season during which Claire had to help her husband deal with his rape, prevent, and then subsequently prepare for, one of the bloodiest battles in Scottish history.
Happy Holidays, and may 2017 be another blessed year of strong television!
Tell us what's wrong with this post? How could we improve it? :)
Let us improve this post!