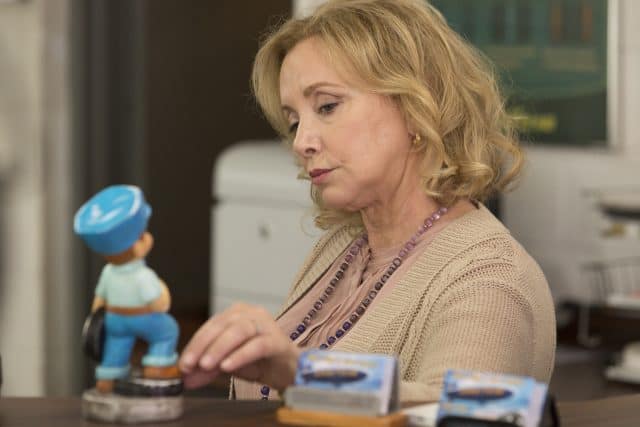 This week's episode of Rectify combined everything I love about the show. It combined their realistic, true-to-life, beautiful scenes with some delicious tidbits for all of us conspiracy theorists that are just SO sure that Daniel Holden has never committed a crime (well, except perjury, but I digress). "Go Ask Roger" had just about everything I could want in a Rectify episode, and it made me extremely sad that we're on the home stretch.
This week on Rectify: Janet, Ted and Teddy meet with the attorney who puts in an offer on the tire store, but it's more complicated than they think. Janet catches Jared selling his stuff online. Amantha and Billy go on a hunting date. Daniel spends the day with Chloe. Tawney desperately tries to help an old man at work. Jon Stern continues poking around and asking questions, including to Trey Willis.
For you crime drama junkies out there, Jon Stern poking around sounds a lot more interesting than the rest of this stuff. Don't get me wrong, either, because it's extremely compelling and I desperately want the same answers Jon does. Really, all I mean to say is that Jon's story is on par with the rest of the episode. That said, as the mystery thickens, the more invested I become. They've got to give us answers now, right? They can't just not do that, right? I see how the story could just be about Jon and how he became attached and refused to move on with his life, but I tend to think Jon is being used as a catalyst to tell us what really happened that night.
In the best dramatic twist this side of Bruce Willis being dead, Trey Willis is the one to give Jon some new information about what happened to Hanna Dean that night. You can clearly see Trey's frustration with the whole town condemning him to guilt, and his feeding Jon a lead in that way was absolutely brilliant. Trey is one of those characters you love to hate, for sure, but he saved himself from Joffrey or Ramsay Bolton territory with that small scene.
I thought all of the other scenes were wonderful, but in particular, the scene in which Teddy was alone in the apartment. With the tire store collapse a possibility, and his marriage collapse a virtual certainty, the scene in which Teddy breaks down and cries alone in his apartment was one of his best to date. We all knew Clayne Crawford was excellent, but to see that scene was an embodiment of everything Rectify is. It was dramatic, exciting, humbling, and raw all at the same time. Beautiful work by both Crawford and the show's creative team.
Few other thoughts:
Clear from the preview for next week that Ted Sr. does NOT want to sell the tire store. Mystery solved.
I still can't figure out what Jared's doing or why I care so much.
Amantha and Billy are the unsung heroes of this season. They're funny, compelling, and SO simple. Not every good pairing has to be complicated.
I'm so overwhelmed by how good this show continues to be. I can't imagine my mind changing at this point, unless we don't find out what really happened that night. Even then, I grow continually appreciative of how beautiful and special this show really is.
What did you guys think? What happened to Hanna Dean that night? Let us know in the comments!
Rectify airs Wednesdays at 10/9c on SundanceTV
Tell us what's wrong with this post? How could we improve it? :)
Let us improve this post!