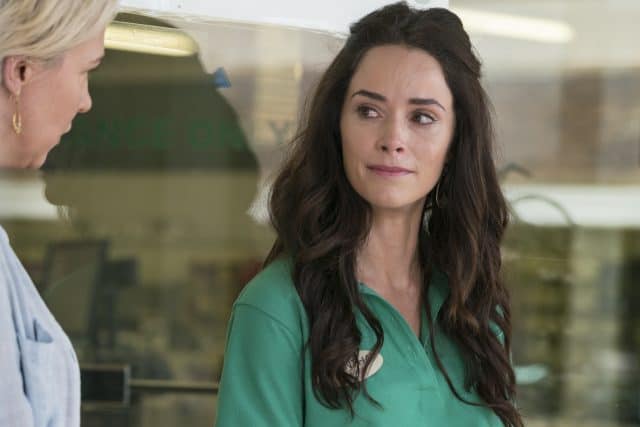 I still can't believe this show is almost over. I'm pretty well in denial at this point. Rectify has been one of the best shows in recent memory, and this episode is no exception. As each character moves toward such a fitting end, you don't necessarily get closer that a normal show would give you. What you get instead is hope, passion, and a reassuring nod that you are not alone in anything that you go through in this world.
This week on Rectify: Janet goes all-in with Jared on selling and getting rid of her stuff. Teddy, with a fresh limp, decides not to pursue the tire business any further. Teddy tells Ted about his impending divorce. Amantha and Jon meet with Bobby Dean. Sheriff Daggett and D.A. Person question the previous Sheriff about the night of Hanna Dean's murder. Daniel helps Chloe pack for her move to Ohio, and continues to work through his PTSD therapy.
I'm not sure what is going to happen in the next episode. I'm still in a little bit of denial that the next episode is coming, because I certainly don't want it to end. However, some of the emotional journeys in this week's penultimate installment were absolutely incredible. Each character is meeting with an emotional payoff that is appropriate, and a few of them have even kicked up some dust into my eyes. A particularly strong example of this was Teddy. His whole story was emotional and raw, but the real, tear-jerking moment was when he told his dad he was getting a divorce. Maybe not even Teddy working up the nerve to tell him about it, but Ted's response to it is the best part. Teddy is met with his father's love, which has the power to overwhelm even the manliest of men. I would like to say that I just "got something in my eye", but the God's honest truth is that I wept. What an incredible moment. Both Clayne Crawford and Bruce McKinnon handled the scene with such grace.
The same, but different, was Amantha's reunion with her friend at Thrifty Town. As Amantha comes to terms with who she is, and reconnects with old friends, she'll begin to feel more of a sense of belonging in Paulie, and I predict that she will stay. Still, the conversation with her friend simultaneously showed us funny, real Amantha, and also drew out her emotional side. Abigail Spencer slayed that scene.
Here are a few other thoughts:
Anyone else notice Teddy's non-verbal moment when he said "back at the house"? What an outstanding use of visual, subtle acting.
While making predictions, I predict that every main character EXCEPT Amantha will leave Paulie by next week's end.
It's looking less and less like Daniel committed any crime at all. Could've told you that, though.
Pickle has the absolute best name.
I'm going to try and save my in-depth analysis of the show as a whole for next week after the series finale, but in summary, with Abigail Spencer and Clayne Crawford leading the way, Rectify packs an emotional punch and manages to keep things interesting as the show winds down.
What did you guys think? Are you excited for the series finale next week? Let us know in the comments.
Tell us what's wrong with this post? How could we improve it? :)
Let us improve this post!