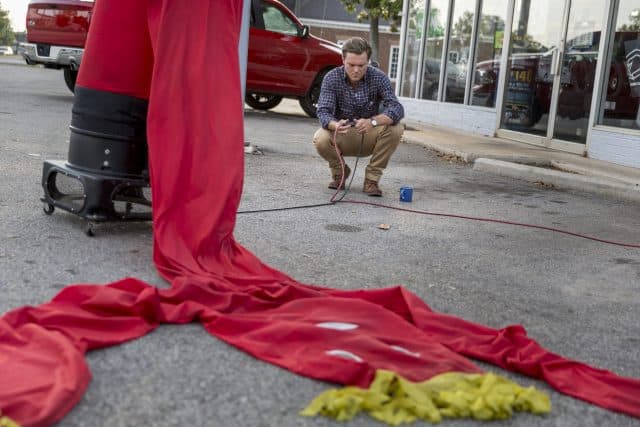 I can't believe there are only two more weeks of new Rectify episodes until there are none, ever again. While last week's episode was wrought with hope and positive changes for most of the main crew, this week was their "equal and opposite" reaction (Physics….get it?). Emotions were running high as each character began to deal with their issues, some in more productive ways than others. Either way, Rectify remains compelling as ever as its final season winds to a close.
This week on Rectify: Teddy begins to spiral as his future, both personally and professionally, becomes more uncertain. Jon Stern and Amantha see each other for the first time since Jon left. Daniel and Ted Sr. clear the air, and Ted Sr. goes on a side trip while Janet visits with Daniel and Chloe. Tawney visits the home of her patient after he passes. Jon Stern approaches the district attorney with his plans to help Daniel.
What I love about this show so much (among many things) is the ability it has to seamlessly shift between tones week to week. Last week took on a hopeful tone, and this week's dealt with more demons and messy things. Each character dealt with some harsh realities and obstacles. It seemed that each character was dealing with some sort of obstacle before they could reach their peace or happiness. Each one had something that they had to do before they could move forward. For Daniel, seek PTSD treatment. For Tawney, find that man's plaque. For Jon, fall on his sword to get justice for Daniel. For Ted Sr., see the place where Patsy Cline died. For Janet, meet the new woman in Daniel's life. While some are decidedly more silly than others (Here's looking at you Patsy Cline), what they represent is the overcoming of obstacles to move forward to the next stage in life. Rectify uses the most interesting and beautiful metaphors to get its points across.
What I'm most interested in as Rectify reaches its final two episodes is how the situation will play out. Will Jon Stern have the opportunity to clear Daniel's name? Did Daniel actually commit a crime that night? Jon is clearly talking about a new trial for Daniel, which could take years to resolve. I do not think that the final two episodes will span years, so I imagine that this will be something a little more cut and dry. Here's what I predict: Sheriff Daggett, Jon Stern, and the DA will uncover irrefutable evidence that Daniel did not kill Hanna Dean, but Daniel will refuse to go to trial over it. That just feels in line with the characters and their motives
A few other thoughts:
I'll appreciate why, but I will be so upset if we never find out what exactly happened that night. Trey Willis has been up to far too nefarious things for this to end ambiguously.
I'm trying to figure out whether or not I think Teddy will take the tire inventory and re-open the store. Right now, I think not.
I have so many unanswered questions that I'm not sure will be answered over two episodes. But, as is the case with the rest of the series to now, I'm confident that the end will be satisfying. It's never been about the "whodunnit", but about the characters and how they grow, change, and are affected by one another. And every step has been beautiful.
What did you guys think? Did you enjoy the episode? Let us know in the comments!
Rectify airs Wednesdays at 10/9c on SundanceTV
Tell us what's wrong with this post? How could we improve it? :)
Let us improve this post!