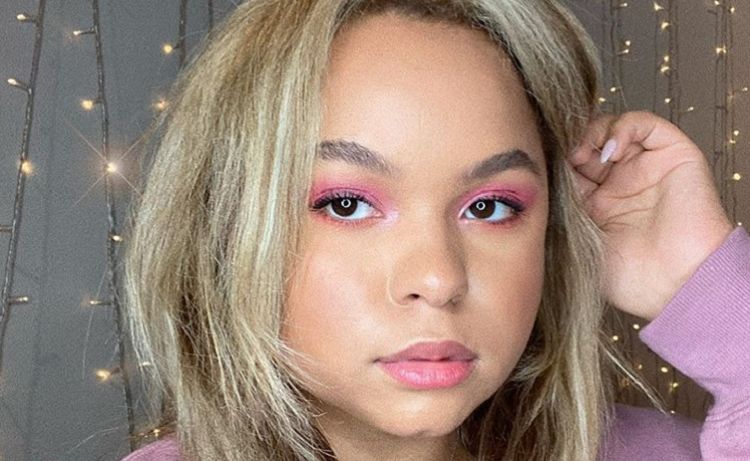 If you are a fan of The X-Factor, then you must remember one young contestant, Rachael Crow, who once featured in the competition. Although she did not win the show, it became an opportunity for her to rise in her singing career. Rachael is one famous pop singer who was born in Colorado in 1998. She realized her talent in singing when she was so young and with the supportive parents, she explored her full potential. Apart from being a famous singer, she is also an actor and a comedian. Get to know more about Rachael by checking out these facts about her.
1. She started singing when she was eighteen months old
Rachael's singing career began when she was young. She sang her first song when she was only eighteen months old. Her parents saw the potential in her and supported her to achieve her dream of being a great singer. She later got an opportunity to perform at a talent show in school when she was six years old. When Rachael was ten years old, she urged her parents to move to California, where she could pursue her career in music more conveniently.
2. She lives in a farm with all kinds of animals in Colorado
Rachael says in one of her blog posts that her family lives in a farm where that keep all types of animals. There are two donkeys named Gabby and Blossom, and an Ilama called Roy. They also have lots of chicken and other pets, including a horse and a camel. She says that her family loves these animals and are always willing to add new ones to the farm.
3. At some point, she was to choose between The X-Factor and a movie
Rachael is one lucky person who sometimes stumbles on many opportunities. When she was doing the auditions for "The X-Factor," she got a booking for a film. In the movie's auditions, the producers asked Rachael to sing, and her excellent presentation won her a chance to be in the cast. Being booked in both put her in a dilemma; although she was happy to be included in the film cast, Rachel decided to choose "The X-Factor." She is thankful for the opportunities that came her way but pleased with the decision to be in the series since it made her dreams come true.
4. She is adopted
Rachael's nurturing mother is not her biological mother. Barbara adopted her without an idea who her birth parents were. Barbara found her through social service and was not happy with how she was abused and denied parental love. She says that she wishes to meet Rachael's birth parents for even ten minutes. Rachael, on the other hand, does not mind not knowing her birth parents. She says that she has two caring parents with her already and to her, they might as well be her biological parents. Having received lots of love from people who are unrelated to her by blood, Rachel has a dream of building a foster home to assist children lacking parental support to achieve their goals.
5. She loves Eminem
Rachael always loves to see Eminem perform. She loves how the artist brings out the rap and the confidence he has when on stage. Rachael made it a culture that before she plays, she listens to Eminem's "Lose Yourself." She says that the lyrics of that song gives her the psyche to appear on stage. After hearing the song, she hits the stage with a determination to put on an excellent performance for her fans.
6. She cannot do without makeup
Rachael is one artist who cannot do without makeup. Since she started appearing in front of her fans, she finds herself refreshing with makeup. Rachael tells Seventeen magazine that makeup is her favorite thing ever. Her experience with "The X-Factor" taught her more about composure, and she mastered the art. Rachael finds it hard to walk around without lip gloss. Her handbag has a collection of makeup that she uses any time she feels the need to; it gives her extra confidence when appearing on stage.
7. She loves driving
Rachael loves driving. She started by riding when still young, and later her parents bought her an ATV for Christmas. She finds driving a lot of fun and an activity that she can do with her family in their farm in Colorado.
8. She is single
Rachael is not dating anyone currently according to Celebs Couples. She has also not been reported to be dating anyone previously and has no children. Rachael loves to keep her personal life a secret, so it is hard to know who her love interest is. All the same, she seems to be much focused on her musical career, leaving no room for relationships. With her beauty and fame, several admirers might be trying to win her heart, but we will know for sure with time.
9. Her ideal type of guy
Rachael revealed her perfect kind of guy as one who is funny and kind to others. She wants a funny guy with whom she can decide to do anything crazy. Moreover, she thinks that a guy who is kind to others will also treat her kindly. Kindness is a virtue that grew in her since loving parents adopted her. In addition to having a goofy side and compassion, she wants a person who supports her entirely, since she is also ready to help him too. She finds trust to be something that is hard to build in a relationship and hopes to find someone on she can depend.
10. She has a net worth of $500,000
Rachael has a net worth of $500,000 which is enough to give her a comfortable life since she is still young and has no responsibilities. Most of her wealth is from her singing and acting career. She also strikes product endorsement deals with some cosmetics companies.