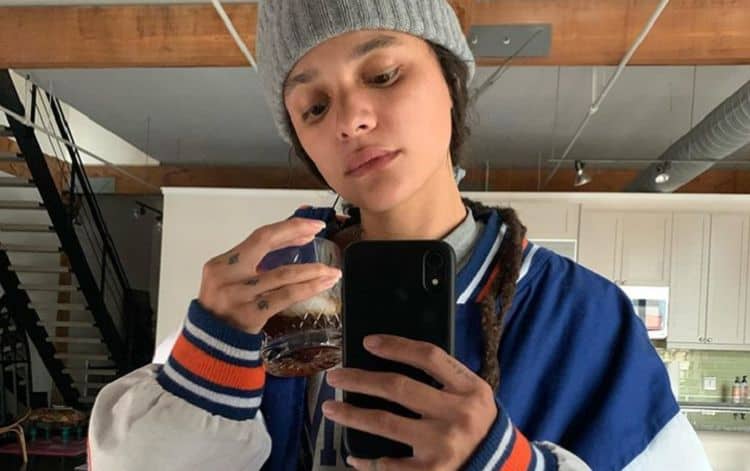 Sasha Lane's journey to the big screen is unlike anything most people have ever heard. She wasn't looking to become an actress,. Instead, she was relaxing on a beach in Florida when a director approached her and asked if she'd be interested in auditioning for a movie. Sasha, who was just 19-years-old at the time, decided, why not? Little did she know, that audition would change her life. She was ultimately cast as the star in the 2016 film, American Honey, and her performance was a standout. Since then, she has had a handful of other roles, and she has some big projects in the works. Keep reading for 10 things you didn't know about Sasha Lane.
1. She Is A Member Of The LGBT Community
In January 2018, Sasha shared that she is gay while discussing her role in the film, The Miseducation of Cameron Post. She said, "The story really hit home for me, coming from a household where my brother's gay and I'm gay. I liked Jane, who has a free spirit and her own way of thinking….I could relate to that because, regardless of how free I am in spirit, I grew up in Texas and that is kind of like a box."
2. She Experiences Premonitions
We all get gut feelings from time to time that help us make decisions. However, what Sasha experiences is something a little deeper than that. She sometimes experiences premonitions that let her know what's to come. A week before she got the opportunity to audition for American Honey, a little voice told her that something good was going to happen to her soon.
3. She's A Proud Mom
Sasha's career has become very important to her over the last several years, but now she has something even more important to focus on. In April 2020, she gave birth to her first child. Sasha likes to keep her personal life private so she hasn't shared any information on her child's father.
4. She's A Poet
Sasha is a creative person who loves to express herself, and poetry is one of her favorite ways to do that. She has been writing poetry for many years and she's even shared some of her work on Instagram. During an interview with Ugg, she said, "Poetry just gets everything out of my head. I can't keep holding everything inside. Poetry is a safe way to do that."
5. She Was A College Student Before American Honey
Even though Sasha has always been intrigued by acting, it was never something she planned on going out of her way to pursue. She didn't grow up in theater and hadn't taken any acting classes. In fact, prior to filming for American Honey, she was a freshman at Texas State University where she was studying social work and psychology.
6. She's Impulsive
Agreeing to audition for a film that was suggested by a complete stranger at the beach is something that would take most people a while to process. However, Sasha was down immediately. She describes herself as "Really impulsive". She adds, "I literally put my suitcases in Andrea's car when my friends left and I stayed in a different state for a week. We connected. I can relate to her but at the same I was all: 'I really hope you don't f**k me over, I'm really trying to see you as a human, don't f**k with me.' I warned her."
7. She Likes To Be Alone
One of the reasons Sasha was never interested in becoming an actor is because she's not a fan of Hollywood culture and what it stands for. She is an introvert who doesn't have much interest in being in the spotlight. As a result, the voyeuristic aspect of being an actress has been hard for her. Instead of constantly being surrounded and watched by a bunch of people, she prefers to be alone.
8. She Lives In Los Angeles
Sasha was born and raised in Texas which is where she lived up until a few years ago. Once she became serious about acting, she decided to move to Los Angeles. For a while, she was couch surfing with anyone who had extra space for her. But her goal was always to have her own place.
9. She Dealt With Bullying As A Kid
Sasha is biracial. Her mother is white and her father is black. While she was growing up, her racial background sometimes made it difficult to fit in. She often had to deal with kids calling her cruel names and telling her that she wasn't black enough for certain things and too black for others.
10. She's Not Materialistic
Hollywood is known for its glitz and glamour. Lots of people in the entertainment spend lots of money and time trying to out do each other. But Sasha hasn't bought into any of that stuff. She is a very humble person who prefers the simple things. She isn't materialistic and doesn't put a tremendous amount of value on possessions.