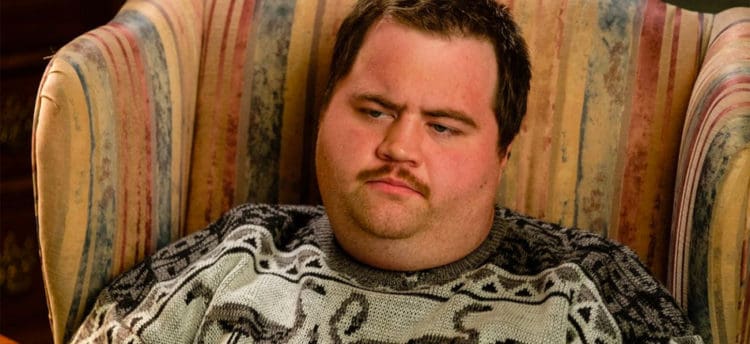 If you haven't seen Paul Walter Hauser around then it's likely that you haven't been watching a lot of movies or TV lately since he's been fairly prominent throughout the last few years and in a big way. He's kind of an oddball to be certain since he does manage to play a few very different roles that aren't exactly complimentary in nature, but he does them quite well, so well to the point that he makes it possible, or rather impossible, to really like the characters as he takes them to such a big extreme. That's great though since despite his self-deprecating manner when it comes to fleshing out certain characters, Paul is able to really make the audience hate the persona he's taken on since there's a good deal of bravado and ego going on with his characters that makes a person wonder why anyone would think they're that great. Well, he's earned that right since he does a great job.
Here are a few things about Paul you might not have known.
10. He was in season 2 of Cobra Kai if you recall.
This was perhaps one of the strangest places to see him show up since looking at him one doesn't really think of Paul as a guy that would do well in a dojo like Cobra Kai, where any sign of weakness is seen to be less than ideal. But he hangs in with the rest of the cast just fine and in many ways kind augments the show in his own, strange way.
9. He started doing standup at the age of 16.
If you've never seen his material it might be time to take a look since he's a great deal funnier than he portrays in the movies considering that he's got a pretty good sense of humor that carries him through.
8. His social media following isn't quite as big as you would think.
It's only a little bit surprising since not everyone is going to have a massive following on social media. But you might expect his numbers to increase a bit considering the exposure he's received over the last few years and how convincing of an actor he is.
7. If you recall he was also in Super Troopers 2 for a bit.
This was and wasn't a surprise since the Super Troopers movies are pretty crazy to begin with but at the same time it was just kind of a pleasant surprise to see him there. Obviously it was one more role in which he gets to act like he's something he's not but at the same time is there to be laughed at for the same reason.
6. One big reason why many people might know him is thanks to I, Tonya.
Ah yes, his role as Sean Eckhardt was something that really gave him a lot of credit since he played the role so well that people had to go back and look at the actual man just to figure out what he was really like again. While the movie was highly dramatized there was still plenty that was truthful enough to make it seem entertaining.
5. He's set to star in The Ballad of Richard Jewell.
It would almost seem that Paul has a thing for playing bigger guys that tend to get themselves in trouble, though the story of Richard Jewell was a bit different than that of Eckhardt since he was eventually found not guilty, after having his life ripped apart.
4. Apparently he's going to be starring in the upcoming Cruella movie as well.
This might be interesting since it's bound to be somewhat funny considering that there's really only role that a lot of people can see him playing and that happens to be one of the crooks that is trying to steal the puppies for Cruella.
3. It would appear that Paul is a wrestling fan.
It might be that he was simply pictured with an AEW hat on for the heck of it but there's always the possibility that he, like many other celebrities, is a wrestling fan no matter how staged it is since pro wrestling is still a good bit of entertainment that many people tend to enjoy. And AEW is certainly trying to give WWE a run for their money.
2. He definitely seems like a friendly guy.
After all being a bigger person doesn't mean much except that you have a different metabolism and possibly a different lifestyle. He does seem to rub shoulders with some very famous people as you might guess and it would seem that he's on good terms with a few of them.
1. He also seems like a bit of a foodie.
There are times when seeing pictures of food makes a person roll their eyes, but hey, if it's a hobby it's a hobby, it's hard to begrudge anyone something like this.
He's actually kind of fun to watch since he gets into his characters so much.