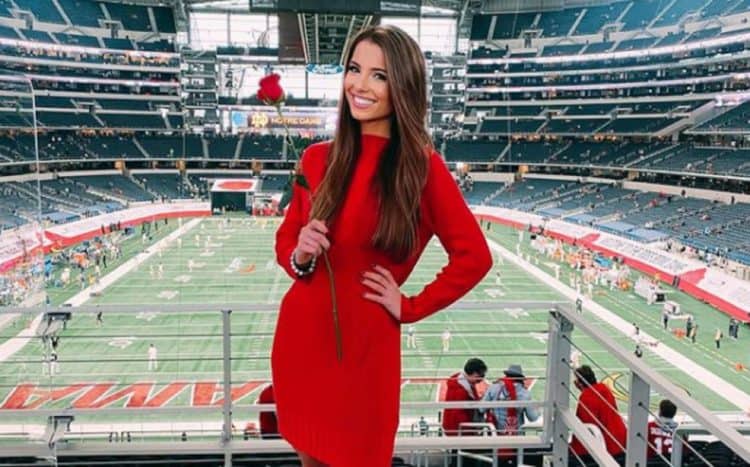 Sophie Scott might not be an actress or a social media star or a contestant on the Bachelor (because isn't everyone these days?) but she has a famous boyfriend who plays college football, and fans seem to like her for that. She's the girlfriend of Alabama Crimson Tide Quarterback Mac Jones, a role that became famous about eight years ago when Brent Musburger and Kirk Herbstreit made Katherine Webb famous for the same reason. She was the girlfriend of then 'Bama quarterback AJ McCarron, and she just happened to be gorgeous. They noticed, and now all the QB girlfriends at 'Bama get a little fame thrown their way simply for dating the QB and being pretty. It's time to meet Sophie Scott.
1. She's Been With Her Man Over a Year
The couple celebrated their one-year anniversary back in September of 2020. She posted a sweet caption on her social media channels to celebrate the one-year milestone, and to let the world know they're clearly serious about one another. They do seem very sweet together.
2. She's a 'Bama Student
She is also a student at Alabama, and we imagine that is where the two met. While Mac Jones is a Florida kid, she's from St. Louis, Missouri. She came to the school after graduating high school, and they've been a hot item on campus for well over a year.
3. She's A Working Girl
She's smart, and we can tell by the job she does. She works for the University Orthopaedic Clinic & Spine Center. She works as a physical therapy and occupational therapy aid. She began the job in the summer of 2019, and it's rumored that it was her internship with the football team as a sports medicine intern that allowed her to meet her boyfriend. We cannot verify that, of course, but it sounds about right.
4. She Was Chosen for an Internship
Before COVID-19 shut the world down, she was chosen as a finalist for a highly-coveted internship in Colorado. The job would have allowed her to work at the Children's Hospital in Colorado as a summer intern to further her career and do what she loves, but the position was shut down due to the pandemic.
5. She's Got a Huge Following
It seems the world loves her, too, because she does have a large social media following. She has more than 18k followers just on her Instagram page. We don't know how many of those are from her time as the girlfriend of the National Championship Winning QB or before she was made famous for her girlfriend position.
6. She's a Grad
She graduated in December 2020 from Alabama. She shared a photograph of herself in a red gown with a red cap and a glass of wine to celebrate her big accomplishment. She also captioned it that she was graduating at noon and then watching the big game at 12:30 – she doesn't want to miss her man play.
7. She's Very Close to Her Sorority Sisters
She's part of the Alpha Chi Omega house, and she's very close to her sisters. She posts photos of them all the time, and it seems that she's with them all the time. They are obviously very close, and we imagine that they'll be friends for life.
8. She's Close to Her Mom
She and her mother are very close. She often shares photos of them together at football games and hanging out elsewhere, and she clearly enjoys the time that they spend together. Family is important to her, and it's one thing she makes very obvious about her own life.
9. She Graduated High School in 2018
She graduated from Kirkwood High School back in May of 2018…just two years before the world shut down due to the 'rona, and she's happy about it. She was already accepted into Alabaman, and she shared a graduation photo of herself with her girlfriends. She was the only one holding her Bama pendant. The rest were either Mizzou or Missouri State-bound.
10. She Loves the Beach
If there is one thing that we can tell about her, it's that she enjoys spending time on the beach. She's got photos of herself on the beaches in many different places, including Cancun and Destin. She spends time with her girlfriends traveling to the beach, and she spends time with the love of her life on the beach on little weekend getaways. We can tell she enjoys life, and that life gives her plenty of reasons to do just that.