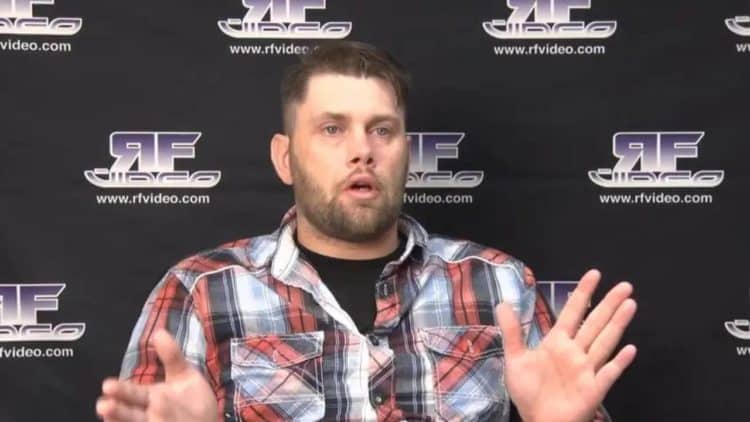 Many wrestling fans were sadly shocked when an announcement revealed that former professional wrestler Jimmy Rave had died at just 39 years old. Although it's true that death is always sad, it is especially heartbreaking when the person who passed still had lots of years ahead of them. On top of that, Jimmy's death comes just about a week after the death of wrestling legend, Blackjack Lanza. Over the course of Jimmy's most than 20-year professional wrestling career, Jimmy developed a reputation for being fearless every time he stepped into the ring. However, in addition to a successful career, Jimmy also fell on hard times over the years and his story was darker than some people realize. Keep reading to learn more about the life and legacy of Jimmy Rave.
Jimmy's Life
Jimmy, whose real name was James Michael Guffey, was born and raised in the Atlanta area. Sadly, there isn't a lot of information about his upbringing or his family life in general. Even though it's unclear when and how Jimmy got into wrestling, we know that he was already taking it very seriously by the time he was a teenager. He began training during the 1990s and he made his professional debut in 1999 before he was even 21. It didn't take Jimmy long to prove to everyone that he was a fierce competitor and he won the NWA Wildside Junior Heavyweight Championship and the NWA World Junior Heavyweight. Jimmy's star continued to rise throughout the 2000s and he won multiple championships. However, during the late 2000s, Jimmy's drug addiction began to spiral out of control. He eventually ended up checking himself into a rehab facility.
In the fall of 2020, Jimmy announced that he would be retiring from professional wrestling because he had an infection in his left arm. Unfortunately, the infection required his arm to be amputated. By the time he died, Jimmy had had an arm and both legs amputated. In October of 2021, Jimmy revealed that his amputations resulted in serious medical debt. He posted a hospital bill for $52,500 and he asked his followers to chip in to help cover the cost. It's unclear how much money he was able to raise before his death. Outside of wrestling, Jimmy was the kind of person who was all about his family. He was a proud father of two children. Although he liked to keep his personal life to himself, we know that he looked forward to spending time with his children as often as possible.
Jimmy's Death
News of Jimmy's death first came in a tweet from his agent, Bill Behrens. The tweet included a statement that had been partially written by Jimmy's daughter. The statement noted that Jimmy's struggles with addiction are what led to him needing to have multiple amputations. Even though it was clear that Jimmy was having some health issues, his death definitely came as a surprise to many. At the time, the cause of Jimmy's death hasn't been clearly stated but it has been implied that his passing was the result of complications from his amputations. Many people responded to the announcement with kind words and condolences. A Twitter user named Jeremy_Peeples wrote, "A beautiful tribute to someone who was ahead of the curve as an act and by every account, a great human being. The world needs more great people and heaven gained one." Many people in the wrestling community have also taken to social media to share their memories of Jimmy both personally and professionally. At the time of his death, Jimmy was living in Philadelphia with his fiance Gabby Gilbert who is also a wrestler. In addition to his two children, Jimmy also left behind both of his parents and his ex-wife.
Jimmy's Legacy
At the moment, it doesn't appear that any funeral arrangements have been made for Jimmy. However, since he was a public figure, it seems highly likely that his services will be open to the public. Even though there's probably nothing that can comfort Jimmy's loved ones during this difficult time, they may eventually find some peace in the fact that Jimmy will continue to live on through all of the people he touched. During his wrestling career, he became known to people all over the world, and there are probably lots of people who were inspired by his tenacity in the ring. There's no information on whether any professional wrestling organizations plan to honor Jimmy, but I think there are lots of people who would agree that he deserves it.Philadelphia