"Wow". That was my first reaction upon finishing this superb episode, Psych's very own love letter to David Lynch's cult hit Twin Peaks. Jam-packed full of references, allusions, guest stars and imagery ripped right from the early 90's psychological mystery drama, including a genius arrangement of the theme song by Julee Cruise, who sang the original Twin Peaks theme song.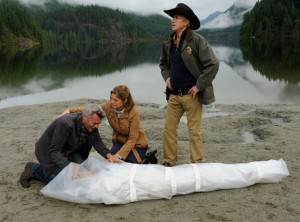 As a grand homage to Twin Peaks, this episode worked. It just worked. If David Lynch ends up watching it (we know for sure that he's aware of its existence), I think he'll be pleasantly surprised. "Dual Spires" comes from a place of great love and admiration, with James Roday admitting on many occasions that Twin Peaks is one of his favourite shows of all time, if not the favourite. "Dual Spires" has essentially been 5 years in the making as the Psych crew tried to find a way to make it work, and what better time than 20 years since Twin Peaks first aired.
It was definitely a case of spot the reference, but it never felt like the references were overbearing or spoiled the usual Psych narrative. I will admit that I haven't seen all of Twin Peaks, but I've seen enough to get most of the allusions. From the Log Lady, to the chocolate bunny on Shaun's desk, to the soundtrack, to the name Paula Merral (an anagram of Laura Palmer), to the damn fine cup of cider, to "Earl Wyndam", to Lassiter's hair being made to look like Dale Cooper's, and then that final amazing scene of the man in the red suit dancing and everything else that came with it.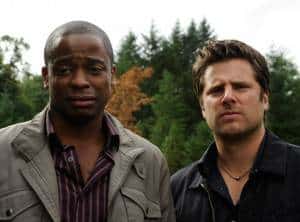 But it's not about just throwing random references at the wall to see if they stick — this is still Psych, and this still needs to have the usual Shaun and Gus banter and the usual twisty-turny narrative and murder mystery fun. This is what makes "Dual Spires" such a success — it perfectly blended a usual episode of Psych with the Twin Peaks-inspired insanity. We got Gus being a sympathetic crier, the tandem bike chase, the return of Ray Wise as Father Peter Westley, Gus being awkward with Shaun and Juliet's phone conversations, and Lassiter admitting that waiting for corpses to resurface is a passion of his.
It was just an absolutely brilliant episode, one which paid a loving homage to a classic television show while also being a damn fine episode in itself. Psych has been in great form since it returned, and long may it continue. A+