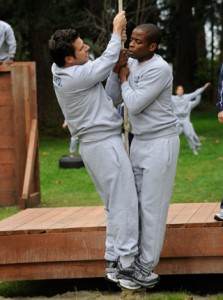 From the insanity of the Twin Peaks inspired episode we drift seamlessly into a Police Academy inspired one, with Shawn and Gus ordered to take some police training after they interrupt a planned sting by Lassiter. It was always going to be hard to follow up such a tremendous episode as 5.12, but "We'd Like to Thank the Academy" did a great job. While last week's was most centred on the Shawn and Gus adventure, this week we got a lot of familiar SPD faces showing up and taking part, including the return of Chief Vick and lots of Buzz action. We also got Shawn and Gus in uniforms for most of the episode, which is sure to please the female fanbase.
One of the highlights of the episode was a glorious piece of guest casting, with the Karate Kid himself Ralph Macchio as Shawn and Gus' police academy instructor. He had a great arc for the episode, going from a sure and in control trainer, to a beaten and defeated outsider once Shawn and Gus had ruined his life, then by the end managed to finally earn the respect of his nemesis Lassiter.
The case of the week wasn't one of the most memorable, though it did provide one of Psych's more entertaining characters in DeVry Longsdale, a flamboyant gangster with a golden gun and an appreciation of Shawn's footwear. The final scenes at the grocery store were hilarious, especially the moment when Gus finally perfected his AK47 sound effect over the speaker system. It was a shame there wasn't any Police Academy cast in the episode (unless I missed one). Maybe after last week they wanted to let the episode speak for itself, rather than do another stunt casting-heavy homage.
The Shawn/Jules fans got a few nice moments to enjoy. It was sweet when Jules admitted that it was her idea Shawn do the training as she was worried about his safety when they go off and try to solve dangerous cases on their own. And the episode was topped off by Jules buying a replica Top Gun jacket and suggesting she wear it "tonight" — a moment the male audience was sure to drool over.
It was another strong episode in what has been a strong return since mid-season hiatus. It's a shame there's only three episodes left. A-
Some highlights —
"Don't just stand there and 'wax on' about it".
"What do you mean Dickie was into you?"
Shawn repeatedly losing his equipment.
"It had sad puppies and a Sarah Mclachlan song. I'm not a robot".
"Best, homework, ever".
"Air bump!"