And so season 5 comes to an end — as does the Yang arc that has spread over the last 2 finales. We get the return of a whole rogue's gallery of special guests, a couple of big revelations, and more movie references than you can shake a stick at. Yep, it's a Psych season finale all right.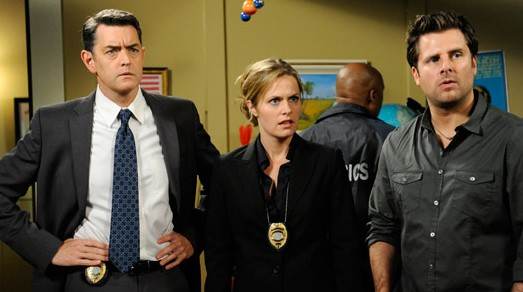 So, let's talk a little about those guest stars. As soon as Mena Suvari turned up I was stroking my chin. "Surely she can't just be playing the simple victim, right?" Yeah, that one was given away by the calibre of the actress. But it still works on two levels. If you don't know who she is, you're fine. If you do, you're still waiting for the big twist, and you know when it does come it should mean trouble for our beloved characters, so you're still on the edge of your seat. In this case we got to enjoy the big reveal twice — of which the second, when Juliet discovered Alison was actually Yin's new apprentice, we got that beyond kickass fight scene between them. It was a great cathartic moment for Jules, who had been the victim in last year's finale, but now got her own victory.
While the reveal that Yin wasn't directly connected to Shawn's past was a little disappointing, that feeling was counteracted by the fact he was played by none other than the scene-stealing legend that is Peter Weller. I'm a huge Weller fan, so when that voice appeared I was in geek heaven. Coupled with the reveal that he was actually Yang's father, and you got a fantastic scene with the returning Ally Sheedy. Every time she called him "daddy" I cringed just as much as Shawn and Gus.
We also got the triumphant return of Jimmi Simpson as Mary Lightly, via an old VHS tape recorded prior to his death. I loved his character, so it was great to see him again.
But what we really care about are the characters, and this episode was full of nice little emotional beats. Gus, forever a bestest best friend, trying to make Shawn feel better about his oncoming death by telling him to never believe it was his fault was a very sweet moment, as was Juliet admitting her worry to Shawn about the next psychopath that might come for them. We got Shawn asking Lassiter for a favour and Lassie not even hesitating to make it happen, which shows that Shawn and his relationship has definitely grown to a place of mutual respect (or as much respect as those two can have for each other). We even got some Henry/Madeleine time as Cybill Shepherd returned for a mostly pointless, but nevertheless touching, cameo.
The episode ended on an intriguing note, with Lassie discovering that Shawn and Jules are now an item. How will that impact season six? I can't wait to find out.
If I have a complaint, it's that the episode never really felt like it came together as a whole like the previous two finales — especially last year's Hitchcock inspired outing. Using the master of suspense as an episode theme helped make the episode feel like a feature film in itself, while this year was more like a regular episode (just with a few less jokes and a lot more darkness). This is really the only thing that stopped it from scoring top marks.
Overall, it was an extremely strong end to a fantastic winter half-season, and we can only hope that they continue this form into the sixth season next year. A-