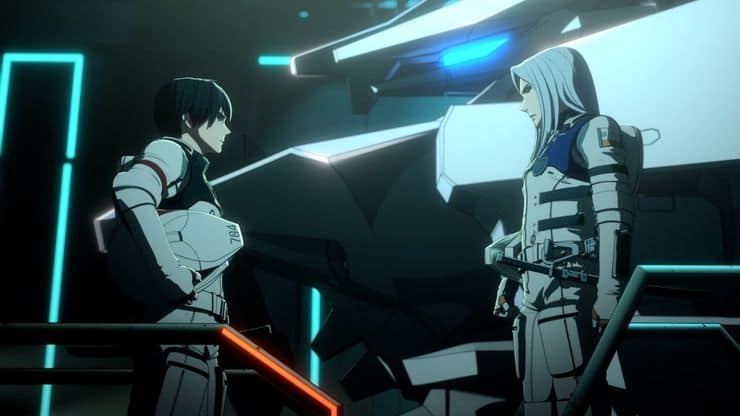 There are several genres of animated films and films in general. Anime is one category that has the most loyal following all over the world. If you are wondering what anime is, it is a style of animation with significant Japanese influence. Its characters and storyline depict a typical Japanese culture. They possess elements of realism and are not just meant to please and entertain. Hence they aim at pointing out ills in society by not being too dull and too obvious. Most anime films and TV series have many episodes to binge-watch. And believe it or not, most anime fans have watched every bit of those episodes, some running into thousands. Knights of Sidonia is a top-rated three-part movie series. Its first premiere was between April and June of 2014. They showed the second part between April and June of 2015 on Netflix. Knights of Sidonia: Love Woven in the Stars happens to be the third and last of this movie series. Vertical handled licensing and English releases, while Polygon Pictures did its production.
Plot
The two seasons of Knight of Sidonia show Nagate Tanikaze. He begins as a hopeless citizen raised by his late grandfather. However, he turns into a brave hero and Garde Pilot and steers the last ship containing humans. Nagate and his friends struggle to save this last ship, Sidonia, from the hostile alien species, Gauna, which happens in the first and second season of Knights of Sidonia. The mission is a success and makes them heroes by saving the last remaining humans from an alien invasion. Ten years after the final war in season two, there comes another crazy battle that rocks them and their ship. Nagate has a task to get back to leading the fight against Gauna that had caused humankind to flee the earth. He isn't about to lose all they had fought for and immediately takes up the task.
In the process of fighting for what's left of the human race, Nagate Taniaze falls in love with a girl, Tsumugi, who is half-human and half-alien. Their love presents an even greater conflict since he is bent on fighting and destroying all the descendants of the Gauna species to save his people. This twist is an unexpected one, and it pushes the surprise element that is present in many anime films and TV series. Knights of Sidonia: Love Woven in the Stars has an independent storyline, as Tsutomu Nihei, the creator, states. This story is different from that told in the preceding two seasons. It begs to answer questions left unanswered while at the same time leaving viewers wanting more.
Production
This film primarily consists of creatives of Japanese descent due to the nature of this anime film that especially highlights Japanese cultural elements. Knights of Sidonia is written by Tsutomu Nihei, the manga's creator, a style of writing for Japanese comic books and graphic novels. The manga for this film is a significant inspiration, and every fan of it has read the comic books before seeing it in movie form. It involves drawn characters with big and round eyes, which the movie greatly mimics. The Chief Director of this dark futuristic film is Hiroyuki Seshita, and Tadahiro Yoshihira has done the direction. Previous writers of the film Sadayuki Murai and Tetsuya Yamada make a return to handle the screenplay.
The musical composition that plays a significant part in pacing and increasing tension during the action-packed scenes was done by Shuji Katayama. All the amazing voice actors have reprised their roles. The list includes famous actors like Aki Toyosaki, Ayane Sakura, Aya Suzaki, Atsuko Tanaka, and Ryota Osaka, who are among many others that contributed to the previous seasons. Netflix announced the release of season three on 3rd July 2020, and by 4th June 2021, the Japanese audience had watched it in its entirety. Talk about love for Japanese culture.
International Release
Knights of Sidonia was previously streamed on Netflix as its first anime. But in July 2021, Funimation acquired all the streaming rights for the previous two seasons. It officially announced the third part of the movie series, which will be released on 13th September 2021. This release takes place on the Funimation platform and even goes further to be seen in theatres. Fans in Europe and America who happen to come second after the Japanese lot will have numerous opportunities to watch this fantastic film's conclusion. The unconventional nature of anime and manga has been the main reason for its popularity beyond Japanese borders. This genre is adult and child-friendly. However, it is essential to confirm before viewing since some have extreme adult content. Unlike many ordinary films and TV series, anime is hard to predict. Its nature sparks more curiosity, thus releasing so many episodes. Fans of manga and anime most definitely appreciate the flood in content and have no problem watching and re-watching. Knights of Sidonia: Love Woven in the Stars might be a sad end to a revolutionary anime series. But it sure leaves a mark in the minds and hearts of anime lovers.
Tell us what's wrong with this post? How could we improve it? :)
Let us improve this post!