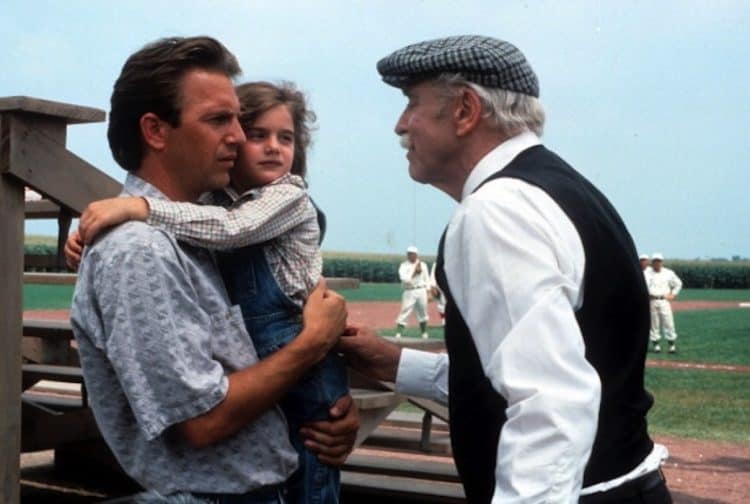 Field of Dreams was arguably one of the best movies of 1989. The movie tells the story of Ray Kinsella (Kevin Costner) a farmer in Iowa who builds a baseball field in his cornfield. Although this story sounds simple on the service, Ray struggles to complete the project and often wonders if he's doing the right thing. However, he is guided by a mysterious voice that encourages him to keep moving forward. Eventually, the field attracts the ghosts of several fictional baseball players who end up teaching Ray and his family some very important life lessons. Although the movie is officially more than 30 years old, it looks like it might be getting a second wind thanks to an upcoming series created by Mike Shur. NBC's Peacock streaming service is in the process of creating a series based on the movie and it's already getting lots of attention. Keep reading to learn more about the upcoming Field of Dreams TV series.
What We Know About The Series So Far
One of the things that always made Field of Dreams so special is the fact that it's more than just a movie about baseball. Sure, it has all of the things that sports fans love, but it also appeared to a much wider audience thanks to its themes of family, love, and forgiveness. That is something the Peacock series is hoping to recapture with this TV reboot. Unfortunately, however, not much else is know about the show. When Deadline reported that the series was coming, the website did not provide any additional details such as the plot or the premiere date. In a statement regarding the series, Lisa Katz, President of NBCUniversal Television and Streaming, said "Through the years, Field of Dreams has remained a fan favorite, maintaining its rightful position in the zeitgeist. It's whimsical and grounded, a space where Mike Schur excels, and we're looking forward to bringing a new version of this classic to Peacock."
That being said, it'll be interesting to see what direction the series will take. Since it has been so long since the original movie, it will likely focus on a new generation. Perhaps a new family has purchased the Kinsella farm. Or there's a chance it could focus on Ray's daughter, Karin. When dealing with a movie as legendary as Field of Dreams, it'll be extremely important for the series to "get it right". Otherwise, it will fail to honor the movie's legacy and will likely be a disappointment to viewers.
Will Any Of The Original Cast Members Reprise Their Roles?
At the moment, none of the cast members for the series have been announced. However, people are already wondering whether any of the original cast members will reprise their roles. It seems fairly unlikely that we'll see any of the original cast members return for the show. However, it would be very cool if some of them popped up for guest appearances. After all, it might end up being a tough sell if none of the original cast members are included. Of course, most people would especially love to see costner play Ray Kinsella again. Although Costner has traditionally only taken on film roles, he has been consistently working in the TV world since 2018 thanks to Yellowstone. It would be awesome to see him make an appearance in the Field of Dreams series as well and that would definitely bode well for the success of the show.
What Fans Have To Say
Despite the fact that little is known about the upcoming show, people have already started talking. A Reddit user named Foremole_of_redwall expressed that people shoud stop making things for Peacock because there aren't enough people who subscribe to the service. However, a user named DarkLithgow wrote, "You are not entirely correct, but I do agree Michael Schur's greatness needs to be shared with a broader audience. On the other hand, you can get away with a lot on streaming you can't do on network TV. It's a dilemma for sure."
Another user, sonofsohoriots added, "This is great, and it will be cool to see him try something different in tone. Most of you probably know this, but Schur is a huge baseball fan. I first became familiar with him through his baseball blog Fire Joe Morgan." Others seem to be confused about why Mike Shur would be doing a drama series when his work is typically comedic. People's opinions will probably shift as more information becomes available about the series. For now, viewers will have to sit tight until then.