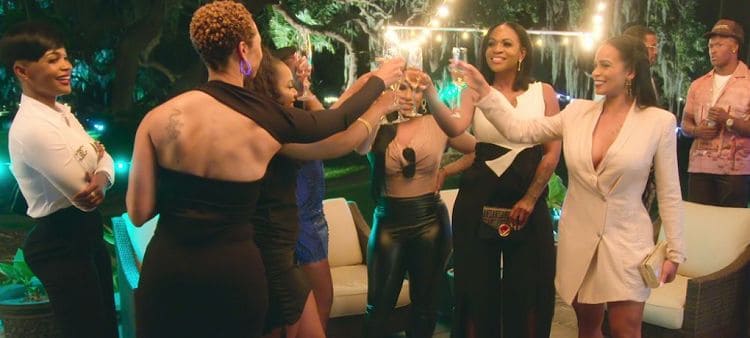 If we have learned anything from HGTV over the years, it is that real estate, houses, and things like that are a huge business. This is an industry that is so big, so good, and so amazing, and we cannot get enough. When Netflix made the decision to take a different approach to the real estate game with luxury real estate in Los Angeles, we didn't know what to expect. Now that "Selling Sunset," is a huge hit, the network has decided to bring us "Selling Tampa," the spinoff of the show that started our obsession with all things luxury real estate. Now we get to see a secondary city showing luxury homes, big price tags, and real estate agents who are more than a little good at what they do. This is a new show, and we have a lot of information you might not already know about it right here.
1. You'll Meet 8 Women
There are eight women on the show, and you'll meet them all. They all work together, they spend a lot of time together, and they are friends. Of course, we have a feeling that there might be a few dynamic personalities in the group, and maybe everyone is a little less friendly than they like to admit. Either way, we cannot wait to see them together.
2. Allure Realty is the Real Estate Brokerage
Much like its LA-based big sister show, this is a show that follows one company owned by one person. Allure Realty is owned by Shanelle Rosado, and we get to know her own team of agents. Each of them is strong in their game, and they focus on high-end luxury properties. They know what they want, how to get it, and nothing is standing in their way.
3. You May See a Famous Face
Shanelle Rosado owns Allure, and we will be seeing a lot of her on television. However, we might also see a very famous face alongside her from time to time. While we cannot verify that this is true, we can tell you that she is engaged to Chad "Ochocino" Johnson, famous for his time in the NFL. The two are planning their wedding, and she's currently pregnant with his child (her fourth baby). While we cannot confirm he will make any appearances alongside her on the show, we can say it's possible.
4. The Women are Fun
They've been described as a fun group of women, and we believe it. We cannot imagine that their clients would want to work with them if they were not fun to spend time with, to work with, and to be around. We also doubt Netflix would want to bother with them if they weren't a lot of fun.
5. When To Watch
You'll all want to know when to tune in, and we have the big date just for you. This is a show that is going to finally make its way to the Netflix platform just in time for the holidays. Tune in on December 15, 2021, to see these women in action in all episodes. It might be a nice break from all the family fun we'll all be dealing with at that point.
6. Shanelle Rosado is a Military Vet
She might not be like the other women in that she is a woman who didn't get her start in real estate or any other version of this industry. She's a military veteran, and she's a badass. She's got a lot of business sense, and she's a strong personality, and we cannot wait to get to know her.
7. The Entire Cast is Black
One thing that Netflix points out to fans is that the entire cast of this show is made up of all black women. Secondly, we should make a point to say that this is a show that features nothing but women, too. It's a big deal for the network, and they want their fans to know it.
8. You Get Eight Episodes
The first season of this show is going to encompass a total of 8 episodes. All eight will be available the day that the show drops, which is December 15. Our recommendation is to try not to binge them all in one day and leave a few so you can watch each day. Prolonging the enjoyment is so nice.
9. This Show Will Entertain
Just like its big sister show, this one will not fail to entertain us all. It is a show all about the drama of selling homes and making big things happen, and we cannot wait to see what it is like in comparison.
10. The Tampa Market is Hot
Right now, the Tampa real estate market is a hot one. With so many people moving from other states to enjoy the freedoms and lack of mandates that Florida has, homes are selling within minutes of hitting the market, people are driving up the prices with their purchases, and homes are going fast and quick. It should be a good show.
Tell us what's wrong with this post? How could we improve it? :)
Let us improve this post!