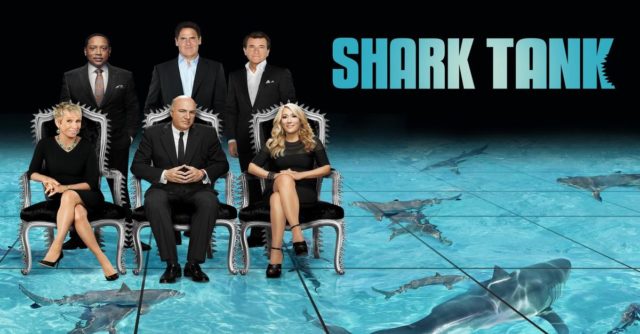 Shark Tank is one of the more popular shows that airs on ABC. It's been on for several years now and throughout that time, everyday people that have dreams of becoming entrepreneurs have made those dreams come true by appearing on the show and getting some serious financial backing. Some of these individuals were already running the companies that they showcased, yet they had a desire to grow that company in order to expand and offer more products in more locations. Others had dreamed of owning their own business for a long time, but needed help in order to get started. Below is a list of the 20 of the most successful products that have resulted because of the show. As you read through the list, you might be familiar with some of these items and surprised by others.
20. ReadeRest
This is probably one of the simplest products that's ever been invented, yet it has made thousands of dollars. It amounts to a clip that's been magnetized and is designed to fit on your shirt. You can then attach your reading glasses, sunglasses or prescription lenses to the clip, securing them safely when you don't actually need to wear them. It's more comfortable than wearing them on your head and you don't have to worry about putting them down and forgetting where you put them.
19. Lumio
This is actually one of the more unique products that's ever been displayed on the show. It's a magnetic lamp but the thing that really sets it apart is that it also folds up when you're not using it. It's the perfect fit for a small space. When it's in use, it's not just any lamp, either. In fact, it's actually more like a piece of art that lights up. As a direct result, the company appeals to high-end stores as opposed to your typical discount variety.
18. Bottle Breacher
This is an idea that's both unique and practical and it has something of a historical twist to it as well. Just as the name implies, it's a bottle opener but it's definitely not anything that you've ever seen before. These bottle openers are made out of deweaponized .50 caliber bullets. While that makes the product interesting enough in and of itself, the other thing that's worth noting is that the entire company is staffed with veterans. That fact alone makes this a product worth purchasing.
17. Cousins Maine Lobster
If you think that every entrepreneurial idea that has been a success on the show involves some sort of invention, you might want to think again. In this particular case, it all started with a food truck that catered to people with more particular tastes than your typical restaurant on wheels. When it was all said and done, the company became known for its lobster dishes, especially the lobster rolls. Today, the company is making more money than they ever dreamed of and it's expanding into more and more areas.
16. GrooveBook
This is probably one of the most popular ideas that has ever happened. It's basically a photo subscription service where you pay about $2.99 a month, give the company access to the photos you've taken with your smartphone, and get a bound booklet with printouts of your chosen photographs. It's also worth noting that all of those photographs are done in high-resolution finishes. For people that take most or all of their photos with their smartphones and then worry about losing those special memories if something happens to the phone, this is a perfect way to insure that you always have those memories available when you need them.
15. Simple Sugars
This one might sound like it's some type of dessert or special treat, but it doesn't have anything to do with food. Instead, it refers to making skin care products from all natural ingredients. It got its name from the sugar scrubs that are commonly sold by the company. Although the business was doing okay before the Shark Tank episode, business increased fourfold almost immediately after the episode aired.
14. Bombas
No doubt, you've heard of this company that makes sucks. They actually have a commercial that runs nationally on a fairly routine basis. The thing that makes this particular corporation so successful is that they don't make socks like virtually every other sock that's out there. They've gone to a lot of effort to fix most of the issues that people tend to have such as socks that don't stay where you put them or seams that shift constantly until you're walking on them. The company also makes a habit out of donating a pair of socks for every pair that's purchased, something that makes them worth looking into, especially when you consider the high quality of their product.
13. Red Dress Boutique
Just as the name implies, this company deals with fashion. In this particular case, it's a website where people can go to order high-end clothing. The thing that makes it so successful as far as Shark Tank is concerned is the fact that it appeals to a large audience and it offers products of exceptional quality.
12. Wicked Good Cupcakes
As you've probably already guessed from the name, this company deals with just about anything you can put into a cupcake. This is a small business that started out of a person's home and gradually grew from there. After appearing on Shark Tank, the company is now worth more money than most people would ever think they could possibly make in their entire lifetime. In addition, the company is currently expanding to even more areas of the country.
11. Ten Thirty One Productions
If you just happen to love horror movies, haunted houses and virtually anything about Halloween, you're going to love this company. It's actually a corporation that deals with taking things to the next level when it comes to creating haunted houses. It's about making it an experience that feels much more realistic as opposed to merely creating a bunch of jump-scares. The company started out in Los Angeles and did extremely well there. After its appearance on Shark Tank, it expanded into New York. There are also plans to further expand into Dallas later on this year.
10. Grace and Lace
This is a company that is run by a husband and wife team. It's probably fairly evident from the name that it's a fashion company but one of the reasons they decided to open the business in the first place was to do something beneficial for other people with some of the money. As a result, they donate a portion of everything they earn in order to construct orphanages in other countries. Today, they've been successful enough to open two of them, with each one housing about 50 children at a time.
9. Bubba Q's Boneless Ribs
This is another company that started out small but it was operated by someone that had big dreams. It wasn't enough to create a company that only operated at the local level. Instead, the goal was to create something that could be operated on a national level. This required obtaining large facilities that could be turned into factories, something that isn't exactly cheap. With that being said, the success on Shark Tank allowed for exactly that type of operation and the company is currently expanding.
8. Breathometer
This product combines a good idea with a genuine need for a product such as this. It amounts to a portable breathalyzer that can be taken anywhere. The thing that really makes it stand out is the fact that it's linked to a smartphone. This in turn could be linked to the apps that are used for many of today's modern automobiles. If the breathalyzer registers an alcohol content that's too high to be legal, the information is sent directly to the smartphone which in turn prevents the automobile from starting, thanks to the app. So far, the company has done more than $20 million in sales.
7. Tipsy Elves
This is the company that started out making Christmas sweaters. At first glance, it seemed like it really wasn't anything that was worth investing in but at least one of the Shark Tank members thought differently. Despite its name, the company currently makes sweaters and other merchandise for virtually every holiday of the year as well as college and professional football.
6. Scrub Daddy
This company got started because a new father was washing his newborn's bottle with a dingy old sponge and realized that there had to be a better way. He eventually invented a different sponge that was more hygienic and even easier to use. Realizing that there were plenty of other people that could benefit from such a product as well, he decided to take it to Shark Tank. It turned out to be one of the best ideas anybody could ever have.
5. Squatty Potty
The name might sound funny, but the invention is actually quite serious. It's designed to help people use the bathroom more effectively, and it's especially beneficial for those individuals that suffer from chronic constipation. By helping individuals who use the product position their bodies more effectively, it makes it easier to go to the bathroom without the aid of laxatives that could potentially cause harmful side effects.
4. xCraft
This is one of the more innovative ideas that's ever come along. It utilizes state-of-the-art technology to turn smartphones into drones. While it hasn't caught on quite as much as some of the other inventions that have appeared on the show, it is one of the more promising ideas. In reality, it probably won't be all that long before this is a standard feature on virtually every smartphone.
3. Chord Buddy
This is a product that is designed to teach you how to play the guitar without involving all the frustration that normally comes with learning how to play. It's actually a very effective design that helps you learn chords quickly and easily. In fact, people who have never played the guitar before in their lives can learn how to play chords in just a few hours by using this product, something that could easily take them a few months without it.
2. CitiKitty
This is an invention that allows you to have cats in the house without having to deal with a litter box. It's actually an adaptation for the toilet that allows cats to use it so you can flush it and move on. It's one of the more brilliant ideas, especially for people that don't like the smell a litter box typically brings into the house or for those who are just tired of cleaning it out on a daily basis.
1. Phonesoap
No, this isn't actually soap for your phone but it does keep your smartphone clean. If you really stop and think about it, it's rather disgusting when it comes to the number of bacteria that are all over your smartphone. After all, this is an item that you touch off and on throughout the day after you've touched virtually everything else. If you're like most people, you also have a habit of using the smartphone in the bathroom. You also have to remember that you can't use most traditional cleaning techniques on a smartphone because it ruins the touchscreen. This invention uses completely safe UV light to kill all the bacteria and make sure it's clean. The best part is that you don't have to worry about it ruining your phone.
Clearly, Shark Tank is one of those shows that serves more than one purpose. There is no doubt that it entertains people but it also serves something of a greater purpose. At its core, it exists to give people that dream of making a better life for themselves an opportunity to do exactly that. It also goes to show its audience that if you're willing to work hard enough and you have the perseverance to stick with something long enough, your dreams can come true just like anyone else's. There's nothing special about the people who showcase their products on Shark Tank with the exception that they came up with an idea they were passionate about and they refused to give up on it. That's something that anyone can do and Shark Tank is a weekly reminder of that fact.