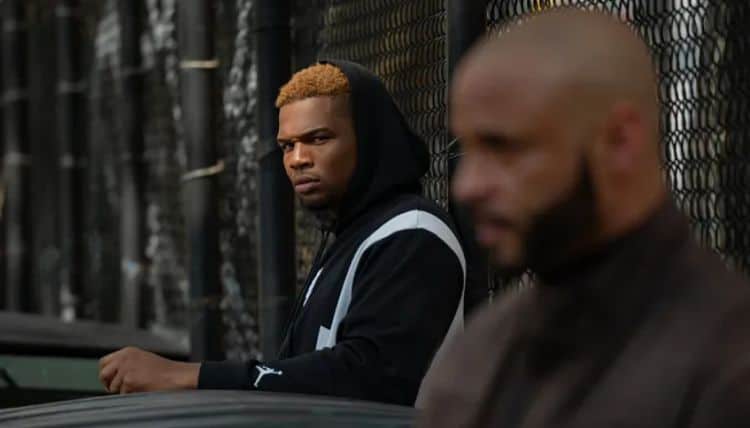 Power Book II: Ghost Season 2, Episode 8 was the most powerful episode of the entire season as all of the family secrets that Monet was working overtime to hide were let out of the bag thanks to Diana's big mouth. Power Book II: Ghost Season 2: Episode 9 doesn't disappoint. The episode opens with Tariq being confronted by the ghosts of his past in a classroom. Professor Reynolds, Kanan, Ray Ray, Lakeshia, Proctor, Carrie Milgram all show up to blame Tariq for his part in their deaths. Tariq attempts to escape the classroom, only to be stopped by Lauren. (Is this a foreshadow of Lauren's death?) Tariq begs Lauren not to go into the classroom but he's preoccupied. Carrie's cell phone is ringing off the hook. Guess who it is? It's Ghost and he wants to speak to Tariq. Tariq's worst fear is turning into his father. As he sinks further into this life, he's becoming more like him every day.
Just when Tariq musters up the courage to answer Ghost's phone call he wakes up from the dream with his cell phone ringing in real life. It's McLean and he wants to know what Tate has on Tariq because the prosecutor is calling him as her next witness. It's no secret. Tate is a self-serving master manipulator and this time he used his deceptive techniques on his brother Kamaal the detective in the Jabari Reynolds murder investigation. Tate finds out that Jenny plans on using him to clean up the image painted of Carrie in court. Kamaal also informs Tate that there is a potential second witness. Kamaal doesn't believe the witness is credible because she changed her story multiple times. Tate convinces his brother to go with his gut instinct and not bother telling Jenny about the witness. Tate has the ammunition he needs to put his foot on Tariq's neck. If Tariq doesn't get the picture of Sweeny in blackface, then he's practically screwed. Tariq goes against Brayden, steals the photo, and hands it over to Tate just in time for him to get on the stand.
Tate doesn't disappoint when he gets on the stand. He announces to the courtroom that his brother works for Jenny which is a direct conflict of interest. When Davis cross-examines him, Tate brings up the potential eyewitness. This gives Davis the alley hoop to call for the case to be dismissed since the prosecutor is in direct violation of the Brayden rule which states that the prosecutor is required by law to disclose any evidence that may be favorable to the defense. The judge gives Jenny forty-eight hours to provide evidence that there wasn't prosecutorial misconduct. Meanwhile, Zeke is still having a hard time dealing with Monet's deception and now Carrie's death which was ruled a suicide. With nowhere else to turn, he reaches out to Dante. Dante is desperate to bring together this imaginary family so he convinces Zeke to take a break from school and train with a private basketball coach that he promises to pay for. While Dante is trying to piece back his broken family, Dru and Diana are trying to save theirs. It starts with getting Lorenzo his product back. When Lorenzo finds out that Monet and Cane hatched a plan to steal product he makes Dru and Diana steal it back from Tariq. Both Dru and Diana con their lovers and steal the product back without no one noticing a thing.
Lauren's life is in danger. Tariq confesses to Essie that Lauren got Cane and Brayden on a wire. Tariq tries to protect Lauren by getting her out of town. Essie goes behind Tariq's back and tells Cane about Lauren snitching. Cane tells Brayden to take care of Lauren or else he's going to have to kill him. But Brayden is no killer and he's no snitch either. When Tariq asks him to get Lauren to safe place instead of pulling the trigger he gives her a bag of cash and tells her to never look back. However, Effie shows up in a burner car, hits Lauren up side the head and makes her get in the car. We don't actually see her kill Lauren but when she comes back to Tariq's dorm room she looks sad. Things take a turn for the worse when Mecca finds out that his secret go-go bag is gone. He admits to Cane that he knows that he was behind his product getting stolen. Shocked, Cane swears that he didn't steal his bag. Mecca locks Cane in his apartment and goes to find answers. Cane warns Tariq about Mecca. When Tariq goes through this mysterious bag he finds bank accounts in each of the Tejada kids names. What's even more interesting is the cooperation agreement, he finds with Dante Spear's name on it. Tariq gets some intel from Davis and finds out that Dante is a well-connected dangerous informant for the government.
When Dante confronts Tariq, Tariq uses the snitching information to blackmail him into $2 million dollars in exchange for his silence. Mecca agrees to put the money in a bank account for him, but, asks for a favor in return. "Thank your father for me when you get to hell," Mecca ask. He brags about selling Lobos out in exchange for his freedom. Ghost killed Lobos before he could find out that Mecca was the rat. Mecca returns to the penthouse to find Monet. Cane called Monet for back up when he thought Mecca was going to kill him. Now that Monet knows that Mecca and Dante are the same person she blames the heist on Lorenzo. Monet promises to run away with Dante as long as she can bring all her kid. She tells Dante in order for them to be completely safe he's going to have to kill Lorenzo.