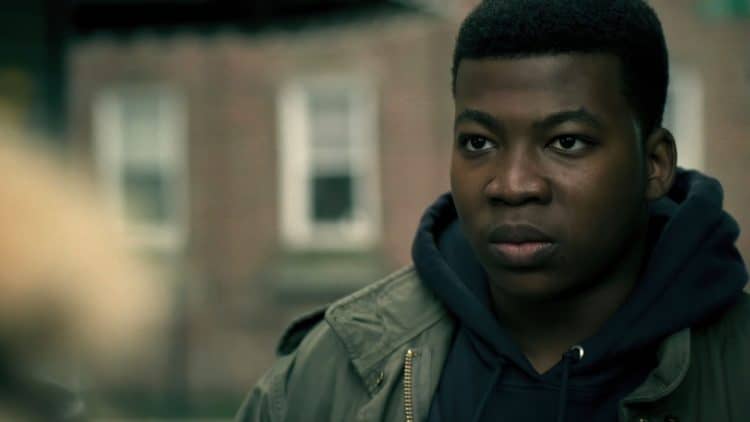 If you were waiting for a major plot twist in Power Book III: Raising Kanan, you definitely get it in Episode 7. The episode concludes with a shocking death that nobody saw coming and can have devastating consequences for our favorite family. With limited product and no plug, Raq and her operation is hanging on by a thread. That doesn't stop Raq from trying to get payback for Scrap by ordering a hit on one of Unique's men. However, Lou Lou isn't able to get the job done and Unique's man ends up getting away. Unique rolls up on Lou Lou a couple of days later a the diner and asks him to consider working for him. Unique says that he admires Lou Lou's entrepreneurial spirit and forward-thinking. Of course, in true New York style, Lou Lou declines his offer most disrespectfully and even goes as far as to let him know that he was the one that shot at his right-hand man. Fortunately, the diner is off-limits for violence because if they were any other place Lou Lou would have been in danger.
Although Lou Lou would never betray his sister, he does have one foot in the game and one foot out. He's invested in the music business and hopes that this could be his family's way out the drug business. Meanwhile, Kanan is finally introducing Davina to his mom at dinner at a fancy restaurant. Unbeknownst to his mother, he also invites Symphony, and his plan to reunite them almost falls through when Raq storms out of the restaurant. Raq is a tough cookie but Symphony is finally able to get through to her and they end the night wrapped up in each other's arms. Kanan isn't so lucky. Davina confronts him about the Famous song " The Streets Need A Body". Kanan is unable to convince her that Famous was just rapping lyrics. When she doesn't allow Kanan to come in it's clear that she isn't feeling him at the moment.
But there's bigger fish to fry. Marvin and Kanan's side hustle is falling apart right before their eyes. As usual, Kanan bit more than he could chew. Kanan is so ready to be the "man in charge" that he forgets the importance of being a good student first. Raq guys tell Kanan about a powerful substance that's supposed to help stretch the product that they did have. But they want to run things by Raq before they use it. But Kanan checks them rather quickly and lets them know that they have to listen to him. Kanan ends up cooking a lethal batch that has fatal doses of fentanyl a few junkies to overdose. The
Marvin is livid and let's Kanaan know that when people start dying it puts heat on the drug dealers from the cop. Kanan looks absolutely stupid as he suggests that they tell his mom so she can fix the situation but Marvin is sure that she will them both of she ever finds out and tells Kanan to keep his mouth shut. On the other side of town, Jukebox is ecstatic as she is preparing to go to prom with Nicole. It's good to see Jukebox happy after all she's had a pretty rough few weeks. Jukebox and Nicole are chilling together at the park. Jukebox goes over to the pretzel stand to get a snack for Nicole. While at the stand Nicole u zips Jukebox's backpack and slides in a sweet note. Nicole ends up finding a crack vial in Jukebox's backpack and pockets it. Excited about prom, Jukebox spills her secret about her sexuality to Raq. I knew that Raq would be the first person JukeBox because her aunt always gives her room to bar herself and not judge her.
That night, a frustrated Nicole is in her room listening to the special love song that Jukebox wrote for her while preparing for prom. Nicole pulls out the crack vial that she found in Jukebox's backpack. She's curious and decides to take a hit. As soon as she does, she hits the floor and dies almost instantly. Her mother is on the other side of the door worried and knocking for Nicole to open the door. Nicole's tragic death is unexpected. Not only does it leave us in complete utter shock but we're also left with so many questions.
Will Nicole's parents blame Jukebox for her death? How will this affect Kanan and his family? Does Jukebox know that Kanan is really responsible for Nicole's death?
Tell us what's wrong with this post? How could we improve it? :)
Let us improve this post!