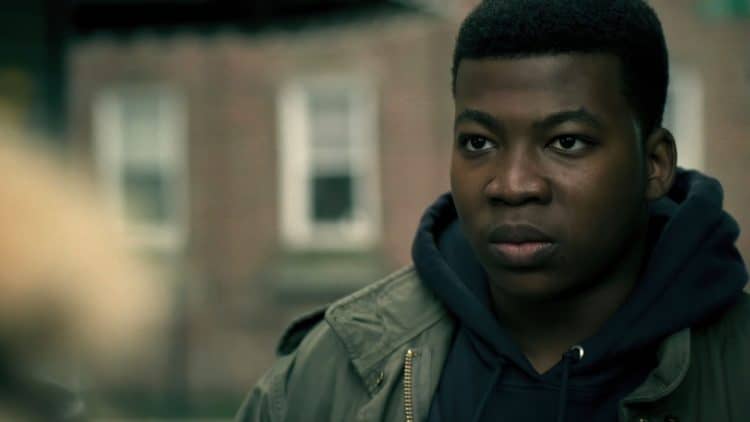 In the opening scene, we are reminded that Raising Kanan is the strongest contender in the Power universe because of the writer's uncanny ability to capture the reality of living in the ghettos. Raq is standing idle at the elevator in the projects. After one of the elderly ladies in the projects tells her the elevator doesn't work, she's forced to walk up seven flights of stairs. Anyone that has ever lived in public housing knows that Housing Authority never sucks at maintaining their property.
When Raq makes it to her apartment unit, she's greeted by Frank, the building inspector who turns out to be a sleazeball. Frank proceeds to read Raq her rights as a tenant in public housing and lets her know that she's not allowed to make any structural changes to the apartment. Frank makes a snide comment about Raq not apparently having lived in public housing before, and his assumption is right. Raq resides in a nice house in the heart of South Jamaica Queens, which is a far cry from the project life. It's clear from the beginning of their interaction that Frank is going to be a problem. He's aggressive, and it seems as if he's used to sleeping with the female tenants. But we know how Raq gets down, you either get in line, or you die. Raq agrees to meet Frank after hours, where she plans on offering him a load of cash to look the other way.
When Raq meets up with Frank, she gets straight to the point, but Frank isn't keen on taking direction from women, and he assaults her. He tries to rape her, but Raq hits him in the head with a hammer and calls Marvin to deal with him. Marvin finishes Frank off and buries him in the walls of the apartment. In this episode, Famous is preparing for his showcase, and Lou Lou is just as excited because he hopes that the music business could help his family actually become legit. It's good to see that someone in their family has aspirations other than the drug business. Lou Lou meets with Unique to let him know that there will be no violence or selling drugs at this event. Unique agrees, but he's livid that Lou Lou had the guts to even walk into his place and ask for a favor. So he brings Scrappy (Raq's former loyal soldier) into his plans to shoot up the showcase.
Famous and Jukebox end up smashing their performance. Everyone loves Famous song, but Kanan finds out that Famous rap lyrics are about his life. The shock on Kanan's face lets us know that this could potentially affect their friendship. When Scrappy and Unique's boys break into the event with their weapons, Lou Lou immediately spots them, Scrappy gives him a menacing look, and it lets Lou Lou know that they are up to something. Lou Lou starts a brawl in the audience to get everybody out of the building. Unique boys believe that Scrappy tipped Lou Lou off, and since they question his loyalty, they end up doing him dirty.
While the music showcase was going on, Raq was meeting with Deen, their connect. Deen no longer trusts Raq and her brothers. In fact, Deen has made a deal with Unique that cuts Raq's supply off. Raq learns that Deen killed his bodyguard, who was making side deals with her. Without product, Raq is in a bad position. Raq is forced to go to the bodega's owner's wife as she remembers Lou Lou telling her that she has a cousin in Washington Heights with an international plug. The bodega owner's wife, Gabriel, is hesitant to get involved because her husband and her cousin don't get along. Gabriel is afraid of her husband, and the bruises on her face are proof of that. Raq pumps her up some and reminds her that she doesn't have to take orders from no man. The two women are so different, and it's interesting to see how their relationship will evolve in the future. Raq makes it clear Gabriel is to do as she has asked.
Unique's crew leaves Scrappy bloody and bruised body on Raq's front steps. By the end of this episode, Raq and her brothers realize that they have already been at war with Unique, and things are about to heat up. Unique has taken away their product, tortured one of Raq's soldiers, and almost shot up Lou Lou's events. All eyes are on Raq and her crew. She has to stand up for herself, but what will it cost her?
Tell us what's wrong with this post? How could we improve it? :)
Let us improve this post!