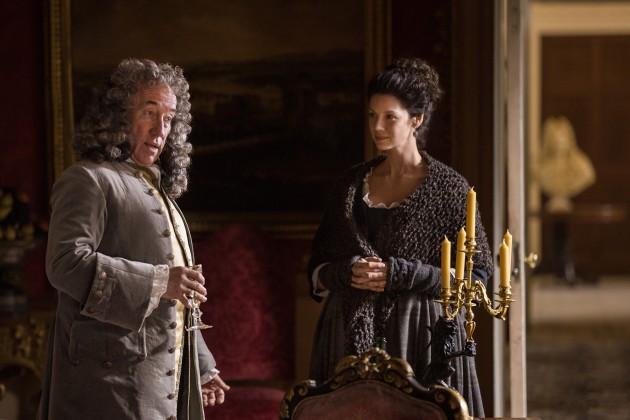 I really soft-served my feelings on last week's episode. I wish I hadn't, but I did. Two of my biggest weaknesses as a critic is a fear of pushing back against hard critical consensus, and against a show I was previously enamored with. I did the former in my last Better Call Saul review.
The reason I am bringing this up is because this episode of Outlander was so superior to its predecessor that I almost can't believe they were made by the same group of people. It was so much more interesting and subtle and engaging that it's like the cast and crew were swapped out for upgraded models. But it was fascinating, because having these two episodes side-by-side really highlight some of the inherent problems of Outlander.
Let's take Jamie, for example. His outbursts in "The Reckoning" were totally out of character and overly aggressive, a side that had previously never been shown nor even hinted at. Jamie has always been a rational, smart, kind individual; to see him foam at the mouth and even give the merest suggestion that Claire's near-rape was her fault was, to be frank, astonishing. His whipping of her as a way of punishing according to the old ways makes zero sense when you put it in the context of the character we've always known.
The scene in which Claire finds the dead baby was fascinating; it is the microcosm of every problem the show has. For example:
Jamie comes across Claire holding a dead baby; one that was abandoned by parents for whatever reason. People have been doing this since forever, and blaming the death of their child on theft by the fairies. But Jamie sees right through this; he gets that it's a way for people to deal with these awful decisions and keep moving on. Do you see the problem yet? How can Jamie claim to see through these problems with a rational eye and think it's okay for him to whip his wife, according to similar tradition? How can Jamie be this progressive and then not that progressive?
Another show-wide problem: magic. How can Claire get transported back in time BY magic, and then not believe in it at all? This makes very little sense. Is there even magic in the world at all, besides those random stones? And if those stones are magical, as we know they are, we know that Geillis is also magical, because she is connected with the group of people that worships the stones. So, how can she be only a little bit magical? What is the limits of magic?
To piggy-back off the last paragraph: Claire's penchant for being super aggressive makes for great feminist theory but for wonky world-building. Claire is constantly in danger from men who try to rape her and assault her. But she still consistently challenges their authority, and nothing happens to her. Black Jack Randall is trying to rape her because he's an evil bastard, yeah, but that's just because that's what he does; he was going to rape her when she was pleading for help from him. So, she can challenge Dougal, and Collum, and Randall, and the Duke of freaking Sandingham, and nothing happens to her?
Look, I get that this show is about her pushing boundaries; I am totally on board with that. But in terms of making television, there has to be a point where we believe she's actually in danger.
But therein lies more danger: the only way she can properly be menaced and create believable tension is for something truly awful to happen to her, and that's such a line to cross that I'm not sure if they would want to cross it. Ownership of the female body is a central (and pilliaric) tenet of the show, and the only way to break that is to take away ownership. That'll will be a horrific experience for both audience and character. It's one thing for a protagonist to lose someone she loves or for a protagonist to fail at his task, but it is a totally different thing to be sexually assaulted.
It's a frankly impossible problem, in terms of making television of this manner.
All of that aside (wow, that was quite a tangent), this episode was full of really great moments. Dougal smashing the place up in penance for the death of his wife was especially powerful. I wish it had been genuine (I definitely have my doubts that it was, for obvious reasons), but that version of Dougal was very moving. To see him lose it over the loss of a loved one was so different from what we're used to seeing. Also, Gellis Duncan was a force in this episode; she raised the level of nearly every scene she was in.
So, overall, I think this episode was really good. This show has some problems to overcome. They need to decide which Jamie they have: Good!Jamie, or Crazed!Jamie, because Outlander is stuck in a weird purgatory in which Jamie is both the dashing hero and the secret villain. Personally, I would make Jamie near-flawless and keep Claire the way she is and just burn the world down. There's something to be said about really invigorating TV.
Stray Thoughts:
– Jamie is a world-class fighter. Him beating the MacDonald trio was almost too awesome to watch.
– Collum is a really bad leader.
– Laoghaire being the villain is a little… strange. I'll leave it at that.
– Sam Heughan can read any line and just murder it. Caitriona Balfe, too.
– Nice way to start the episode, fellas. That was quite a cold open.
[Photo via Starz]