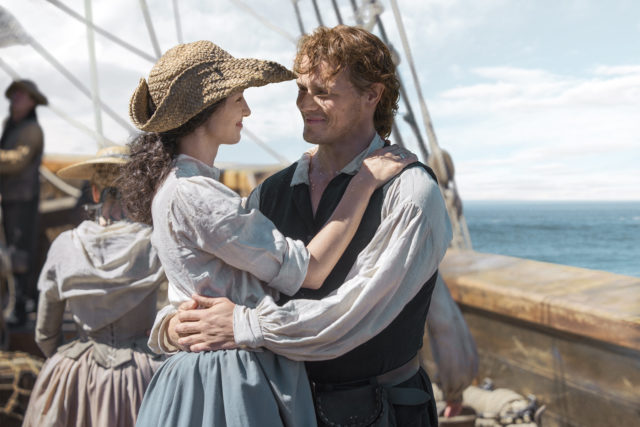 First and foremost, we need to give credit where credit is due, to the Outlander production crew. In Season 1, they brilliantly showcased the Scottish landscape. In Season 2, they brought the grandeur and intrigue of aristocratic France back to life. They already pulled off one of the most emotional and grueling hours of television putting together the Battle of Culloden at the beginning of this season. Now they take Jamie and Claire's journey to the high seas. This may have been the most difficult feat for production to undertake yet. Similar to the real journeys these ships took in the 18th century, cramped quarters on the water are very uncomfortable. Because of their hard work, Jamie and Claire's adventures on the high seas got off to a magnificent, cinematic start. That doesn't mean the journey is smooth-sailing.
Jamie and Claire have quite a bit to worry about on their journey to the New World. They have one goal: rescue Young Ian. The objective is to get to him in one piece themselves, and with as little drama as possible. Fergus and Marsali crashing the journey to announce their intention to marry is the very definition of drama. As a surrogate father to both of them, Jamie has something to say about this. Let's just say, Marsali is her mother's daughter. She'll push and shove and blackmail to get her way. Her attitude towards Claire isn't going to change, but neither is her love for Fergus. If Jamie thinks he can wait out the relationship to play itself out, he'll be waiting a long time. The best Jamie can do is keep the young ones separated in the bedroom.
Not to worry. Just because Jamie and Claire don't stay in the same room, doesn't mean they don't find time to be alone. Once they found their groove, being together again was seamless. The only difference is that this time, their thoughts aren't just on each other. The last time they made a long voyage together, they didn't have a daughter. Though she is as far away from her parents as can possibly be, Brianna will always be on their minds.
Sea life isn't new for Claire, but there are things she has to relearn about it. The captain may appreciate Claire's ministrations to his crew, but he also wants her to understand the way a ship works. Superstitions are as important to a crew's ability to work as good health. On a ship not run by a Royal Navy, everyone works together voluntarily. Every man is only as good as his faith in the other. Once that faith is lost, mutiny abounds; in this case, if someone doesn't touch the ship's lucky horseshoe. When the ship remains stationary for days, compromising the water supply, the crew looks for their "Jonah". A Jonah is someone who is blamed for the ship's problems for not adhering to the superstitions, and then thrown overboard. To stop the chaos, Mr. Willoughby tells a tall tale about himself and his time in China. It's basically a fancy distraction for Willoughby to prove that the wind has picked up again. It's elaborate, but effective.
Willoughby has many talents, not the least of which is curing Jamie's seasickness. Not to knock Claire's ginger tea, but Mr. Willoughby's methods are a little more effective. Claire's methods are best served curing a sickness she is more familiar with. Luckily, no one has fallen seriously ill on her vessel. A military ship which comes in need of assistance is not so lucky. Their crew has been stricken with Typhoid Fever, and only Claire can handle the situation because she has been vaccinated. Claire's good deed goes very, very badly. The nervous Navy Captain holds Claire hostage, only promising to deliver her back to Jamie once she has cured the sickness from his crew. I feel sorry for the captain now. The man who takes Claire away from him after 20 years apart is a marked man indeed.
Was this first leg of Claire and Jamie's journey a good start to their adventures in the New World?