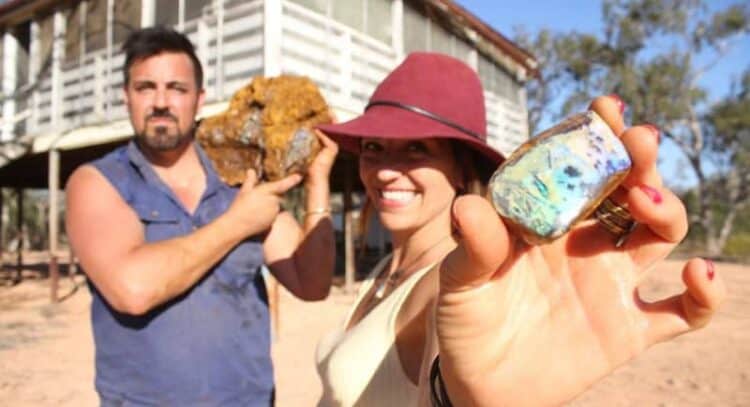 Americans aren't the only ones who love to watch shows that center around people searching for something valuable. Outback Opal Hunters is proof. Although the show is filmed in Australia, it has attracted a lot of viewers in the United States as well. The show debuted in 2018 and it's managed to squeeze in eight seasons since then. Each season brings more excitement than the one prior, and the show has a way of keeping viewers at the edge of their seats. Even if you're not someone who has an interest in opals, this is one show that might still be worth adding to your watch list. Keep reading for 10 things you didn't know about Outback Opal Hunters.
1. The Show is Broadcast in More Than 100 Countries
Outback Opal Hunters may be an Australian show, but it has garnered attention from people all over the world. The series is now broadcast in over 100 countries including the United States and England. If the show continues to be a huge success, there's a chance even more countries will be added to the list.
2. The Show Has Exceptional Ratings
Since the show has been on the air for so long, most would probably assume that it does pretty well in the ratings department. However, the show actually has a larger viewership than most people think. It has been rated in the top five on the UK-based TV network, Quest.
3. It's Unclear If The Show Has Been Renewed
With eight successful seasons under its belt, Outback Opal Hunters has built a very large and dedicated fan base. That means there are a lot of people out there who are hoping the show gets renewed for a ninth season. As of now, however, there's no word on the future of the show.
4. None of the Original Cast Members Are Still on the Show
Like lots of other reality TV shows, Outback Opal Hunters has had quite a few of cast changes during its time on the air. In fact, some people may be surprised to find out that none of the show's current cast members were part of the show during its first season.
5. The Show Doesn't Have Any Social Media Profiles
Since the show is so popular, most people probably assume that it has a pretty strong online presence. Surprisingly, though, Outback Opal Hunters doesn't appear to have any official social media profiles. Those who want to keep up with the show on social media have to do so by using the hashtag #OutbackOpalHunters.
6. The Show Is Produced by Prospero Productions
Having the right production company is important for the success of any TV series. Outback Opal Hunters is fortunate to be backed by a successful company with lots of experience in the reality TV space. Prospero Productions has produced several popular Australian shows such as Outback Truckers.
7. The Show Has Had More Than Three Dozen Cast Members
Remember when I mentioned that Outback Opal Hunters has had lots of cast changes over the years? I wasn't exaggerating. Since the show started, there have been a total of 37 cast members. If the show continues, that list will probably end up getting even longer.
8. Only One Cast Member Has Returned to the Show as A Guest
We've already established that it's pretty common for cast members to leave Outback Opal Hunters. However, what's less common is people coming back to the show. While there have been a couple of people who have left and briefly returned as main cast members, only one person, Kelly Tishler, has returned to the show as a guest. There's always a possibility that others will return in the future, though.
9. This Isn't The Only Show About Australians Hunting for Valuables
If you're a fan of Outback Opal Hunters, you'll be pleased to know that this isn't the only Australian reality series that centers around people looking for what most would consider treasure. Aussie Gold Hunters is another popular TV series that has been airing on the Discovery Channel since 2016.
10. The Show Was Nominated for An Award
No matter how popular a TV show is, a show's legacy is typically measured by the number of awards its won. Unfortunately, Outback Opal Hunters hasn't taken home any major awards just yet, but it was nominated for Best Documentary Series at the Screen Producers Australia Awards in 2018. Hopefully, there will be some big wins in the show's future. I think most fans would agree that it definitely deserves a lot more recognition in that regard.
Tell us what's wrong with this post? How could we improve it? :)
Let us improve this post!