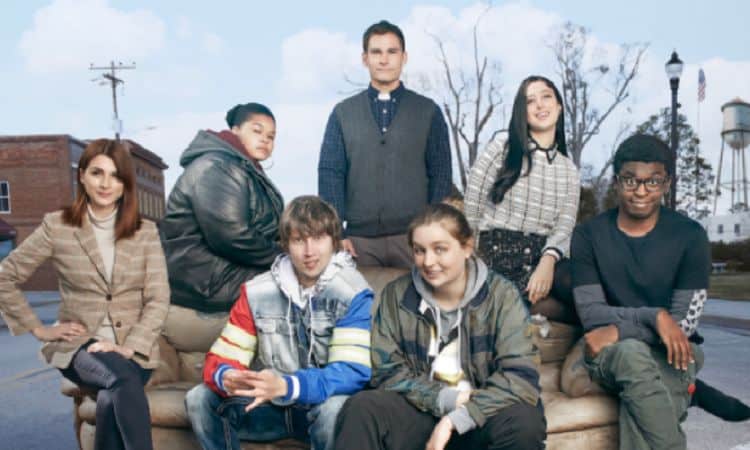 Just when you thought everyone's moved on from mockumentary sitcoms, with The Office, Parks and Recreation, and Modern Family dominating the airwaves over the past two decades, TV execs are still approving mockumentary shows left and right. Fox's latest offering that follows the classic mockumentary formula is Welcome to Flatch, which premiered in March. The show is based on the British show This Country, which also followed the mockumentary format and starred siblings Daisy May and Charlie Cooper. The American adaptation is developed by Jenny Bicks, a producer who most prominently worked on Sex and the City. She also created and wrote the ABC series Men in Trees. Like Parks and Recreation, Welcome to Flatch focuses on a fictional small town, this time in Flatch, Ohio. The show follows a documentary crew as they explore life in the small town. Welcome to Flatch features an interesting cast headed by a true-blue Hollywood star. If you want to know more about the cast members of Welcome to Flatch, look no further. Here are the cast members of the brand-new Fox mockumentary sitcom Welcome to Flatch.
Seann William Scott
Seann William Scott stars in Welcome to Flatch, playing the role of Joseph "Father Joe" Binghoffer. Scott first gained international fame for his role as Steve Stifler in the American Pie franchise. He has since appeared in blockbuster movies like Dude, Where's My Car?, Evolution, The Promotion, Cop Out, Final Destination 5, and Goon: Last of the Enforcers. Scott has also frequently lent his voice to the Ice Age franchise, voicing the possum Crash. On TV, he's worked on shows like It's Always Sunny in Philadelphia and hosted MTV Cribs. Prior to Welcome to Flatch, Scott also has a starring role in the comedy-drama TV series Lethal Weapon. Despite everything he has done over the years, his role as Stifler on American Pie remains to be his most popular character — so much so that he still gets called Stifler once in a while in public. In an interview with Entertainment Weekly, he talked about what he feels being able to snag the role that would make him a household name: "I just got so lucky," he shares. "I was just always hoping that I could be in movies, I never thought about playing a character that people would remember. So, for me, it was like a dream come true. I never get frustrated when people bring it up to me. That was the most fun character you could ever play in a comedy, why would I ever get frustrated with that? I wouldn't be here, I wouldn't have a career if it wasn't for that movie and that character, so I love it."
Chelsea Holmes
Actress Chelsea Holmes plays Kelly Mallet in Welcome to Flatch. A relative newcomer, she previously appeared in the movie I Love My Upstairs Neighbor before starring in the Fox comedy show. On her personal Instagram account, which has about 10,000 followers as of writing, Holmes frequently posts about the show. In one post, Holmes announced the arrival of the TV series, writing: "today's the day babes will share a gushy post later but for now go catch the first 7 episodes on @hulu or take it slow week-to-week on @foxtv (premiers tn at 9:30pm) – up to u cutie."
Sam Straley
Sam Straley plays Lloyd "Shrub" Mallet in Welcome to Flatch. The DePaul University graduate appeared in the hit Hulu series The Dropout as well as the movie Hala before joining the cast of Welcome to Flatch. Straley prominently appeared in the show The Kids Are Alright, appearing as Lawrence Cleary for 23 episodes. In an interview with UInterview, Straley talked about working with Seann William Scott on the show, saying: "What I love the most about working with Seann is the dynamic between Shrub and Father Joe. Shrub loves Father Joe but he does not always respect Father Joe," the actor added. "Just playing off of Seann and getting to be kind of… I don't want to say mean, but getting to be super rude is so funny and he handles it so well. I'm excited for everyone to see Seann's performance."
Taylor Ortega
Taylor Ortega plays Nadine Garcia-Parney in Welcome to Flatch. Before landing her Fox mockumentary role, she worked on shows like Kim Possible and Succession.
Krystal Smith
Krystal Smith portrays Mandy Matthews in Welcome to Flatch. The actress previously appeared in the 2020 production BiaXellenve: A #SAVAGE Holiday Spectacular.
Aya Cash
Actress Aya Cash plays Cheryl Peterson in Welcome to Flatch. Many avid TV-watchers would recognize the California-born actress from her starring role as Gretchen Cutler in the hit FX dark comedy series You're The Worst. She also portrayed Stormfront in the Amazon Prime Video show The Boys. 2022 has been a very busy year for Cash. Aside from starring in Welcome to Flash, she has also appeared in The Girl from Plainville and The First Lady. Welcome to Flash won't be Cash's first foray into a mockumentary. In 2015, she appeared in an episode of Modern Family, portraying the character of Vanessa in the episode "Rash Decisions." On the big screen, she's played characters in We Broke Up, Scare Me, Social Animals, Game Over, Man!, Mary Goes Round, and The Wolf of Wall Street.
Justin Linville
Justin Linville plays Mickey St. Jean in Welcome to Flatch. The young actor has appeared in shows like Rushed and A Legitimate Television Show.
Recurring cast
Welcome to Flatch also features a strong list of recurring cast members. William Tokarsky plays Len in the show. The character actor has appeared in the Adult Swim series Your Pretty Face is Going to Hell. He also worked on movies like Anchorman 2: The Legend Continues and The Hunger Games: Catching Fire. Tokarsky is set to appear in a couple of upcoming films, including Jacob's Ladder and Penance Lane. Desmin Borges plays Jimmy Jameson in the series. Like costar Aya Cash, he also appeared in the FX comedy-drama series You're The Worst. Other actors appearing in the show in a recurring capacity are Jason MacDonald, playing Bobby Mallet, and Erin Bowles, portraying Beth.
Tell us what's wrong with this post? How could we improve it? :)
Let us improve this post!