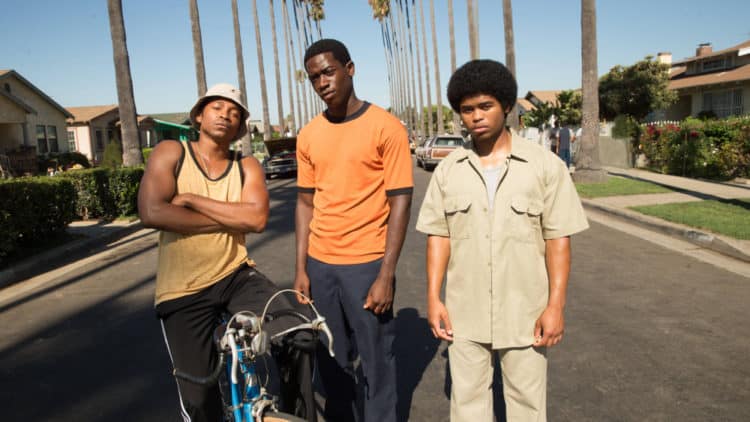 Believe it or not, SnowFall isn't your average dope boy tale. In the midst of lies, deceit, murder, drugs there is the prevalent issue of corruption in government. Besides the intriguing storyline, it's the actors that really bring this show alive. For a minute, you'll actually forget that they are involved in some really bad things. Check out our favorite Snowfall characters and why they bring value to this series.
1. Uncle Jerome
We learn early on that Uncle Jerome doesn't play especially when it comes to his woman and his family. Despite his menacing stature, he's a good guy and he has a lot of street wisdom. Jerome taught Franklin all about the weed business. He's the one that inspired Franklin and made him want to be a hustler at least that's the way his sister sees it. When Franklin comes to him about getting into the cocaine business he quickly shoots the idea down and tells him that dealing with coke is dangerous and almost always leads to death or jail. But Franklin's determined to sell cocaine because that's where the real money is at. Although Jerome is reluctant he jumps head in with his nephew and helps him with his operation. Jerome is an OG and he knows the streets better than Franklin. He's Franklin's most valuable asset.
2. Aunt Louie
You can't mention Uncle Jerome without bringing up the love of his life and partner in crime Louie. She's strong-willed and just as tough as the men she hangs around. If it wasn't for Aunt Louie Franklin's operation would have been dust. Aunt Louie makes a lot of sacrifices for Franklin. She puts her body and her life on the line by messing with Claudia riding in for her nephew. When things go wrong in Franklin's's life, Loui is always there to listen and help him make changes.
3. Franklin
Franklin took a small opportunity and turned it into a million-dollar operation. Not many young people his age would have been capable of such a scheme. He's calculating and he always seems to be two steps ahead of his opponents which is always good. These traits make him a good drug dealer. What is the business costing Franklin at heart? He has killed, ordered hits, and lied. It's obvious that Franklin isn't the person he used to be especially when compared to the first season.
4. Cissy
When Snow Fall first started no one really liked Cissy. That's because she wanted what was best for her son and she was totally against his choice of business. She even kicked Franklin out of her house and disowned him. They weren't on speaking terms for a long time. Any good mother in her position would have felt the same way. Cissy eventually accepts her son's line of work and even becomes his accountant. Franklin promises her that he will be out in five years and this gives Cissy a measure of comfort.
5. Teddy
Most viewers would agree that Teddy's character has been somewhat obscure from the beginning. We don't know if he's genuinely true to the cause or if he has a secret agenda. Everyone in his life has problems with him. His ex-wife hates him and accuses him of being a deadbeat. His father thinks he's a disappointment and his ex-cop girlfriend hates him as well. Throughout the series, Franklin struggles with trusting Teddy because there's not much he knows about him. After all, he is a government agent that claims that the country funds the war through the distribution of cocaine.
6. Leon
Leon is has been by Franklin's side since they were kids which is why Franklin is always so willing to put it all on the line for him. Leon is the one that actually does most of the dirty work but he's also a loose cannon. As Franklin's operation grows larger, he's forced to have to reel Leon in a few times. When Leon makes a mistake and kills a kid during a drive-by shooting, Franklin has to make a tough decision; should he deliver Leon to the people who want his head to make it right or protect him. Of course, Franklin chooses to protect him. Despite his crime-riddled background, Leon does have a conscience and he isn't completely heartless. When a desperate woman pulls a gun on him so that she can collect the money on his head she begs him to spare her life when Jerome puts a gun to her head. Leon decides to let her go and even gives her money to help with her bills.