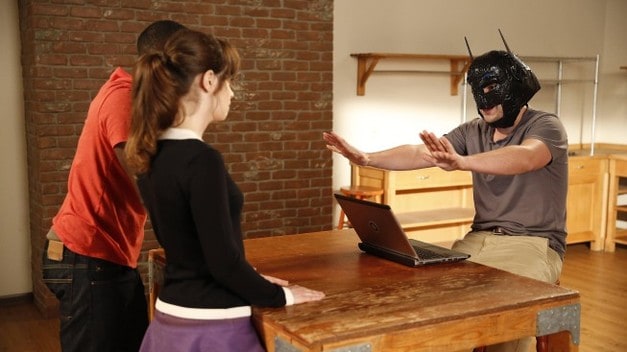 While I stated last week that I thought New Girl had really found its groove again with its past two episodes, "The Captain" and "The Box," I think New Girl found a way to top itself with its Halloween episode last night. "Keaton" was everything I love about this show: great one-liners, ridiculously over-the-top situations, and honest, heartfelt moments between characters. By focusing on what Schmidt believed was his friendship with actor Michael Keaton (turns out it was actually his Mom and then Nick after he went to college) and dealing with the growing tension of Schmidt's reaction to Nick and Jess as a couple, New Girl was able to blend the ridiculous and hilarious with the honest and emotional last night, producing its best episode of season three yet.
There is no denying that the two main major complaints about the third season of New Girl so far have been Schmidt's unlikable behavior as a character and an over-reliance on the Nick/Jess relationship each episode. By doing this, the New Girl writers have taken the breakout character of their show and turned him into someone who can be rude and selfish but without of the charm or humor that made him so enjoyable to watch, while also pushing Winston further and further into the background as Nick and Jess and their storylines take primary focus without intertwining into what the rest of the group is doing.
Fortunately, the New Girl writers remedied any supposed missteps last night by showing us that this behavior is something that has plagued Schmidt before and that it can be easily fixed through the power of his pen pal and hero: Michael Keaton. Providing the audience with the flashbacks scenes to Schmidt when he was a little kid all the way through college, when he was roommates with Nick (Schmidt's own origin story, if we want to continue with the superhero theme of the night), ensures that we understand that Schmidt's recent actions, while unjustifiable and unlikable, are not out of character. This new bit of information given to us by the New Girl writers makes Schmidt's douchey behavior believable and understandable from him as real character, while also tying it into an extremely funny concept with Michael Keaton being the only one who can "save" Schmidt from his own self-destruction.
However, even though the Michael Keaton stuff is used for comedy (and all of it is pretty freaking hilarious), New Girl refuses to make Schmidt into a punch line, and instead, it gives him a real, honest character moment at the end of the episode with Nick, after he discovers that the whole idea of Michael Keaton writing to him has been a lie. Nick and Schmidt, despite the oddness of their relationship, truly are best friends, and New Girl reminds us of why in this exchange between the pair, which boasts two great performances from Max Greenfield and Jake Johnson, showing again how the two of them can excel in the emotional character moments of this show before going right back into the comedy. Even though Nick makes a "yuck" face after he tells Schmidt "You don't need Keaton. You've got me" (Schmidt's perfect response: "What is this? The end of the high school football movie?"), there's a real honest moment underneath the humor, and when New Girl can pull scenes like this off and make them believable and true to character, well, that's New Girl at its best.
I'm really excited to see where New Girl will go now with Schmidt having moved out of the loft, another funny moment (he moves into the empty apartment right across the hall) but still motivated by emotional honesty (his dislike of Nick and Jess's relationship and his hurt feelings over his friends lying to him). The series takes a break until November with Coach returning to, I assume, take over Schmidt's room in the loft. And I'm thinking due to Schmidt still being at odds with his best friends, the reappareance of the fantastic Damon Wayans Jr., and the possibility that Furguson the Cat may show up on my screen at any second, that even though "Keaton" may have been New Girl's best episode of the season yet, that there are even better ones still to come.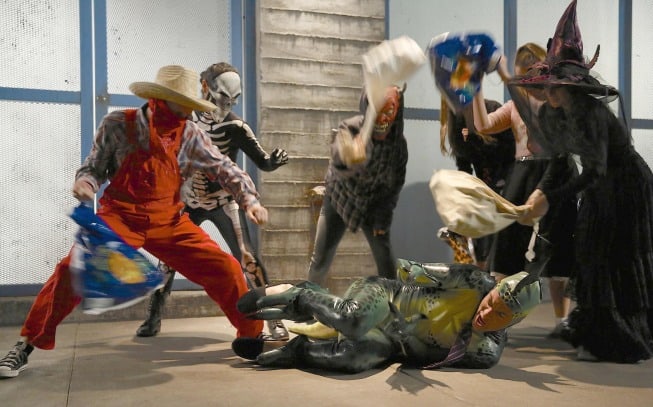 Other thoughts:
– Winston continually referencing The Truman Show even though he's never seen it ("It takes place during the civil war, right?") was so funny. Also just as funny: his attempts at defending Robin and his David Letterman costume.
– Nick's "I'm simple. I'm like Hemingway" line was really funny on its own, but the fact that it was also a direct reference to last season's episode, "Eggs," (the one where Nick gets drunk and goes to the zoo to be with the animals, embracing his inner Hemingway) made it even.
– Jess and Cece's "Batmanmobile" bit was fantastic. Really glad to see both Zooey Deschanel but, especially, Hannah Simone getting in on more of the comedy.
– Nick getting into his "mode" to write as Michael Keaton was fantastic. Although I can't decide if the Batman mask or the chugging of Jack Daniel's was my favorite part.
– "I also feel like I'm betraying the real Keaton, whom I really do love."
– "What about when we met Michael Keaton at that deli, and he winked at us?" "I… I don't know. Honestly, that was the greatest day of my life."
What did everyone else think about "Keaton?" Do you agree that it was New Girl's best episode of the season yet?