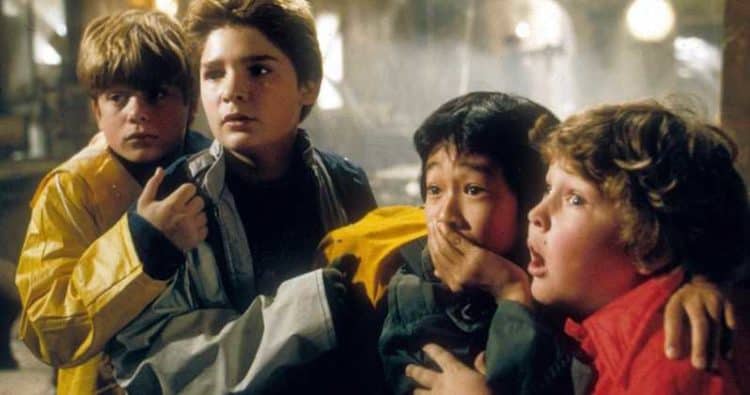 'Someday' is kind of vague and noncommittal answer even in the best of times since it implies that something will be done when a person gets to it. When it comes to The Goonies though Kevin Burwick of MovieWeb seems to be pretty optimistic since it does sound as though Sean Astin, Corey Feldman, and Ke Huy Quan, three of the original cast members, are already prepared to take this idea on. The only reason it hasn't come along yet is due to the fact that the idea brought up a while back was too expensive to make. Then there's the idea as to whether or not it would be possible to get the entire cast back, or at least those that took the adventure. After all, John Matuszak and Ann Ramsey passed away in the 80s and Mary Ellen Trainor passed in 2015. The cast would have to consist of the original bunch since they're all still around and doing their own things at this time. But whether or not they would still be in the same neighborhood seems easy enough to answer, because of course they wouldn't.
Speaking as someone that's been born and raised in the Pacific Northwest it's kind of obvious that a lot of people as they grow will take various directions in life, and those born near or on the coast will generally find their way towards one city or another at some point since while Astoria is a nice place it's still a great spot to grow up in, but when it comes to working for a living it can get a little rough. If a person can establish themselves in this place that's great and it's entirely possible, but the likelihood that the Goonies would still be together after so long and still as close as ever isn't very likely. Brand would move on, hopefully with Andy but not entirely likely since it doesn't matter where you're from when it comes to relationships, they're bound to end or strengthen depending on the people, not the location. Chunk might not be Chunk any longer if Jeff Cohen did join the crew once again since he's come a long way from being the roly-poly kid that had to do the Truffle Shuffle back in the day. Steff would likely move since she doesn't seem tied to the place at all, as would Data and Mouth. Mikey might be the only one that tries to stay where he's at since he has such a deep love for the town and the memory of what was accomplished in the place might be enough to keep him around.
But the main point is that the Goonies would need to find some way to reunite simply because it would be vital to the story. If not for their reunification then there is no story really since there's no point in even thinking about it. In the line of 'passing the torch' movies that are hopefully about to become popular with some titles, it might be nice to see that the Goonies have grown up, had kids, and are just as beset by their troublesome ways as the Goonies' own parents were back in the day. There are plenty of stories and adventures around the coast and surrounding towns that might draw a band of kids in, and if they know one another or not it could be an interesting time since a reunion of the original Goonies would be nothing short of awesome. When we're bound to get this movie is hard to say since the whole 'someday' line makes it sound as though it's a fantasy that the cast has been entertaining but nothing close to a reality. That's too bad really but it's not a complete death knell to the idea since it's very possible that something will come along eventually, but it might be when those of us that remember this movie so fondly are grandparents, if some of us aren't already.
When the day comes that Goonies 2 finally does come out it's also going to need to be established just who the main antagonist is going to be since the Fratelli's were comical and fitting for the first movie, but it's hard to say whether the surviving members would return or not. Obviously One-Eyed Willie would no longer be the main objective since the ship set sail at the end of the first movie and there's nothing to say that it didn't sink or get picked up by the Coast Guard and dealt with as it would be in the real world. Of course in the real world the ship might well have sunk to the bottom of the Pacific before making it all that far considering what being stuck in a cave might do to a ship after so long.
It's enough to say that we're excited but much like Kara Hedash from ScreenRant we won't be holding our breath when it comes to a new Goonies movie.