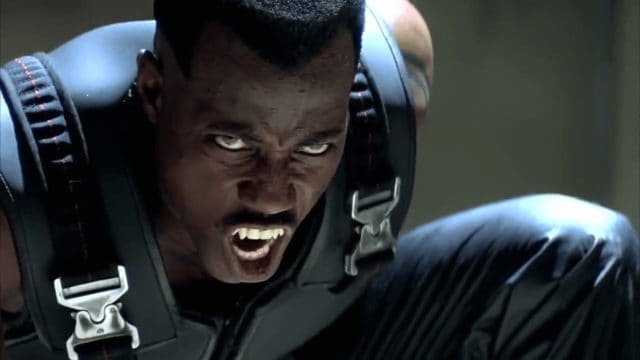 Wesley Snipes used to be a big name in action movies and his yell was definitely something to be feared. So welcome back to the Yelling Game! Snipes, as you might remember, got in a spot of trouble with the IRS a while back and ended up kind of disappearing for a while. Before that however his stock was kind of going down regardless of whether or not he was still a big-time action star. He's played in some pretty big roles and done a lot of movies that are still memorable to this day, but lately he's been starring in a lot of straight to DVD movies. When he was younger and still considered an A-lister though he had a few movies in which he was considered to be one of the baddest men on the planet.
So let's fire it off!
5. Demolition Man
Honestly the movie wasn't that great but it could have been tweaked and given a few improvements in the dialogue and it might have been okay. The fight scenes weren't horrible but they weren't terrific, and his yells were probably the most dynamic part of it since you get the idea that he's really trying to end Spartan and have a good time doing it.
4. White Men Can't Jump
Say what you want but this is perhaps one of the best basketball movies ever made. It goes further into what the game is about to some people than a lot of films and brings it back to a street level that doesn't apologize for what it is. Plus, the pairing of Snipes and Harrelson is just awesome since their dialogue is the stuff that buddy movies are made of.
3. Drop Zone
You have to give it to Snipes, in this movie he seems genuinely afraid of heights and sounds like he's about to have a nervous breakdown once they've landed. Of course being dropped out of an airplane is something that no one really expects and very few would find amusing. If you're in a plane designed for skydiving however and you see someone touch a control you don't know about, it might be wise not to pop off at that moment.
2. New Jack City
It's pretty understandable that Nino is mad. His drug business just got infiltrated, his crew doesn't seem to know anything about it, and the million a week that he was making is suddenly gone, up in smoke and no good to anyone. New Jack City was an unrealistic but frightening look at what drugs tend to do in an urban sprawl and how they create little more than squalor for many.
1. Blade
https://www.youtube.com/watch?v=EwnTUMoUijs
He's been bled just about dry, which forces him to drain blood from the woman that's trying to help him, which is against his own personal code. He just had to kill his mother who he found out recently was a vampire, the same type of creature he hunts. So yes, it's very understandable that Blade is a little hacked off and ready to start chopping down anyone that stands in his path.
His yells aren't much to compare to anyone else's, but they get the point across.