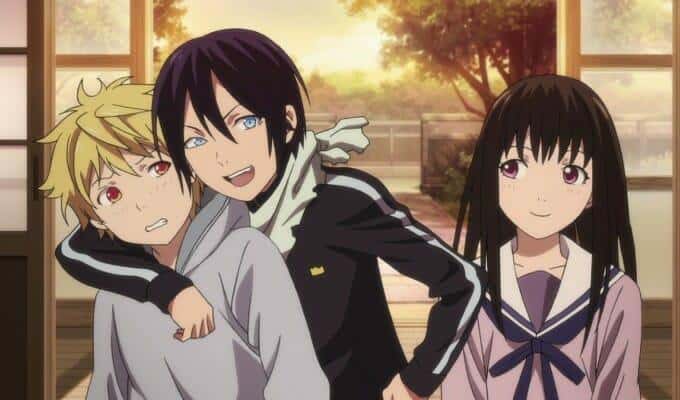 Noragami started out as a Japanese manga serialized in Monthly Shonen Magazine. For those who are curious, the name translates to something along the lines of "stray god," which is a reference to the main character Yato. Said individual was once a god of calamity but gave up on being a god of calamity because of his dislike for violence, with the result that he has been reduced to doing odd jobs. Besides him, there are a couple of other characters who are more important than the rest. One would be Iki Hiyori, a girl who has become stuck in a half-alive, half-dead state after saving Yato from a bus accident. The other would be Yukine, a boy who passed away at a young age with the result that he now serves as both a son and a spiritual weapon for Yato. There are a lot of manga series being released in Japan on a regular basis. Most of them won't manage to survive very long in a very competitive field. However, a lot of those that show some staying power will wind up with an animated adaptation at some point, which will serve as a seller in its own right as well as a rather elaborate advertisement campaign for the original work.
For Noragami, this happened within a short period of time. Those who are curious should know that the manga saw its intial release in December of 2010 while the animated adaptation saw its initial screening in November of 2013. Said anime had a first season of 12 episodes. After which, there were a couple of extra episodes produced for release with limited edition copies of both the 11th and the 12th volumes of the manga. Later, the anime had a second season of another 13 episodes in 2015, which were followed by another couple of extra episodes. Combined with the fact that Noragami was licensed for English-speaking consumers as well, it seems safe to say that it possessed a fair amount of power in its time.
Is There Potential for a Season 3 of Noragami?
Under these circumstances, it is natural for interested individuals to wonder whether there will be a Season 3 of Noragami or not. No statement has been made on the matter. However, it is nonetheless possible for interested individuals to speculate based on a number of relevant factors:
Source Material
For starters, Season 2 of Noragami had an ending for the story arc but not an ending for the series as a whole. If anything, its ending served as setup for further stories. This is relevant because it is common for animated adaptations to come up with their own endings, thus making it very clear that they won't be continuing in the future. As for the availability of source material, well, suffice to say that Noragami isn't exactly lacking in this regard. Those who are curious should know that there have been 23 volumes of the manga released so far. Furthermore, there is a 24th volume expected to come out in October of 2021, which will presumably be followed by further volumes in the times to come. Context-wise, the first season of the Noragami anime covered the first three volumes while the second season of the Noragami anime covered the following six volumes. As such, there are a lot of volumes left over, so much so that the relevant parties could make several seasons if they wanted to.
Sales
Instead, the bigger issue seems to be a matter of sales. Simply put, Noragami has seen a steady fall in sales over time, which suggests that the series has seen a steady fall in popularity over time. To name an example, the first season of the anime sold 5,000 Blu-Ray copies while the second season of the anime sold 2,000 Blu-Ray copies. Similarly, most of the merchandise released for Noragami was released to coincide with the first season rather than the second season, thus making the latter even less profitable from an overall perspective.
As for people hoping that the success of the Noragami manga will somehow revive hopes for another season of Noragami anime, well, they might be rather optimistic to say the least. Yes, the manga is still ongoing, meaning that there is still some interest in time. However, the numbers make it very clear that Noragami has long since passed its heyday. Back in 2012 and 2013, volumes of the manga could sell close to 300,000 copies. Nowadays, volumes of the manga can sell close to 100,000 copies. Anyone can see that this is a huge reduction in numbers, meaning that much of the interest just isn't there anymore.
Finally, if anyone thinks that Noragami can see a revive because of something new, well, they might be rather optimistic in this regard as well. A mobile game was released for Android devices in October of 2015. After which, it was released for iOS devices in November of 2015. However, it is clear that it failed to generate much interest because it was discontinued in late 2016. Surviving for a single year's time is not an impressive figure for mobile games, thus further hammering in the conclusion that has already been laid out.
What Else Do We Know about Season 3 of Noragami?
In case it needs to be said, the chances of a Season 3 of Noragami are either zero or next-to-zero. There is plenty of source material that can be turned into an animated adaptation. However, that means very little if there isn't the interest to justify that kind of project. Theoretically, if a Season 3 of Noragami was ever made, it would see the same cast from previous seasons returning. In practice, well, it is worth mentioning that there is another strike against the chances of such a project getting off of the ground. The Noragami series was made by Bones, which is one of the better-known Japanese animation studios out there. As such, its schedule tends to be pretty full, meaning that such a project would have to contend with a lot of other more exciting possibilities. To consider what Bones's schedue looks like, consider the fact that it is doing five shows as well as two movies in just 2021.